Can BlackBerry Recover?
With shares of BlackBerry (NASDAQ:BBRY) trading around $7, is BBRY an OUTPERFORM, WAIT AND SEE, or STAY AWAY? Let's analyze the stock with the relevant sections of our CHEAT SHEET investing framework:
T = Trends for a Stock's Movement
BlackBerry is a designer, manufacturer, and marketer of wireless solutions for the worldwide mobile communications market. Through the development of integrated hardware, software, and services, it provides platforms and solutions for seamless access to information such as email, voice, instant messaging, SMS, Internet, intranet-based applications, and browsing. Its products and services feature the BlackBerry wireless solution, the Research In Motion Wireless Handheld product line, the BlackBerry PlayBook tablet, software development tools, and other software and hardware.
BlackBerry's newest smartphone has an international premiere ahead. Instead of debuting first in Canada or the United States, its newest device will first be introduced in Indonesia. BlackBerry will launch a new smartphone, the Z3 Jakarta Edition, in the near future. The Canadian mobile company's new device is the result of collaboration with Chinese manufacturing company Foxconn. BlackBerry CEO John Chen said that the Z3 would eventually be shipped out internationally, meaning that it will arrive in North America sometime after its May 15 Indonesian debut. The Z3 has 5-inch touchscreen, BlackBerry's latest operating system, a non-removable battery, and cameras on the front and back of the phone. While it lacks BlackBerry's signature keyboard, a step necessary to join the era of touchscreens, the phone retains the black style elements and distinctive logo that brand it a BlackBerry smartphone. The release of this smartphone marks BlackBerry's first time working with Foxconn on a product. The manufacturing firm also produces devices for other major smartphone manufacturers, including Apple (NASDAQ:AAPL).
The new phone may be part of the road to redemption for BlackBerry. The company once dominated the smartphone market, but the entry of other competitors, such as Apple and Samsung (SSNLF.PK), into the space drew customers away from the trademark black devices. BlackBerry is no longer the smartphone the cool kids use. That crown has been passed on to Samsung and Apple, which are in a fierce rivalry for the top spot. BlackBerry still retains a devoted following among a core group, but it has become a niche audience. This audience includes President Barack Obama, who uses a modified version of a previous BlackBerry model. Its popularity is a shadow of what it once was, and the platform is currently a distant competitor in the smartphone market. Its current position is behind Android (NASDAQ:GOOG)(NASDAQ:GOOGL), iOS, and Windows (NASDAQ:MSFT) phones. This new phone is an attempt to bolster sales by launching first in an international market.
T = Technicals on the Stock Chart Are Weak
BlackBerry stock has struggled to make positive progress in the last several years. The stock is currently trading sideways and may need time to stabilize. Analyzing the price trend and its strength can be done using key simple moving averages. What are the key moving averages? The 50-day (pink), 100-day (blue), and 200-day (yellow) simple moving averages. As seen in the daily price chart below, BlackBerry is trading below its rising key averages which signal neutral to bearish price action in the near-term.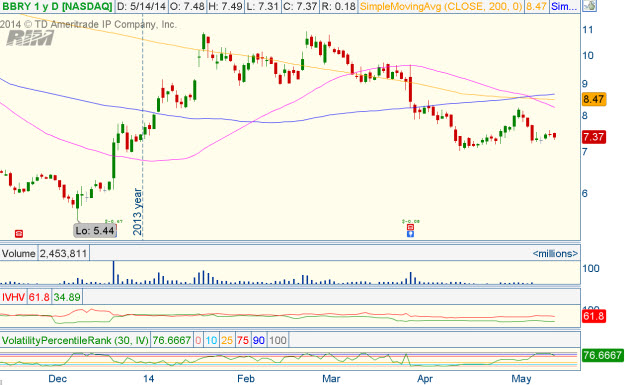 (Source: Thinkorswim)
Taking a look at the implied volatility (red) and implied volatility skew levels of BlackBerry options may help determine if investors are bullish, neutral, or bearish.
| | | | |
| --- | --- | --- | --- |
| | Implied Volatility (IV) | 30-Day IV Percentile | 90-Day IV Percentile |
| BlackBerry options | 61.80% | 76% | 74% |
What does this mean? This means that investors or traders are buying a very significant amount of call and put options contracts, as compared to the last 30 and 90 trading days.
| | | |
| --- | --- | --- |
| | Put IV Skew | Call IV Skew |
| June Options | Steep | Average |
| July Options | Steep | Average |
As of today, there is an average demand from call buyers or sellers and high demand by put buyers or low demand by put sellers, all neutral to bearish over the next two months. To summarize, investors are buying a very significant amount of call and put option contracts and are leaning neutral to beairsh over the next two months.
On the next page, let's take a look at the earnings and revenue growth rates and the conclusion.
E = Earnings Are Increasing Quarter-Over-Quarter
Rising stock prices are often strongly correlated with rising earnings and revenue growth rates. Also, the last four quarterly earnings announcement reactions help gauge investor sentiment on BlackBerry's stock. What do the last four quarterly earnings and revenue growth (Y-O-Y) figures for BlackBerry look like and more importantly, how did the markets like these numbers?
| | | | | |
| --- | --- | --- | --- | --- |
| | 2013 Q4 | 2013 Q3 | 2013 Q2 | 2013 Q1 |
| Earnings Growth (Y-O-Y) | 344.44% | -41,950% | -308.89% | 83.84% |
| Revenue Growth (Y-O-Y) | -63.55% | -56.25% | -45.02% | 9.37% |
| Earnings Reaction | -7.07% | 15.51% | 1% | -27.76% |
BlackBerry has seen rising earnings and decreasing revenue figures over the last four quarters. From these numbers, the markets have had mixed feelings about BlackBerry's recent earnings announcements.
P = Weak Relative Performance Versus Peers and Sector
How has BlackBerry stock done relative to its peers, Apple (NASDAQ:AAPL), Google (NASDAQ:GOOG), Nokia (NYSE:NOK), and sector?
| | | | | | |
| --- | --- | --- | --- | --- | --- |
| | BlackBerry | Apple | Google | Nokia | Sector |
| Year-to-Date Return | -31.40% | 7.97% | -5.26% | -4.87% | -7.39% |
BlackBerry has been a poor relative performer, year-to-date.
Conclusion
BlackBerry provides innovative wireless communication products to consumers and companies worldwide. The company will launch a new smartphone that will debut first in Indonesia. The stock has struggled to make positive progress and is currently trading sideways. Over the last four quarters, earnings have been rising while revenues have been decreasing, which has produced mixed feelings among investors. Relative to its peers and sector, BlackBerry has been a poor relative year-to-date performer. WAIT AND SEE what BlackBerry does this quarter.
Using a solid investing framework such as this can help improve your stock-picking skills. Don't waste another minute — click here and get our CHEAT SHEET stock picks now.
More From Wall St. Cheat Sheet: