Can Dunkin' Brands Continue to Move Higher?
With shares of Dunkin' Brands (NASDAQ:DNKN) trading around $45, is DNKN an OUTPERFORM, WAIT AND SEE, or STAY AWAY? Let's analyze the stock with the relevant sections of our CHEAT SHEET investing framework:
T = Trends for a Stock's Movement
Dunkin' Brands owns, operates, and franchises quick service restaurants under the Dunkin'' Donuts and Baskin-Robbins brands worldwide. The company operates in four segments, including Dunkin' Donuts U.S., Dunkin' Donuts International, Baskin-Robbins International, and Baskin-Robbins U.S. Its restaurants offer coffee, donuts, bagels, ice cream, frozen beverages, baked goods, and related products. The increasing popularity of the product offerings by Dunkin' Brands is fueling excellent growth for the company.
Dunkin' Brands is hoping that as Europe recovers from its recession, its consumers will be increasingly interested in their favorite Dunkin' indulgences again, and the brand is especially gunning for Germany. Bloomberg reports that Dunkin' Donuts initially came to Deutschland in 1999 and now has 35 shops there. As Europe bounces back from the recession, the donut company is hoping to capitalize on the region's biggest economy even more, expecting to increase its shop number to 150 within five years' time. The company is confident that the region's inhabitants, especially those in places like Hanover, Stuttgart, Munich, and Nuremberg will be eager to jump aboard the coffee and Boston Kreme donut chain once their disposable income rises.
T = Technicals on the Stock Chart Are Strong
Dunkin' Brands stock has been on a bullish move higher since its initial public offering in 2011. The stock is now trading near all-time high prices and looks ready to continue. Analyzing the price trend and its strength can be done using key simple moving averages. What are the key moving averages? The 50-day (pink), 100-day (blue), and 200-day (yellow) simple moving averages. As seen in the daily price chart below, Dunkin' Brands is trading above its rising key averages which signal neutral to bullish price action in the near-term.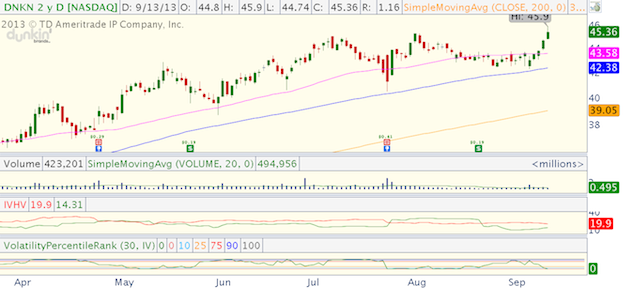 (Source: Thinkorswim)
Taking a look at the implied volatility (red) and implied volatility skew levels of Dunkin' Brands options may help determine if investors are bullish, neutral, or bearish.
| | | | |
| --- | --- | --- | --- |
| | Implied Volatility (IV) | 30-Day IV Percentile | 90-Day IV Percentile |
| Dunkin' Brands Options | 19.90% | 0% | 0% |
What does this mean? This means that investors or traders are buying a very minimal amount of call and put options contracts, as compared to the last 30 and 90 trading days.
| | | |
| --- | --- | --- |
| | Put IV Skew | Call IV Skew |
| October Options | Flat | Average |
| November Options | Flat | Average |
As of today, there is an average demand from call buyers or sellers and low demand by put buyers or high demand by put sellers, all neutral to bullish over the next two months. To summarize, investors are buying a very minimal amount of call and put option contracts and are leaning neutral to bullish over the next two months.
On the next page, let's take a look at the earnings and revenue growth rates and the conclusion.
E = Earnings Are Rising Quarter-Over-Quarter
Rising stock prices are often strongly correlated with rising earnings and revenue growth rates. Also, the last four quarterly earnings announcement reactions help gauge investor sentiment on Dunkin' Brands's stock. What do the last four quarterly earnings and revenue growth (Y-O-Y) figures for Dunkin' Brands look like and more importantly, how did the markets like these numbers?
| | | | | |
| --- | --- | --- | --- | --- |
| | 2013 Q2 | 2013 Q1 | 2012 Q4 | 2012 Q3 |
| Earnings Growth (Y-O-Y) | 24.24% | 16.00% | 131.50% | 750.00% |
| Revenue Growth (Y-O-Y) | 5.86% | 9.45% | -4.04% | 5.02% |
| Earnings Reaction | -1.73% | 3.66% | 2.04% | 1.81% |
Dunkin' Brands has seen rising earnings and revenue figures over the last four quarters. From these numbers, the markets have been pleased with Dunkin' Brands' recent earnings announcements.
P = Excellent Relative Performance Versus Peers and Sector
How has Dunkin' Brands stock done relative to its peers Starbucks (NASDAQ:SBUX), McDonald's (NYSE:MCD), Yum! Brands (NYSE:YUM), and sector?
| | | | | | |
| --- | --- | --- | --- | --- | --- |
| | Dunkin' Brands | Starbucks | McDonald's | Yum! Brands | Sector |
| Year-to-Date Return | 38.37% | 40.35% | 10.47% | 9.02% | 20.39% |
Dunkin' Brands has been a relative performance leader, year-to-date.
Conclusion
Dunkin' Brands provides delicious items that fulfill the sweet cravings of many consumers. The company is hoping to cash in on the European recovery as it plans to expand heavily in Germany. The stock has been exploding higher since its IPO and is now trading at all-time high prices. Over the last four quarters, earnings and revenues have been rising which has pleased investors in the company. Relative to its peers and sector, Dunkin' Brands has been a year-to-date performance leader. Look for Dunkin' Brands to OUTPERFORM.
Using a solid investing framework such as this can help improve your stock-picking skills. Don't waste another minute — click here and get our CHEAT SHEET stock picks now.