Can Dunkin' Brands Recover?
With shares of Dunkin' Brands (NASDAQ:DNKN) trading around $47, is DNKN an OUTPERFORM, WAIT AND SEE, or STAY AWAY? Let's analyze the stock with the relevant sections of our CHEAT SHEET investing framework:
T = Trends for a Stock's Movement
Dunkin' Brands owns, operates, and franchises quick service restaurants under the Dunkin' Donuts and Baskin-Robbins brands worldwide. The company operates in four segments: Dunkin' Donuts U.S., Dunkin' Donuts International, Baskin-Robbins International, and Baskin-Robbins U.S. Its restaurants offer coffee, donuts, bagels, ice cream, frozen beverages, baked goods, and related products. The increasing popularity of the product offerings by Dunkin' Brands is fueling excellent growth for the company.
Dunkin' Brands today reported results for the first quarter ended March 29, 2014. "We had a difficult first-quarter with our comparable store sales growth in the U.S. significantly impacted by severe weather in the regions of the country where most of our Dunkin' Donuts restaurants are located. However, we remain confident that we will hit our targets for the full year," said Nigel Travis, Chair and Chief Executive Officer, Dunkin' Brands Group, Inc. "Our franchisees achieved strong restaurant growth in the quarter adding 69 net new Dunkin' Donuts locations in the U.S. We're also excited to announce that we expect the first traditional Dunkin' Donuts restaurant to open in California by the end of 2014, ahead of our original expectations. Additionally, we launched the DD Perks Rewards Program nationally at the end of January, and, more recently, online cake ordering for Baskin-Robbins, both major milestones in using technology to drive sales in our restaurants in the U.S. and eventually globally."
"Our steadfast focus on franchisee profitability is the backbone of our long-term plan to have more than 15,000 Dunkin' Donuts restaurants in the U.S.," said Paul Carbone, Chief Financial Officer, Dunkin' Brands Group, Inc. "We're proud to report that the 2013 cohort of new restaurant openings delivered 25 percent cash-on-cash returns to franchisees, the fourth year in a row that new restaurants achieved this target. The compelling restaurant returns are driven by strong topline results, increased sales of high-margin beverages and breakfast sandwiches, the move to flat-pricing by our franchisee-owned purchasing and distribution cooperative, highly-effective real-estate selection, and an operations-focused culture and we continue to attract highly-qualified new and existing franchise operators to grow with the Dunkin' Donuts brand in the U.S."
T = Technicals on the Stock Chart Are Mixed
Dunkin' Brands stock has been on a bullish move higher since its initial public offering in 2011. However, the stock is currently pulling back and may need time to stabilize. Analyzing the price trend and its strength can be done using key simple moving averages. What are the key moving averages? The 50-day (pink), 100-day (blue), and 200-day (yellow) simple moving averages. As seen in the daily price chart below, Dunkin' Brands is trading between its rising key averages which signal neutral price action in the near-term.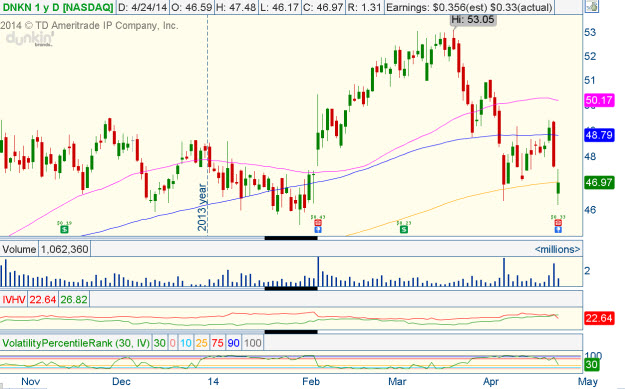 (Source: Thinkorswim)
Taking a look at the implied volatility (red) and implied volatility skew levels of Dunkin' Brands options may help determine if investors are bullish, neutral, or bearish.
| | | | |
| --- | --- | --- | --- |
| | Implied Volatility (IV) | 30-Day IV Percentile | 90-Day IV Percentile |
| Dunkin' Brands options | 22.64% | 30% | 28% |
What does this mean? This means that investors or traders are buying a minimal amount of call and put options contracts, as compared to the last 30 and 90 trading days.
| | | |
| --- | --- | --- |
| | Put IV Skew | Call IV Skew |
| May Options | Average | Average |
| June Options | Average | Average |
As of today, there is an average demand from call and put buyers or sellers, all neutral over the next two months. To summarize, investors are buying a minimal amount of call and put option contracts and are leaning neutral over the next two months.
On the next page, let's take a look at the earnings and revenue growth rates and the conclusion.
E = Earnings Are Increasing Quarter-Over-Quarter
Rising stock prices are often strongly correlated with rising earnings and revenue growth rates. Also, the last four quarterly earnings announcement reactions help gauge investor sentiment on Dunkin' Brands's stock. What do the last four quarterly earnings and revenue growth (Y-O-Y) figures for Dunkin' Brands look like and more importantly, how did the markets like these numbers?
| | | | | |
| --- | --- | --- | --- | --- |
| | 2014 Q1 | 2013 Q4 | 2013 Q3 | 2013 Q2 |
| Earnings Growth (Y-O-Y) | 13.79% | 22.56% | 42.31% | 24.24% |
| Revenue Growth (Y-O-Y) | 6.18% | 13.28% | 8.50% | 5.86% |
| Earnings Reaction | -0.17%* | 3.36% | -0.60% | -1.73% |
Dunkin' Brands has seen increasing earnings and revenue figures over the last four quarters. From these numbers, the markets have had conflicting feelings about Dunkin' Brands's recent earnings announcements.
* As of this writing
P = Average Relative Performance Versus Peers and Sector
How has Dunkin' Brands stock done relative to its peers, Starbucks (NASDAQ:SBUX), McDonald's (NYSE:MCD), Yum Brands (NYSE:YUM), and sector?
| | | | | | |
| --- | --- | --- | --- | --- | --- |
| | Dunkin' Brands | Starbucks | McDonald's | Yum Brands | Sector |
| Year-to-Date Return | -1.47% | -9.80% | 3.05% | 1.79% | -2.60% |
Dunkin' Brands has been an average performer, year-to-date.
Conclusion
Dunkin' Brands provides delicious items that fulfill the sweet cravings of many consumers. The company reported first-quarter results that left investors conflicted. The stock has been exploding higher since its IPO, but is now pulling back. Over the last four quarters, earnings and revenues have been rising. Relative to its peers and sector, Dunkin' Brands has been an average year-to-date performer. WAIT AND SEE what Dunkin' Brands does this quarter.
Using a solid investing framework such as this can help improve your stock-picking skills. Don't waste another minute — click here and get our CHEAT SHEET stock picks now.
More From Wall St. Cheat Sheet: