Chart: Has The Fed Drugged The Stock Market?
Quantitative easing has defined post-crisis central bank policy making around the world. The Bank of Japan was arguably the first institution to use unconventional policy to unsuccessfully fight domestic deflation in the early 2000s, and its record of success since then has been dubious. Regardless, it has become the go-to tool of choice for central bankers who feel the need to heat up economic activity when interest rates are at or near zero.
At a glance, QE floods commercial banks with liquidity in a hope to promote private lending. Central banks do this principally by buying government bonds, but also — most notably in the U.S. — by buying asset-backed securities.
There are a thousand ways to cut it, but at the end of the day QE is a stimulant for equities, and Mr. Market has become addicted to the drug. The post-recession bull market was born on the back of unconventional monetary policy, and it's easy to see what happens when the IV is removed.
Broadly speaking, there are two parts to the unconventional monetary policy championed by Chairman Ben Bernanke. One are bond purchases, and the other is communication.
Bernanke understands that, especially in the post-crisis era, Mr. Market needs to be told exactly what to expect and when. Otherwise, as we have seen time and time again, there is panic, prices swing wildly, confidence in the markets erode. In order to combat this, the Federal Reserve made its thinking about QE very clear and very public.
At the beginning of the year, the Fed announced that it would continue with QE as long as inflation did not exceed 2 percent, and as long as the headline unemployment rate remained above 6.5 percent. With this understood, the markets have interpreted every soft inflation report as a sign that QE will continue and a reason to buy equities.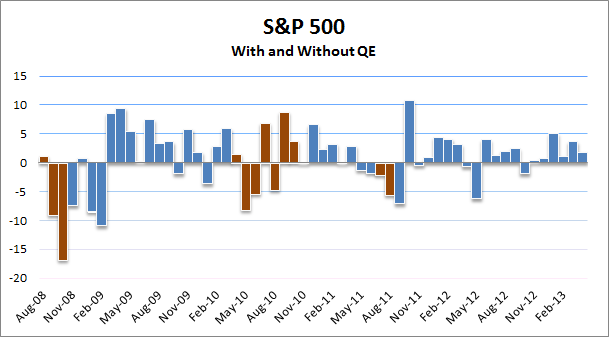 With those conditions understood, most investors know that while an end to QE may be within sight, there is still plenty of room left to run. Inflation has remained low — surprisingly low, in fact, given the amount of money the Fed is blasting into the economy — and unemployment has been declining in a slow and nearly predictable way.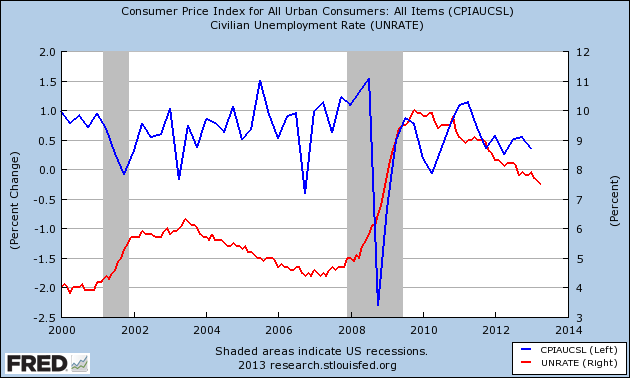 Meanwhile, the size of the Fed's balance sheet has rocketed to an unprecedented and worrisome level. Critics of QE seem less concerned now about its effectiveness and more concerned about the withdrawal symptoms and the risks involved in unwinding such a massive position.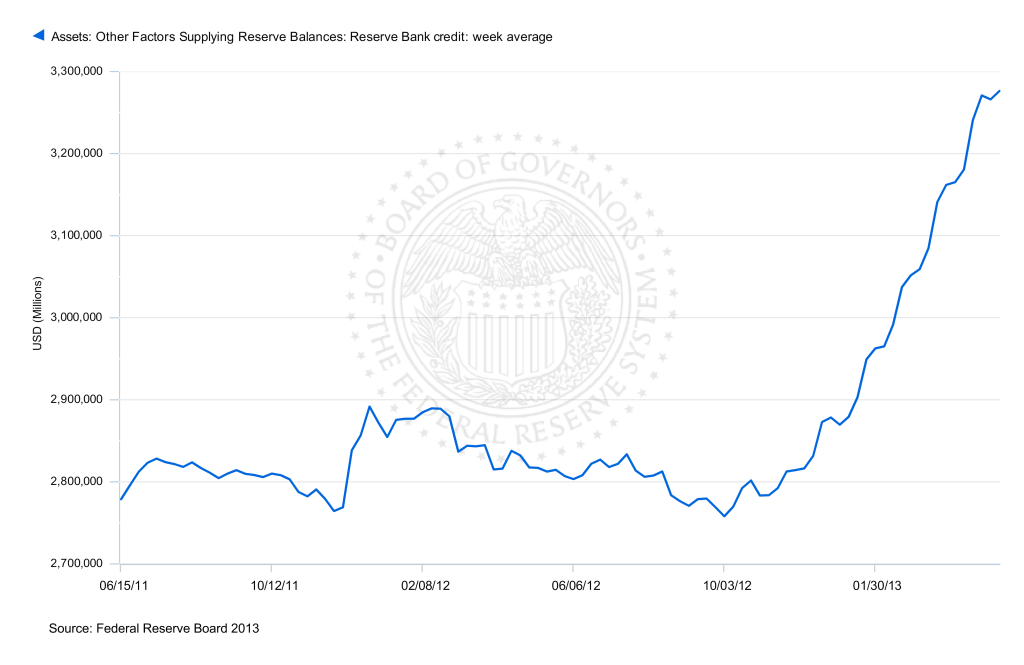 Don't Miss: General Business Conditions Continue Their Downward Slide.