College Debt Bubble Teaches Regret
College isn't the real world, it's the final playhouse. The multi-year experience away from parents is a time for learning and making the usual mistakes that come with growing up, but recent graduates are regretting their participation in the student debt bubble.
With student loans being handed out like candy, borrowers across the nation are struggling with their decision to fund college through debt. The majority of borrowers did not expect to have such a difficult time paying back student loans, and 60 percent have at least some regret, according to a new survey from the American Institute of CPAs. Only 39 percent said they fully understood the consequences of taking on student loans.

"As the pomp of graduation fades, many college graduates become keenly aware of their financial circumstance: 'In debt,' " said Ernie Almonte, CPA, CGMA, chair of the AICPA's National CPA Financial Literacy Commission. "They start out with an anchor that slows their progression toward future goals. It's a difficult reality confronting a growing number of people, one that will come into sharp focus in the coming weeks as the nation's colleges and universities produce a new crop of graduates."
The obligation of monthly student loan payments is affecting areas well beyond the classroom. Three out of four people surveyed said they or their children made personal or financial sacrifices. Forty-one percent have delayed contributions to retirement accounts, while 40 percent delayed buying or upgrading a car. Thirty-one percent worked another job, and 29 percent delayed buying a house.

"Education can be a powerful investment that improves job prospects and earning potential," Almonte continued. "But the payoff is diminished if you're also burdened by debt that takes decades to pay off. For those nearing college, it should be approached like any other investment: With a clear understanding of the risks, rewards and expected return. Those already contending with the financial burden of student debt should redouble their efforts to manage and eliminate it."
Using debt to obtain a degree can be beneficial if done properly, but a weak job market and rapidly rising college costs are weighing on graduates. The average price of college tuition increases 8 percent a year, meaning the cost of tuition doubles about every nine years. This outpaces almost every other kind of inflation that is widely tracked.
Students are more likely than ever to take out a loan to pay for college. In 2005, consumers in the United States with at least one open student loan on record had an average student debt load of $17,233, according to a study conducted by FICO. However, this debt load increased 58 percent to $27,253 last year. In comparison, all other debt categories combined only grew 4.3 percent.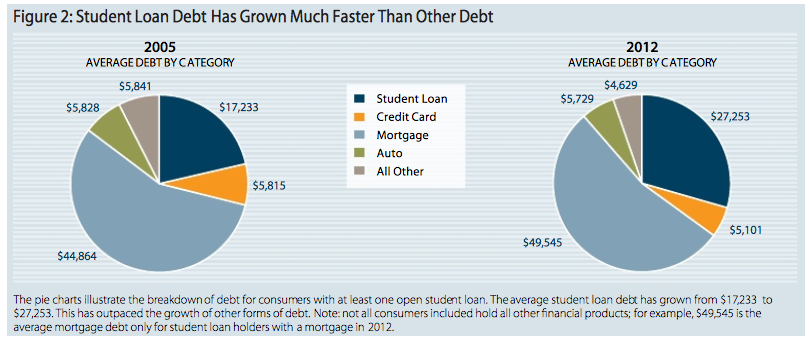 In addition to higher average balances, the percentage of consumers with student debt has increased at every level. Consumers with student debt under $20,000 increased from 9.0 percent in October 2005 to 11.0 percent in October 2012. Those with student debt in the $20,000 to $39,999 range more than doubled from 1.9 percent to 4.0 percent. Consumers in the ranges of $40,000 to $59,999 and $60,000 to $79,999 also more than doubled over the past seven years.
As the student debt bubble grows bigger, more problems will arise. Research by the Federal Reserve and Equifax finds that outstanding student loans total about $1 trillion, exceeding credit card debt. In fact, mortgages are the only debt outstanding that is greater than student loans.
Even more concerning, the number of borrowers who have fallen behind on their student debt by at least 90 days continues to climb higher. In the fourth quarter of 2012, it surpassed the delinquency rates of credit cards to reach 11.7 percent. Thirty-five percent of people under 30 years old who have student loans are at least 90 days late on payments, compared to 26 percent in 2008.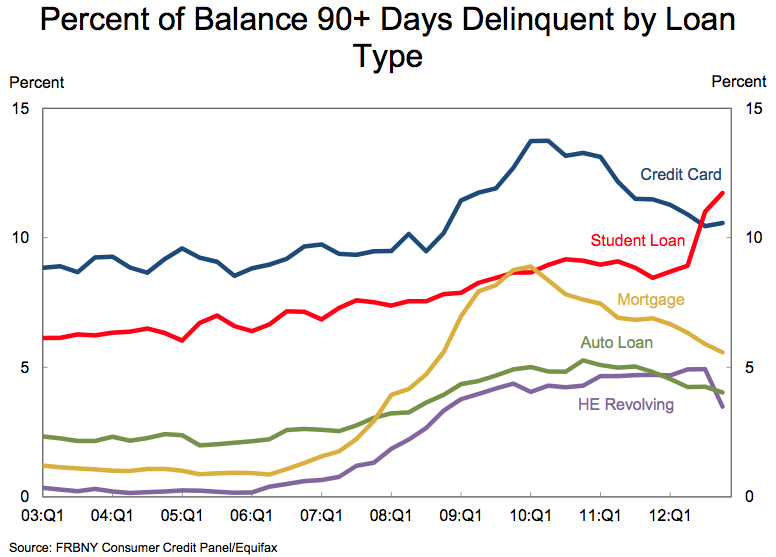 Interestingly, the delinquency rates of student loans is likely even higher than reported. In the fine print, the Fed explains, "These delinquency rates for student loans are likely to understate actual delinquency rates because almost half of these loans are currently in deferment, in grace periods or in forbearance and therefore temporarily not in the repayment cycle. This implies that among loans in the repayment cycle delinquency rates are roughly twice as high."
Don't Miss: Is Your Retirement Becoming More Conservative?
You should follow me on Twitter here.