Are Consumers Growing More Pessimistic About the Future?
Consumers in the United States are still feeling down about the economy, but not as much as expected. Looking ahead, expectations about the future are taking a hit.
The index of consumer sentiment compiled by Thomson Reuters and the University of Michigan fell to 76.4 in April, compared to 78.6 in the previous month. It is the lowest reading since the beginning of the year, but higher than the preliminary April reading of only 72.3. Economists were expecting a reading of about 72.3. The median projection in a Bloomberg survey was 73.5.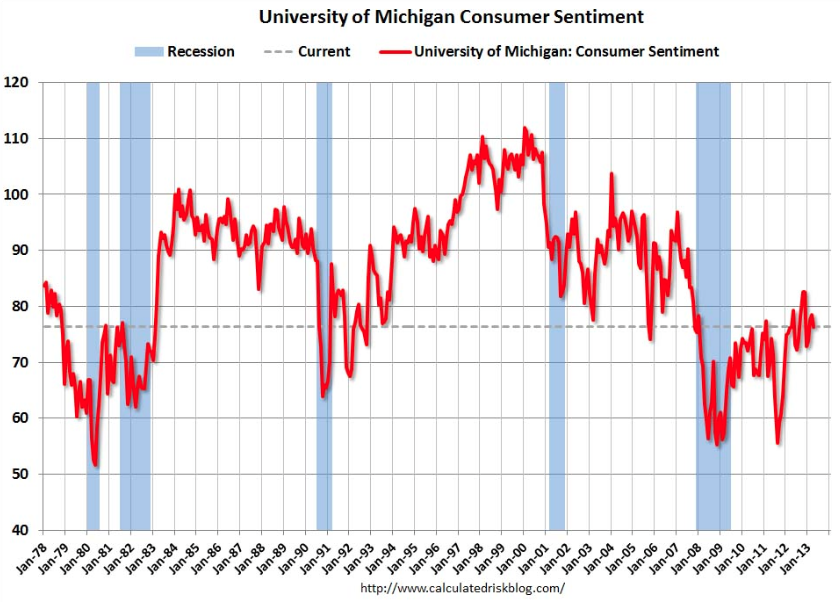 During the last recession, the index averaged slightly above 64. In the five years before the financial crisis, it averaged almost 90. Consumer sentiment is one of the most popular measures of how Americans rate financial conditions and attitudes about the economy. The University of Michigan's Consumer Survey Center questions 500 households each month for the index.
Consumer expectations also take a hit…
The reading on current economic conditions, which measures whether Americans think it is a good time to make large investments, fell from 90.7 in March to 89.9 in April. Meanwhile, consumer expectations declined from 70.8 to 67.8.
Consumers have been facing higher living expenses, stagnant wages, and political bickering more than ever. When it comes to government economic policy, only 9 percent of consumers rate it as favorable, just above the all-time low of 4 percent, according to Reuters. The overall index of buying conditions for durable goods also dropped to 137, compared to 140 in the previous month. However, the outlook for vehicle and home purchases remained upbeat.
In a separate report, the Commerce Department said the U.S. economy expanded at a 2.5 percent annual rate for the first quarter. Economists surveyed by Dow Jones Newswires expected a 3.2 percent pace, while the median estimate of 86 economists surveyed by Bloomberg had forecast a 3 percent rate. Much of the strength came from household consumption, which accounts for roughly 70 percent of the economy. However, with savings rates on the decline, many people are skeptical to how long consumers can keep spending at the current pace.
In morning trading, shares of consumer giants such as Walmart (NYSE:WMT), Target (NYSE:TGT), and Procter & Gamble (NYSE:PG) all edged slightly higher.
Don't Miss: Most Americans Missed the Economic 'Recovery'