Dallas Fed's Manufacturing Numbers Blow Past Estimates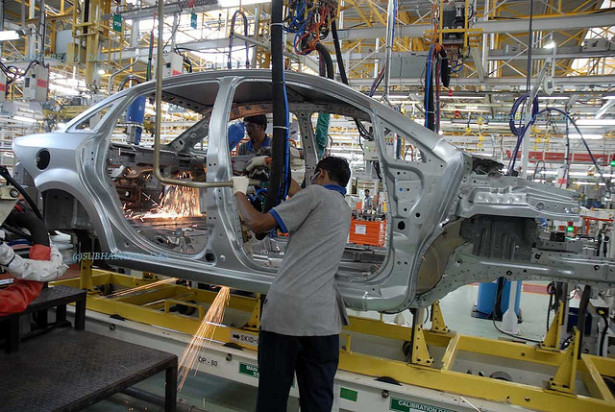 The Dallas Federal Reserve's Texas Manufacturing Survey is the first report in what will be a closely watched blitz of economic data and Federal Reserve announcements scheduled to be released this week. Ahead of the Monday morning release, UBS chief economist Maury Harris noted that there was evidence that the reading of the business climate in Texas could marginally improve, noting that the "Philadelphia Fed and Markit [Purchasing Managers] surveys improved in June, suggesting, on balance, some slight expansion in factory activity."
He was right. This month's look at the business climate in Texas showed notably stronger manufacturing activity and a rebound in perceptions of broader business conditions. As Texas is the second biggest state economy in the United States, its manufacturing report gives an important view into the health of the U.S. economy as a whole.
Once a month, the Dallas Fed conducts a survey of about 100 manufacturers in Texas. Participants are asked about relative increases or decreases for various indicators, expectations for conditions six months out, and a few rotating special questions.
A majority of survey participants reported that Texas business activity grew sharply in June.
Economists predicted that the headline general business activity index would rise to a reading of zero from May's minus 10.5. In both of the past two months, the index has recorded negative readings, but May's contraction was slightly smaller than the -15.6 level posted in April. The business activity index continued moving upward in June, jumping to 6.5. Contributing to that higher-than-expected result was the 20-point increase in the company outlook index, which put the index at a reading of 13.3, its highest level in 16 months.
 The production index, a key measure of state manufacturing conditions, rose six points to 17.1, the highest reading in more than two years. The leading "new orders" sub-component climbed to 13 in June, a level not seen since July 2011. In addition, labor market indicators reflected steady labor demand and longer workweek. The employment index came in at zero for month, suggesting no change in employment levels, while the hours worked index rose to 4.8 after four months in negative territory.
However, concerning indicators were on display within that data. Price movements were mixed this month, with input prices and wages increasing and selling prices decreasing. In particular, the wages and benefits index strengthened from 14 to 20, even though a majority of manufactures continued to note no change in compensation costs. But the finished goods price index remained negative for the third month in a row, although it did move up from minus 8.3 reading to minus 2.1. Even more worrisome is the fact that 33 percent of respondents anticipate further increases in raw materials prices over the next six months, while only 25 percent expect higher finished goods prices.
Still, expectations regarding future business conditions improved significantly in June; the index of future general business activity surged to 14.7 after recording negative readings in both April and May.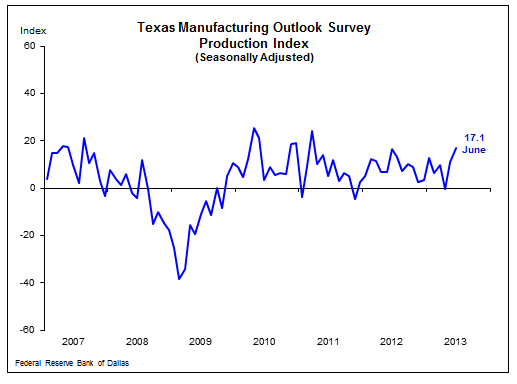 Here's how the market traded on Monday: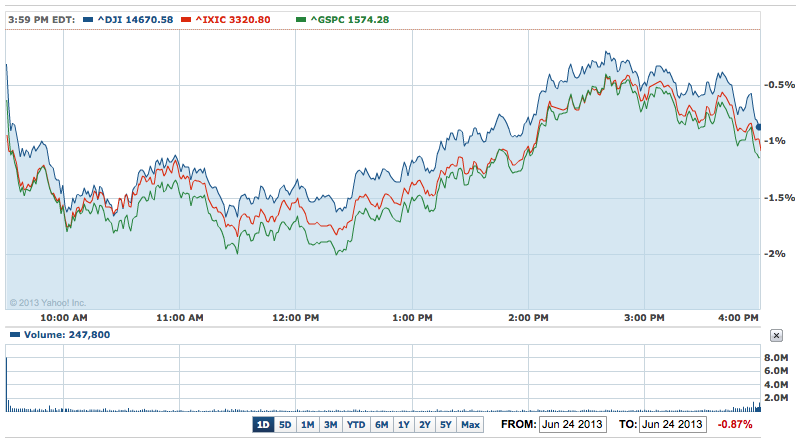 Follow Meghan on Twitter @MFoley_WSCS
Don't Miss: Is China Preparing to Adjust its Monetary Policy?