Do These Big Deals Signal Growing M&A Buzz?
With trillions in cash sitting in CEO and private equity wallets, investment bankers have been chasing mergers & acquisitions with a vengeance. Unfortunately for the bankers, investor skittishness has slowed merger activity in the boardroom. Rather than aggressively stalk corporate prey, bidders look more like deer in headlights.
However, animal spirits are not completely dead. Some board members have seen the light and realize the value-destroying characteristics of idle cash in a near-zero interest rate environment, so they have decided to go elephant hunting. During a nine-day period alone in the first quarter of 2013, a total of $87.7 billion in elephant deals were announced:
HJ Heinz Company (NYSE:HNZ) — $27.4 billion; February 14; Bidder: Berkshire Hathaway (NYSE:BRKA)/3G Capital Partners
Virgin Media (NASDAQ:VMED) — $21.9 billion; February 6; Bidder: Liberty Global (NASDAQ:LBTYA)
Dell (NASDAQ:DELL) – $21.8 billion; February 5; Bidder: Silver Lake Partners LP, Michael Dell, Carl Icahn
NBCUniversal Media 49 percent stake (NYSE:GE) — $17.6 billion; February 12; Bidder: Comcast Corp. (NASDAQ:CMCSA)
These elephant deals helped the overall M&A deal values in the United States increase by 34 percent in Q1 from a year ago to $167 billion (see Mergermarket report). Unfortunately, the picture doesn't look so good on a global basis. The overall value for global M&A deals in Q1 registered $418 billion, down 7 percent from the first quarter of 2012.
On a transaction basis, there were a total of 2,621 deals during the first three months of the year, down 20 percent from 3,262 deals in the comparable period last year.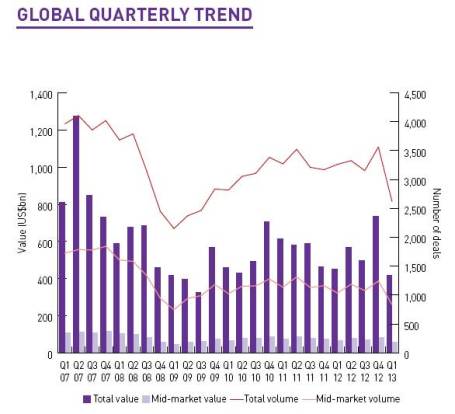 Source: Mergermarket
With central banks across the globe pumping liquidity into the financial system and the U.S. stock market near record highs, one would think buyers would be writing big M&A checks as they wrote poems about rainbows, puppy dogs, and flowers. This is obviously not the case, so why such the sour mood?
The biggest scapegoat right now is Europe. While the U.S. economy appears to be slowly, but surely plodding along on its economic recovery, Europe continues to dig a deeper recessionary hole. Austerity-driven fiscal policies are hindering growth, and concerns surrounding a Cypriot contagion continue to grab headlines.
Although the U.S. dollar value of deals was up substantially in Q1, the number of transactions was down significantly to 703 deals from 925 in Q1-2012 (-24 percent). Besides buyer nervousness, unfriendly tax policy could have accelerated deals into 2012, and stole business from 2013.
Besides lackluster global M&A volume, the record low EBITDA multiples on private equity exit prices is proof that skepticism on the sustainability of the economic recovery remains uninspired. With exit multiples at a meager level of 8.2x globally, many investors are holding onto their companies longer than they would like.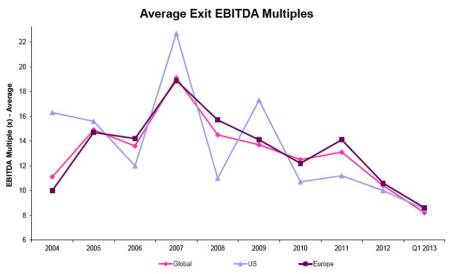 Source: Mergermarket
While merger activity has been a mixed bag, a bright spot in the M&A world has been the action in emerging markets. In 2012, the value of global transactions was essentially flat, yet emerging market deal values were up approximately 9 percent to $524 billion. This value exceeded the pre-crisis M&A activity level in 2007 by $73 billion, a feat not achieved in the other regions around the globe. Although emerging markets also pulled back in Q1, this region now account for 23 percent of total global M&A deal values.
Elephant buyout deals in the private equity space (skewed heavily by the Heinz & Dell deals) caused results to surge in this segment during the first quarter. Private equity related buyouts accounted for the highest share of global M&A activity (~21 percent) since 2007. However, like the overall U.S. M&A market, the number of Q1 transactions in the buyout space (372 transactions) declined to the lowest count in about four years.
Until skepticism turns into confidence, elephant deals will continue to distort results in the M&A sector [Echostar's (NASDAQ:DISH) play for Sprint (NYSE:S) is further evidence]. However, the existence of these giant transactions could be a leading indicator for more activity in the coming quarters. If bankers want to generate more fees, they may consider giving Warren Buffett a call. Here's what he had to say after the announcement of the Heinz deal:
"I'm ready for another elephant. Please, if you see any walking by, just call me."
Despite the weak overall M&A activity, the hunters are out there and they have plenty of ammunition (read:cash).
Wade Slome, CFA CFP is President and Founder of Sidoxia Capital Management and shares his investing insights at Investing Caffeine.