Does Chipotle's Stock Have a Bright Future?
With shares of Chipotle Mexican Grill (NYSE:CMG) trading around $504, is CMG an OUTPERFORM, WAIT AND SEE, or STAY AWAY? Let's analyze the stock with the relevant sections of our CHEAT SHEET investing framework:
T = Trends for a Stock's Movement
Chipotle Mexican Grill operates restaurants throughout the United States, as well as two restaurants in Toronto and two in London. The company's restaurants serve a menu of burritos, tacos, burrito bowls, and salads. Chipotle Mexican Grill manages its operations and restaurants based on six regions that all report into a single segment. It prides itself on serving the best possible ingredients during a time when consumers are more keen to this detail.
Upon the release of Chipotle Mexican Grill's first-quarter earnings, shares spiked as high as $588/share after closing on Wednesday at $552/share. However, as reality set in during the day, the stock began to slump — shares closed near the day's low of just under $520/share. To readers of my March 31 article on Chipotle, this weakness should have come as no surprise. Investors initially bid up shares of Chipotle because of its strong revenue growth — 24 percent year-over-year. This is a growth rate that is virtually unparalleled, and it is one of the reasons that investors are willing to pay such a high P/E multiple — 42 — for Chipotle shares. However, profits grew at just 8.5 percent, which is completely unacceptable for a company trading at such a high multiple to earnings. Furthermore, profits fell short of analyst estimates, coming in at $2.64/share versus an estimate of $2.86/share. The reason for the unimpressive profit growth was margin compression due to an increase in executive compensation and rising food prices. The two combined to hit margins by about 280 basis points, which is devastating for a company that had just 10 percent profit margins in Q1 of 2013.
T = Technicals on the Stock Chart Are Mixed
Chipotle Mexican Grill stock has been trending much higher in the last couple of years. However, the stock is currently pulling back and may need time to stabilize. Analyzing the price trend and its strength can be done using key simple moving averages. What are the key moving averages? The 50-day (pink), 100-day (blue), and 200-day (yellow) simple moving averages. As seen in the daily price chart below, Chipotle Mexican Grill is trading between its rising key averages which signal neutral price action in the near-term.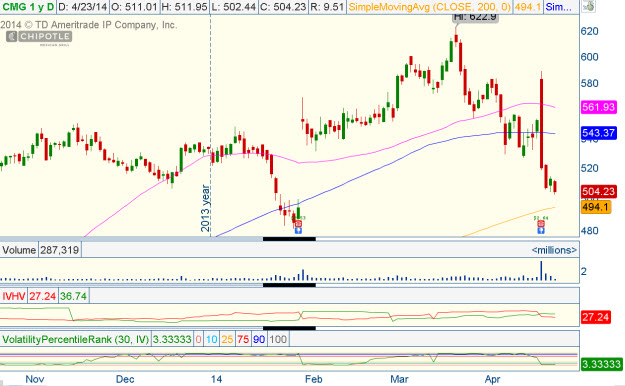 (Source: Thinkorswim)
Taking a look at the implied volatility (red) and implied volatility skew levels of Chipotle Mexican Grill options may help determine if investors are bullish, neutral, or bearish.
| | | | |
| --- | --- | --- | --- |
| | Implied Volatility (IV) | 30-Day IV Percentile | 90-Day IV Percentile |
| Chipotle Mexican Grill options | 27.24% | 3% | 0% |
What does this mean? This means that investors or traders are buying a small amount of call and put options contracts, as compared to the last 30 and 90 trading days.
| | | |
| --- | --- | --- |
| | Put IV Skew | Call IV Skew |
| May Options | Average | Average |
| June Options | Average | Average |
As of today, there is an average demand from call and put buyers or sellers, all neutral over the next two months. To summarize, investors are buying a small amount of call and put option contracts and are leaning neutral over the next two months.
On the next page, let's take a look at the earnings and revenue growth rates and the conclusion.
E = Earnings Are Increasing Quarter-Over-Quarter
Rising stock prices are often strongly correlated with rising earnings and revenue growth rates. Also, the last four quarterly earnings announcement reactions help gauge investor sentiment on Chipotle Mexican Grill's stock. What do the last four quarterly earnings and revenue growth (Y-O-Y) figures for Chipotle Mexican Grill look like and more importantly, how did the markets like these numbers?
| | | | | |
| --- | --- | --- | --- | --- |
| | 2014 Q1 | 2013 Q4 | 2013 Q3 | 2013 Q2 |
| Earnings Growth (Y-O-Y) | 7.76% | 30.08% | 17.18% | 10.16% |
| Revenue Growth (Y-O-Y) | 24.41% | 20.74% | 18.04% | 18.22% |
| Earnings Reaction | -5.93% | 11.74% | 16.09% | 8.55% |
Chipotle Mexican Grill has seen increasing earnings and revenue figures over the last four quarters. From these numbers, the markets have had conflicting feelings about Chipotle Mexican Grill's recent earnings announcements.
P = Weak Relative Performance Versus Peers and Sector
How has Chipotle Mexican Grill stock done relative to its peers, Panera Bread (NASDAQ:PNRA), McDonald's (NYSE:MCD), Yum Brands (NYSE:YUM), and sector?
| | | | | | |
| --- | --- | --- | --- | --- | --- |
| | Chipotle Mexican Grill | Panera Bread | McDonald's | Yum Brands | Sector |
| Year-to-Date Return | -5.63% | -3.25% | 2.30% | 0.77% | -2.45% |
Chipotle Mexican Grill has been a poor relative performer, year-to-date.
Conclusion
Chipotle Mexican Grill provides consumers with quick, delicious, and healthy food options on a daily basis. The stock has been trending higher, but is currently pulling back. Over the last four quarters, earnings and revenues have been on the rise. However, investors have had conflicting feelings about recent earnings announcements. Relative to its peers and sector, Chipotle Mexican Grill has been a poor year-to-date performer. WAIT AND SEE what Chipotle Mexican Grill does next.
Using a solid investing framework such as this can help improve your stock-picking skills. Don't waste another minute — click here and get our CHEAT SHEET stock picks now.
More From Wall St. Cheat Sheet: