Does GlaxoSmithKline Have a Bright Future?
With shares of GlaxoSmithKline (NYSE:GSK) trading around $53, is GSK an OUTPERFORM, WAIT AND SEE, or STAY AWAY? Let's analyze the stock with the relevant sections of our CHEAT SHEET investing framework:
T = Trends for a Stock's Movement
GlaxoSmithKline is global healthcare group engaged in the discovery, development, manufacturing, and marketing of pharmaceutical products. These products are vaccines, over-the-counter medicines, and health-related consumer products. GlaxoSmithKline's principal pharmaceutical products are medicines in these areas: respiratory, antivirals, central nervous system, cardiovascular and urogenital, metabolic, antibacterials, oncology and emesis, dermatology, rare diseases, immuno-inflammation, vaccines, and HIV.
In an escalation of previous charges facing the company, GlaxoSmithKline is now facing a criminal investigation from Britain's Serious Fraud Office. The company is already facing fraud allegations in several countries. The SFO said in a statement released on Tuesday that it "has opened a criminal investigation into the commercial practices of GlaxoSmithKline plc and its subsidiaries." The news follows reports that GSK's China Exec will face jail time after the Chinese government found him liable for charges of corruption and bribery. The company has faced several similar investigations in China, Poland, and the Middle East. Earlier this month, GSK's former head of its China unit, Mark Reilly, along with two other top executives were charged with ordering employees to bribe healthcare workers; the charges carry a maximum sentence of life in prison, according to FiercePharma.
The Serious Fraud Office as well as GSK, have declined to offer any additional information on the subject of the new investigation, and the BBC reports that GSK refused to comment on whether the SFO investigation was connected with any specific incident in particular; the investigation is in response to an apparent violation of a UK law which states it is illegal for companies to bribe government employees, even while conducting business abroad. The U.S. enforces similar legislation, known as the U.S. Foreign Corrupt Policies Act. In response to the new criminal investigation in Britain, GSK released a statement on Tuesday, announcing that, "GSK is committed to operating its business to the highest ethical standards and will continue to cooperate fully with the S.F.O." Were the company found liable of corruption through the SFO investigation, it's possible that it would also have to face discipline from the U.S. as well, since both countries have laws forbidding such practices.
T = Technicals on the Stock Chart Are Mixed
GlaxoSmithKline stock has trended higher in the past several years. However, the stock is currently pulling back and may need time to consolidate. Analyzing the price trend and its strength can be done using key simple moving averages. What are the key moving averages? The 50-day (pink), 100-day (blue), and 200-day (yellow) simple moving averages. As seen in the daily price chart below, GlaxoSmithKline is trading between its rising key averages which signal neutral price action in the near-term.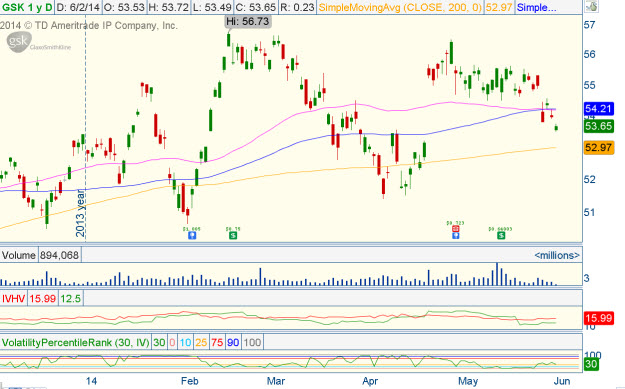 (Source: Thinkorswim)
Taking a look at the implied volatility (red) and implied volatility skew levels of GlaxoSmithKline options may help determine if investors are bullish, neutral, or bearish.
| | | | |
| --- | --- | --- | --- |
| | Implied Volatility (IV) | 30-Day IV Percentile | 90-Day IV Percentile |
| GlaxoSmithKline options | 15.99% | 30% | 28% |
What does this mean? This means that investors or traders are buying a minimal amount of call and put options contracts, as compared to the last 30 and 90 trading days.
| | | |
| --- | --- | --- |
| | Put IV Skew | Call IV Skew |
| July Options | Average | Average |
| August Options | Average | Average |
As of today, there is an average demand from call and put buyers or sellers, all neutral over the next two months. To summarize, investors are buying a minimal amount of call and put option contracts and are leaning neutral over the next two months.
On the next page, let's take a look at the earnings and revenue growth rates and the conclusion.
E = Earnings Are Decreasing Quarter-Over-Quarter
Rising stock prices are often strongly correlated with rising earnings and revenue growth rates. Also, the last four quarterly earnings announcement reactions help gauge investor sentiment on GLAXOSMITHKLINE's stock. What do the last four quarterly earnings and revenue growth (Y-O-Y) figures for GLAXOSMITHKLINE look like and more importantly, how did the markets like these numbers?
| | | | | |
| --- | --- | --- | --- | --- |
| | 2014 Q1 | 2013 Q4 | 2013 Q3 | 2013 Q2 |
| Earnings Growth (Y-O-Y) | -25.56% | 111.07% | -12.65% | -66.67% |
| Revenue Growth (Y-O-Y) | -7.66% | 270.39% | -1.86% | -34.8% |
| Earnings Reaction | -1.81% | 1.55% | -0.11% | 0.38% |
GlaxoSmithKline has seen decreasing earnings and revenue figures over the last four quarters. From these numbers, the markets have had mixed feelings about GlaxoSmithKline's recent earnings announcements.
P = Average Relative Performance Versus Peers and Sector
How has GlaxoSmithKline stock done relative to its peers, Pfizer (NYSE:PFE), Merck (NYSE:MRK), Novartis (NYSE:NVS), and sector?
| | | | | | |
| --- | --- | --- | --- | --- | --- |
| | GlaxoSmithKline | Pfizer | Merck | Novartis | Sector |
| Year-to-Date Return | 0.28% | -2.87% | 15.26% | 10.34% | 6.75% |
GlaxoSmithKline has been an average performer, year-to-date.
Conclusion
GlaxoSmithKline is a healthcare group that engages in many aspects of the pharmaceutical business around the world. The company is now facing a criminal investigation from Britain's Serious Fraud Office. The stock has trended higher in recent years, but is currently pulling back. Over the past four quarters, earnings and revenue figures have been decreasing, which has produced mixed feelings among investors. Relative to its peers and sector, GlaxoSmithKline has been an average year-to-date performer. WAIT AND SEE what GlaxoSmithKline does next.
Using a solid investing framework such as this can help improve your stock-picking skills. Don't waste another minute — click here and get our CHEAT SHEET stock picks now.
More From Wall St. Cheat Sheet: