Does T-Mobile Support Higher Prices?
With shares of T-Mobile (NASDAQ:TMUS) trading around $26, is TMUS an OUTPERFORM, WAIT AND SEE, or STAY AWAY? Let's analyze the stock with the relevant sections of our CHEAT SHEET investing framework:
T = Trends for a Stock's Movement
T-Mobile offers mobile communications services under the T-Mobile brands in the United States, Puerto Rico, and the U.S. Virgin Islands. Its service offerings include postpaid and prepaid wireless voice, messaging and data services, mobile broadband, and wholesale wireless services. The company has been increasing its user base at great rates, and a recent takeover rumor may be the fuel it needs for the stock to soar higher.
Much anticipation has been built up around T-Mobile's Uncarrier Phase III announcement, and many are expecting it to revolve around a family plan — or plans — of sorts. "T-Mobile is having the most success with single-line customers, who clearly get a better value for their money than being customers of Verizon or AT&T," Nomura analyst Adam Ilkowitz said. "The third 'uncarrier' event from T-Mobile could focus on data plans for tablets or easing family plan transitions."
T = Technicals on the Stock Chart Are Strong
T-Mobile stock has seen a consistent uptrend since its initial public offering, this year. The stock is currently trading at all-time high prices and looks ready to continue. Analyzing the price trend and its strength can be done using key simple moving averages. What are the key moving averages? The 50-day (pink), 100-day (blue), and 200-day simple moving averages. As seen in the daily price chart below, T-Mobile is trading above its rising key averages, which signal neutral to bullish price action in the near-term.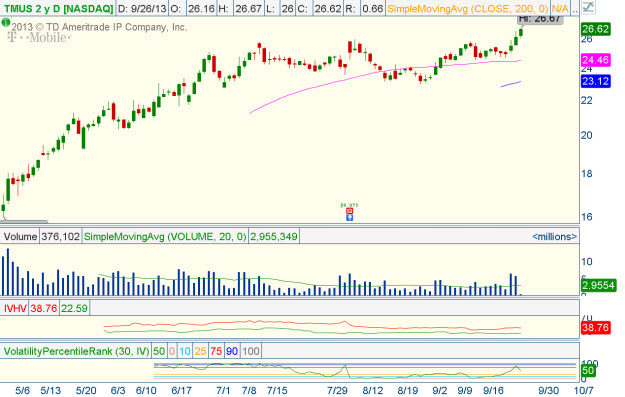 (Source: Thinkorswim)
Taking a look at the implied volatility (red) and implied volatility skew levels of T-Mobile options may help determine if investors are bullish, neutral, or bearish.
| | | | |
| --- | --- | --- | --- |
| | Implied Volatility (IV) | 30-Day IV Percentile | 90-Day IV Percentile |
| T-Mobile Options | 38.76% | 50% | 49% |
What does this mean? This means that investors or traders are buying a significant amount of call and put options contracts as compared to the last 30 and 90 trading days.
| | | |
| --- | --- | --- |
| | Put IV Skew | Call IV Skew |
| October Options | Flat | Average |
| November Options | Flat | Average |
As of today, there is an average demand from call buyers or sellers and low demand by put buyers or high demand by put sellers, all neutral to bullish over the next two months. To summarize, investors are buying a significant amount of call and put option contracts and are leaning neutral to bullish over the next two months.
On the next page, let's take a look at the earnings and revenue growth rates and the conclusion.
E = Earnings Are Mixed Quarter-Over-Quarter
Rising stock prices are often strongly correlated with rising earnings and revenue growth rates. Also, the last four quarterly earnings announcement reactions help gauge investor sentiment on T-Mobile's stock. What do the last four quarterly earnings and revenue growth (Y-O-Y) figures for T-Mobile look like and more importantly, how did the markets like these numbers?
| | | | | |
| --- | --- | --- | --- | --- |
| | 2013 Q2 | 2013 Q1 | 2012 Q4 | 2012 Q3 |
| Earnings Growth (Y-O-Y) | N/A | -16.67% | -65.50% | 173.70% |
| Revenue Growth (Y-O-Y) | 27.54% | 0.82% | 3.73% | 4.46% |
| Earnings Reaction | 4.12% | -0.78% | N/A | N/A |
T-Mobile has seen mixed earnings and rising revenue figures over the last four quarters. From these numbers, the markets have been mixed about T-Mobile's recent earnings announcements.
P = Excellent Relative Performance Versus Peers and Sector
How has T-Mobile stock done relative to its peers, Verizon (NYSE:VZ), AT&T (NYSE:T), Sprint (NYSE:S), and sector?
| | | | | | |
| --- | --- | --- | --- | --- | --- |
| | T-Mobile | Verizon | AT&T | Sprint | Sector |
| Year-to-Date Return | 32.67% | 9.64% | 1.60% | 11.62% | 10.67% |
T-Mobile has been a relative performance leader, year-to-date.
Conclusion
T-Mobile is attempting to revolutionize the communications industry by providing less-restricted products and services to consumers and companies. Investors and consumers alike are both eagerly awaiting more details about the company's Uncarrier Phase III. The stock has been surging higher since its IPO and is now trading at all time highs. Over the last four quarters, investors have had mixed feelings as earnings have been mixed while revenues have been rising. Relative to its peers and sector, T-Mobile has been a year-to-date performance leader. Look for T-Mobile to OUTPERFORM.
Using a solid investing framework such as this can help improve your stock-picking skills. Don't waste another minute — click here and get our CHEAT SHEET stock picks now.