Exxon Mobil Faces Criminal Charges That Concern the Fracking Industry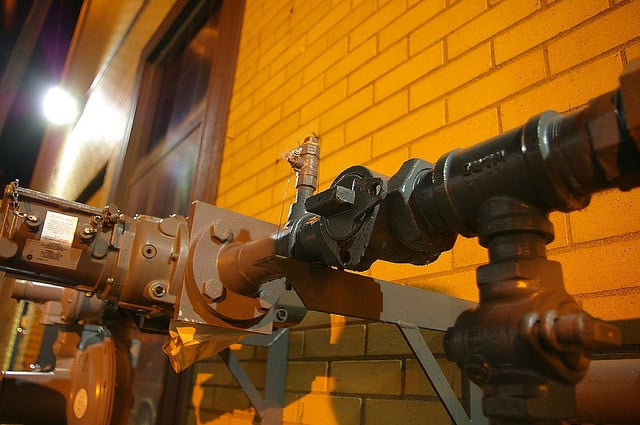 Three years ago, Exxon Mobil (NYSE:XOM) acquired natural-gas producer XTO Energy for $34.9 billion, largely to take advantage of  the company's hydraulic-fracturing expertise. The purchase was the Exxon's largest since former Chief Executive Officer Lee Raymond orchestrated the $88 billion merger with Mobil — and it tied the company's future growth to fracking.
The XTO Energy purchase came at a time when hydraulic fracturing, a process that cracks rock deep underground to release oil and natural gas, was first beginning to make production possible in many previously untapped shale fields. The subsequent shale gas revolution swiftly changed the economics of natural gas. It prompted the industry to launch more than 100 new projects in the past several years specifically aimed at taking advantage of low prices, with investments totaling billions of dollars and 50,000 new jobs created. Even if the United States now produces more natural gas than it can use, pushing prices down. Natural gas is undoubtedly big business.
As natural has becomes a bigger business, and as the Department of Energy begins approving more proposals to export liquefied natural gas, it will become an even bigger business. In contrast, environmentalists fear that as natural gas grows more profitable, it will leave an even darker mark on the American landscape.
The main opponents of fracking argue that it is hazardous to the water supply because the technique involves injecting water mixed with chemicals into wells to break apart shale formations that cover pockets of oil or natural gas. Wastewater discharged from natural gas wells can contain toxins like chlorides, barium, strontium, and aluminum as Pennsylvania's attorney general's office noted in the statement announcing its decision to criminally charge Exxon Mobil for illegally dumping 50,000 gallons wastewater from a Marcellus Shale gas well site in the state's Lycoming County.
The Marcellus shale, a rock formation comprised of marine sedimentary rock stretching across the northeast United States and much of the Appalachian Basin, contains a largely untapped natural gas reserve, transforming Pennsylvania into one of the largest natural gas-producing states over the past five years. According to the Energy Information Administration, the Marcellus shale holds 24 percent of the nation's shale gas reserves, making the Lycoming County Marquandt well an important asset for Exxon.
During an unannounced November 2010 visit by Pennsylvania's Department of Environmental Protection, inspectors discovered that a drain plug had been removed from a storage tank, allowing the wastewater to run into the ground, resulting in the pollution of a nearby stream, noted the statement. As a result, the Exxon unit, XTO Energy, was charged with five counts of unlawful conduct under the Clean Streams Law and three counts under the Solid Waste Management Act. XTO was also required to remove 3,000 tons of contaminated soil to be excavated and removed from the Marquardt site.
As part of a July 18, 2001 settlement with the U.S. Environmental Protection Agency and the Department of Justice, XTO agreed to also pay "reasonable civil penalties" and recycle at least half its drilling wastewater. But an investigating grand jury recommended earlier this week that criminal charges be filed as well. In response, the Exxon unit said Wednesday that the "criminal charges are unwarranted and legally baseless," according to a statement posted on its website.
"There was no intentional, reckless, or negligent misconduct by XTO." The unit also maintained that it had "acted quickly" to clean up the spill and there was "no lasting environmental impact."
"Charging XTO under these circumstances could discourage good environmental practices," the company said in its statement. "This action tells oil and gas operators that setting up infrastructure to recycle produced water exposes them to the risk of significant legal and financial penalties should a small release occur."
Prominent members of the industry agree. "The incident has been fully addressed at the state and federal levels, and this action creates an untenable business climate that will discourage investment in the commonwealth [of Pennsylvania]," Kathryn Z. Klaber, president of the Marcellus Shale Coalition, said in a statement acquired by the Philadelphia Inquirer.
Pennsylvania Chamber of Business and Industry president Gene Barr expressed concern as well. "This decision sends a chilling message to all businesses looking to locate in Pennsylvania that they could be held criminally liable in the event of an unintentional spill by a contractor that resulted in no injury to humans or wildlife and that had no lasting impacts on the environment," he told Inquirer energy reporter Andrew Maykuth.
Fracking is not just an economic boon for the state of Pennsylvania. As an August 29 post to the White House Blog stated, the resurgence of domestic oil and gas production is an event "to celebrate." That day the Bureau of Economic Analysis revised its estimate of second quarter GDP from 1.7 percent to 2.5 percent.
The stronger estimate of economic growth was due to an upward revision in net exports, and trade data showed that drop in the trade deficit in petroleum, which fell to a record low in June, was largely to thank for the upward revision. While incidents like the discharge of toxic wastewater contributes to the negative image of the  fracking technique, it is clearly far too important to the economy to be regulated out of existence.
What is currently taking the regulatory front burner for the Obama administration is carbon emissions. Earlier this summer, the President's Climate Action Plan was released, containing a number of regulations and policy initiatives aimed at reducing the country's carbon emissions.
Follow Meghan on Twitter @MFoley_WSCS
Don't Miss: Here's Chevron's Legal Maneuver to Avoid a $19B Charge.