Have You Missed Out on the Stock Market Euphoria?
The short answer, if you pulled out after the 2008 crisis and haven't looked back since, is yes. The S&P 500 index has climbed about 141 percent since it hit a 12-year low of 676.53 in March of 2009. The Dow Jones Industrial Average recently closed about 15,000 for the first time, and clever equity bulls have bought-and-held their way to profits for the last four years pretty much without pause.
But the dot-com crash and the 2008 financial crisis scarred Mr. Market, and U.S. equity mutual funds and exchange-traded funds have experienced negative cash flows for all but three quarters since 2004. Investors have clearly grown tepid and more risk-adverse than before, favoring index funds over individual equities, and even then preferring stable, high-yield stocks.
The great fear is that another crash is coming. Equities have rallied on the back of record asset purchases orchestrated by the Federal Reserve and investors, forced into stocks, are worried that they will be forced over the cliff when the big correction comes. Near-zero interest rates have proven to be an addictive, performance-enhancing drug to the equity markets, but have arguably done little to actually stimulate the underlying economy.

One bit of reassuring news comes with a steadily declining CBOE Volatility Index. The VIX index is a measure of implied volatility in the S&P 500, and with the exception of a spike in 2010 and 2012, has trended downward since the end of the financial crisis. This could mean that the party is finally winding down, and preparing for a time when the Federal Reserve could end asset purchases and normalize interest rates.
Beyond this reading, there are a few economic indicators that have shown steadily improvement recently. The housing market and auto sales remain bright spots, despite high unemployment and stagnant wages. Looking ahead, investors will need to internalize the lessons of the post-crisis era, regardless of whether or not they participated in the bull rush.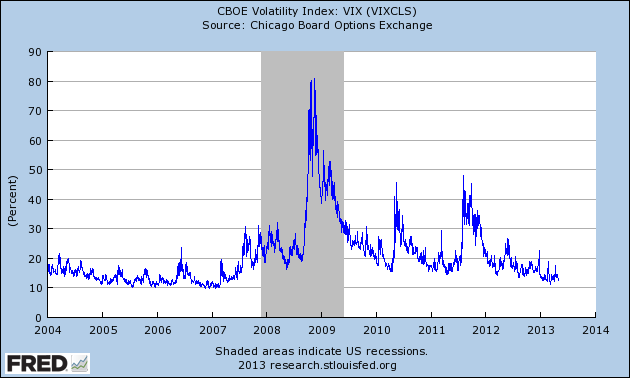 Don't Miss: Americans Are Surprisingly Less Worried About Their Finances.