Here Is Why Ted Cruz Is Not Your Average Republican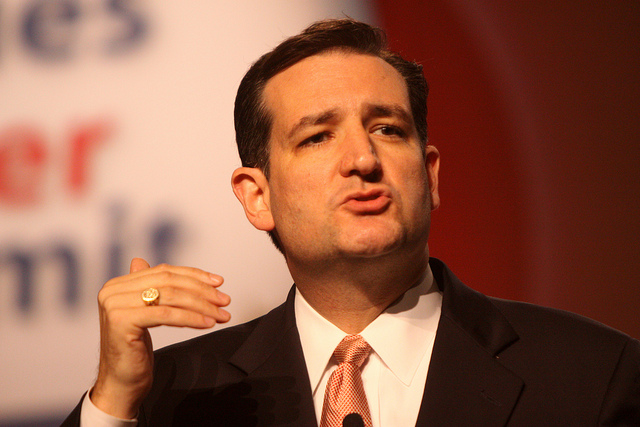 Sen. Ted Cruz is well-known as a controversial figure in Washington, and it's not just the Democrats that have trouble with him. According to Bloomberg, it's likely his independent source of campaign funding that lends him the confidence to show party disloyalty.
"He has an independent source of money and direct access to the media, and that makes him very hard to control. It gives him power for himself but not collectively and represents the rise of extreme individualism," said James Thurber, a professor at American University, to Bloomberg. The senator's rhetoric suggests that he doesn't feel too much dependence on the Republican Party — and during the government shutdown that became abundantly clear, with many speculating that he did dangerous damage to the GOP's public standing.
Now, the senator is speaking openly about the need to listen to the electorate, not the Republicans or the Democrats. "Our focus should be far less on party than it should be on listening to the people who elected us. The greatest divide we have in Washington is not between Republicans and Democrats. It's between entrenched career politicians in both parties and the American people," said Cruz.
According to Bloomberg, the Republican party is presently somewhat split on tactics, with some going the Cruz route, and others insisting that party loyalty needs to overrule some of the issues they might otherwise fight on indefinitely. Haley Barbour, former governor of Mississippi and Chair of the Republican National Committee, notes that you can't win "by trying to be priests of purity. In politics, purity is a loser. Purity is the enemy of victory."
While this may sound pretty harsh, the "purity" he referred to means a lack of flexibility, as in the case of the recent fight for Virginia's governorship between Ken Cuccinelli and Terry McAuliffe. Republican businessmen were ultimately the deciding factor — and they pushed McAuliffe into the position because they believed Cuccinelli would ultimately be distracted by his firm stance on issues such as abortion and climate science. They didn't want a stolid proponent of those issues, they wanted a leader who would hone in on the economy. We'll see if the same is true of Ted Cruz's potential run for the presidency in 2016 — who knows what will happen — but a fight between Hillary Clinton and Cruz would certainly be interesting.
Don't Miss: What You Don't Know May Be Vegan: 7 Foods That Make the Cut.