Here's How Apple and the Internet Made Al Gore Rich
Word on the street is that Al Gore has joined the pantheon of America's multimillionaires.
Bloomberg calculates that the former Senator and Vice President could be worth as much as $200 million, with as much as half of that money coming in just one month. Gore owned a 20 percent stake in Current TV, a media company that was sold to the Qatar-based broadcaster Al Jazeera for $500 million. After debt, Gore reportedly net $70 million from the deal. The value of the deal was predicated on Current TV's reach into nearly 40 million U.S. homes.
The remaining 30 percent of Gore's $100 million-month came from the exercise of 59,000 shares of Apple (NASDAQ:AAPL) that he has earned for his service on the company's board of directors. Gore still has about 42,000 options left to him. During his time on the board, the value of Apple's stock has increased nearly 6,000 percent.
The rest of his wealth has been estimated using company filings, government records, public pronouncements and past interviews. Some of his net worth is tied up in real estate (a man has to live somewhere) and an undisclosed number of shares of Occidental Petroleum Corporation (NYSE:OXY), which were left to him by his late father.
While it's clear that Gore has had his share of good luck — by most accounts, the $500 valuation of Current TV was generous — there's also no hiding the fact that he has proven himself to be a smart and savvy businessman and investor. Before Apple, Gore was invited to advise Google (NASDAQ:GOOG) before it made its IPO in 2004.
Gore is also a partner on the Greentech Team at KPCB.
Here's how Apple (NASDAQ:AAPL) traded Tuesday: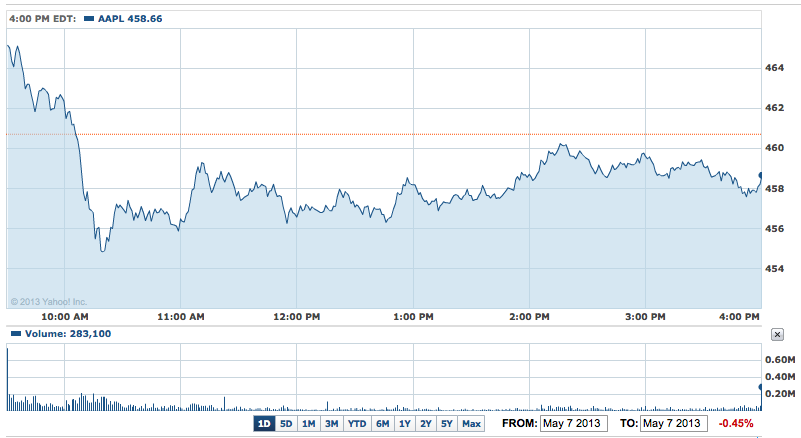 Don't Miss: Apple's iOS Easily Trumps Android on This Metric.