History and Warren Buffett Say Cash Is a Terrible Investment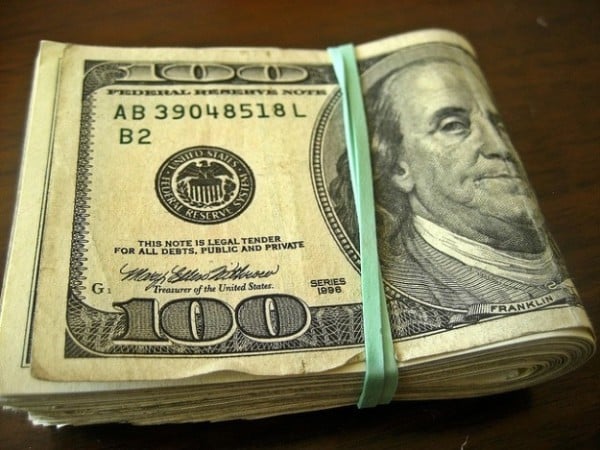 When volatility and uncertainty hit the financial market, investors often become overwhelmed with fear. In order to avoid more pain, many people simply shift their assets into cash. However, history and one of the world's most well-known billionaires say that cash is a terrible long-term investment.
The stock market has suffered two breathtaking pullbacks over the past decade. Between January 2000 and July 2002, the S&P 500 dropped from 1,500 to 815. During the Great Recession, the index plummeted from 1,525 to 800. With the help of the Federal Reserve, stocks have recovered losses, and even made new all-time highs — but many investors still don't trust the market.
According to a new report from Bankrate, cash is the most preferred long-term investment for more than one in four Americans. Twenty-six percent of people say that cash investments are the best way to invest when it comes to money not needed for the next ten years. Real estate came in second place with 23 percent of the vote. Despite the decline in precious metals this year, 16 percent of Americans favor gold and other precious metals. Only 14 percent say stocks are their top pick for a long-term investment.
"Americans not saving enough is well-documented, but hunkering down in cash investments and settling for low returns will only magnify the problem of not having a sufficient nest egg to meet longer-range financial goals such as retirement," said Greg McBride, CFA, Bankrate.com's senior financial analyst. "Other choices may not do the trick either, as real estate is not only very cash-intensive, but often illiquid. And precious metals spit out zero cash flows, with gains solely dependent on price appreciation."
While holding some cash can provide an opportunity for future investments, making it the foundation of an investment portfolio is dangerous over the long haul. As the chart below from BlackRock shows, cash has an average annual return of only 0.5 percent after inflation, between the period of 1926 and 2012. When taxes are factored, cash has a negative return of 0.8 percent. In comparison, stocks have an average return of 4.5 percent after taxes and inflation.
Interestingly, Bankrate finds that people making at least six figures prefer stocks and real estate as long-term investments. Meanwhile, people making less than that prefer cash investments. Cash is also the top pick by 32 percent of people with a high school education or less, compared to 24 percent of those with at least some college education, and 19 percent with a college degree.
Warren Buffett, the largest shareholder of Berkshire Hathaway (NYSE:BRKA), once explained how investors should view cash. He said, "The one thing I will tell you is the worst investment you can have is cash. Everybody is talking about cash being king and all that sort of thing. Cash is going to become worth less over time. But good businesses are going to become worth more over time. And you don't want to pay too much for them so you have to have some discipline about what you pay. But the thing to do is find a good business and stick with it. We always keep enough cash around so I feel very comfortable and don't worry about sleeping at night. But it's not because I like cash as an investment. Cash is a bad investment over time. But you always want to have enough so that nobody else can determine your future essentially."
On Friday, Buffett proved his own stock is better than cash as Berkshire Hathaway reported net income of $4.54 billion, or $2,763 per Class A share, up from $3.1 billion, or $1,882 per Class A share, last year.  Additionally, Berkshire's revenue climbed 16 percent to $44.69 billion.
Don't Miss: The Young and the Jobless Are Still Feeling the Recession's Side Effects
Follow Eric on Twitter @Mr_Eric_WSCS