Housing Market Tug Of War: Sales Stall While Prices Climb
Existing home sales declined in March, according to data released by the National Association of Realtors on Monday.
Total existing home sales — defined as completed transactions involving single-family homes, town homes, condominiums, and co-ops — declined 0.6 percent on the month to a seasonally-adjusted annualized rate of 4.92 million in March. February's annualized rate was downwardly revised to 4.95 million. That said, March's rate was 10.3 percent higher than the year-ago period. Sales have no been above year-ago levels for 21 consecutive months.
The data also revealed that home prices are up 6.2 percent on the month and 11.8 percent on the year, making the strongest increase in the post-crisis era. Low sales and high prices suggests that there is more supply than demand in the market. Given this situation, higher prices are likely to bring more homes to market in April.
Total housing inventory at the end of March increased just 1.6 percent in March to 1.93 million existing homes available for sale. This represents a 4.7-month supply at the current rate. The national median price for an existing-home sale climbed 11.8 percent on the year and 6.2 percent on the month to $184,000.
"Buyer traffic is 25 percent above a year ago when we were already seeing notable gains in shopping activity," commented NAR Chief Economist Lawrence Yun. "In the same timeframe housing inventories have trended much lower, which is continuing to pressure home prices. The good news is home construction is rising and low mortgage rates are continuing to keep affordability conditions at historically favorable levels. The bad news is that underwriting standards remain excessively tight, while renters are getting squeezed by higher rents."
Data from Freddie Mac show that the monthly average commitment rate on a 30-year fixed-rate mortgage edged up 0.4 points in March to 3.57 percent. This is still below the annual average for 2012 of 3.66 percent, but is the third consecutive month the average rate has increased.
Here's how the market traded Monday: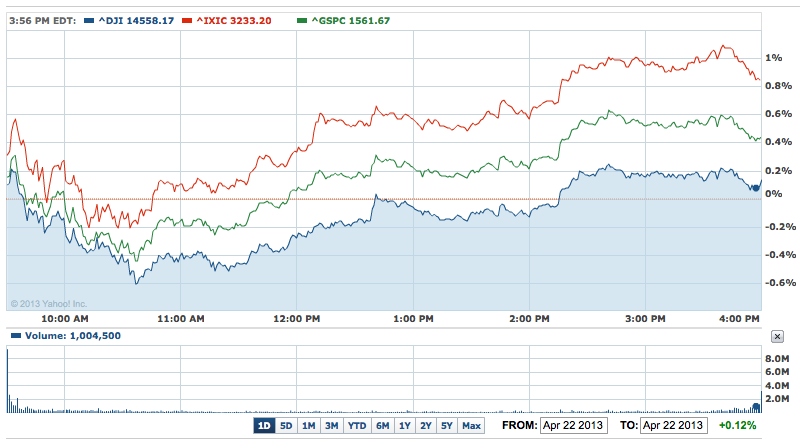 Don't Miss: Here's Why the U.S. Economy is Missing February.