Is America Growing Support For the Marijuana Industry?
As it stands, there are eighteen states (including the District of Columbia) that have some sort of law or regulation recognizing some form of legitimate use of marijuana. With the exception of Washington and Colorado, the law recognizes — in line with a growing body of medical work supporting the thesis — these as medical applications.
Washington and Colorado recognize legitimate recreational use of the drug. (It's only a little bit ironic that studies have shown that cannabis can be used to help treat alcohol abuse.) But progress toward comprehensive — or competent — regulation has been slow, at best.
"Today the regulatory environment is, I would say, highly ambiguous," said Sterling Scott, CEO and chairman of Growlife (PHOT.PK) in an interview on April 19, just ahead of the infamous 4-20 "Weed Day" holiday. "You almost need to be a skilled lawyer to navigate a company through it."
The federal government does not recognize any legitimate use for marijuana. Under the the Controlled Substances Act enacted by Congress in 1970, THC is a Schedule 1 drug. Until THC is rescheduled, the cultivation, transfer, or possession of the substance is punishable by federal law, and any business facilitating or carrying out these activities faces possible closure, seizure of funds and property, and owners and employees face the real and present risk of federal prosecution.
Part of Growlife's business is the facilitation of indoor and outdoor urban gardening. Ostensibly, this serves a wide range of consumers and businesses — anyone from indoor culinary-herb gardeners to business-scale producers of marijuana for medical dispensaries — that need high-powered LED lights or grow-room climate monitoring and controlling equipment.
Given its business model, Growlife is beyond the reach of federal scrutiny, but some of its potential customers are not. Dispensaries operating legally under state law are still, technically, at risk from federal intervention. But in line with the results of the Pew Research survey, the tides seem to be shifting in favor of marijuana advocates…
Data compiled by Pew Research shows that a majority of Americans now think that marijuana should be made legal. Support for the legality of the drug increased 11 percentage points over the past 2 years to claim a 52 percent share of survey participants.
What's more, the data indicate that this is not just because of an incoming generation of vocal, pot-smoking liberal activists. At least 65 percent of Millennials (born 1981 or after) do support legalization, the highest rate among any demographic, but positive sentiment on legalization has increased across the board. A full 54 percent of Gen X (1965-1980) supports it, and after support among the age group dropped as low as 17 percent in 1990, 50 percent of Boomers (1946-1964) now support legalizing the drug.
"Growlife thinks that the federal government policymakers have already decided to allow control, tax, and regulate experiments like Colorado, Washington, and Massachusetts to continue," Scott said.
An official referendum on the issue in the form of H.R. 1523 ("Respect State Marijuana Laws Act") was introduced to Congress a week ago. If passed, the bi-partisan bill would protect individual marijuana consumers, as well as medical and non-medical businesses operating in states which have legalized and/or regulated marijuana use. Essentially, federal law would no longer trump state law in the case of marijuana.
"We think it represents very sensible legislation that allows the experiment in the states for both medical marijuana and separately for recreational marijuana among consulting adults to continue and to be refined," Scott said, commenting on the bill.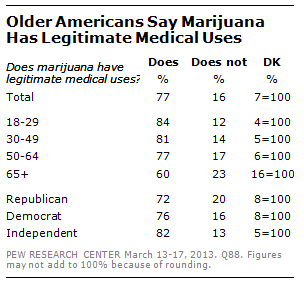 "There are two major paths," Scott continued. "Therapeutic applications, call it medical marijuana, and then there's the path of what is now called recreational marijuana."
The distinction between these two paths is a little blurry, but it's an important line to draw. The data compiled by Pew show that 77 percent of Americans think that Marijuana has legitimate medical uses, while just 16 percent think that it does not (7 percent don't know).
Treating marijuana as a medicine begs the involvement of companies like Eli Lilly (NYSE:LLY) and Pfizer (NYSE:PFE), which have already pursued the development of synthetic forms of THC. The medical applications for marijuana or derivative THC products overlaps with a lot of the same medication that pharmaceutical companies develop and sell.
On the other side of the aisle, treating marijuana as a recreational drug, begs the involvement of companies like Philip Morris (NYSE:PM). A regulatory architecture exists that allows alcohol to be sold at gas stations, if they have the right license. What's to stop a Marlboro-brand weed cigarette from hitting the mass market?
The answer to the question is a point of speculation for a later article, but as it stands the regulatory environment — let alone the cultural and business environment — is biased toward a more local, cottage-based industry.
Don't Miss: Americans Are Raiding Retirement Accounts.