Is Ben Bernanke's Bazooka Brigade Running Out of Ammo?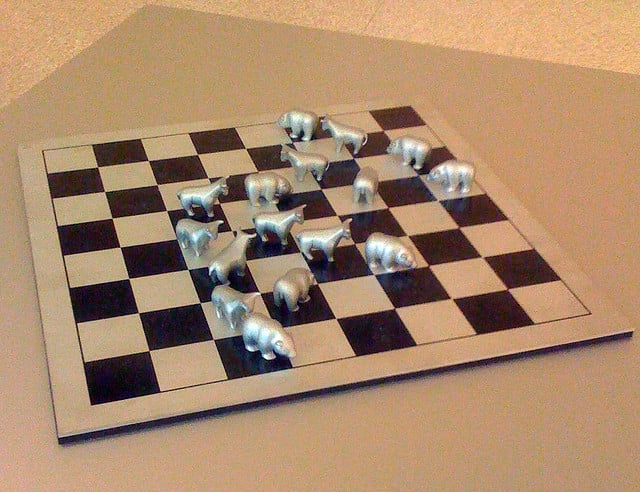 The Federal Reserve will meet to debate policy on June 18 and 19 under the full scrutiny of U.S. market participants. Analysts and investors won't receive the minutes from the meeting for three weeks — the standard lag time — but observers have a pretty good idea of what the Federal Open Market Committee will be talking about: interest rates, inflation, the labor market, and whether or not to begin winding down QE4.
In a May 1 policy update, the FOMC announced that it had "decided to continue purchasing additional agency mortgage-backed securities at a pace of $40 billion per month and longer-term Treasury securities at a pace of $45 billion per month."
"Taken together," the FOMC added, "these actions should maintain downward pressure on longer-term interest rates, support mortgage markets, and help to make broader financial conditions more accommodative." This has proven to be true, and the policy has acted as a unique stimulus to equities. Stock markets have hit successive record highs on the back of QE spending, making any indication that the program will end critical to investors.
Interest Rates:
In the same policy update, the Federal Reserve indicated that "a highly accommodative stance of monetary policy will remain appropriate for a considerable time after the asset purchase program ends and the economic recovery strengthens." As it stands, the target range for the federal funds rate is between 0.00 and 0.25 percent, and the Fed anticipates that this will remain the case as long as U-3 unemployment remains above 6.5 percent and inflation below 2.5 percent.
With this in mind, most observers are not expecting any change to the Fed's target interest rate. Instead, all eyes will on the lookout for language indicating that bond purchases will be curbed in the coming months.
Inflation
"Currently, the personal consumption expenditures or PCE inflation rate, which the Federal Reserve chose as the measure for its inflation goal a year ago, is about 1.0 percent," said Eric Rosengren, president and CEO of the Federal Reserve Bank of Boston, in a speech on May 16. "This is well below our 2 percent target."
The Bureau of Economic Analysis won't release PCE inflation data for April until the end of May, but April's low reading has been supported by consumer and producer price inflation data that shows little pressure in the pipeline. Core PPI and CPI data show just fractional sequential increase in prices, while all-items data for both indexes was negative.
Speaking earlier in May, Federal Reserve Bank of Philadelphia President Charles Plosser — who is critical of current policy — pointed out that over the past three years, average personal consumption expenditures inflation in the U.S. has been about 1.8 percent, but has been running at a slightly lower rate over the past four quarters.
"At this point," he said, "I do not see inflation or deflation as a serious threat in the near term. However, I do believe that our extraordinary level of monetary accommodation will have to be scaled back, perhaps more aggressively than some think, to ensure that inflation over the medium term remains consistent with our target."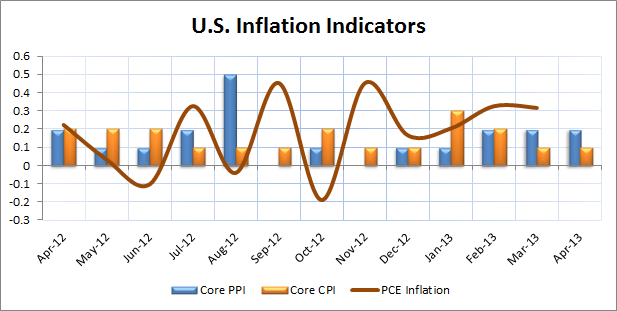 Labor Market
"We have seen a gradual improvement in labor markets," Boston Fed President Rosengren said in his May 16 speech. "The unemployment rate was 7.8 percent in September when we began the program, and is currently 7.5 percent. Employment growth averaged about 150,000 jobs per month in the three months ending in September; then for the most recent three months (February through April) employment growth averaged over 200,000 jobs per month."
All this is ostensibly good news for a beleaguered U.S. labor force that faced unemployment rates as high as 10 percent in 2010. However, data from the National Employment Law Project showed that while low-wage occupations accounted for 21 percent of recession-era job losses, they accounted for 58 percent of recovery job gains — and while mid-wage occupations accounted for 60 percent of recession losses, they accounted for just 22 percent of recovery growth. This suggests that much of the post-crisis recovery has been characterized by marginal and underemployment, and growing income inequality.
What's more, as Rosengren points out, "much of the improvement in the unemployment rate is just a result of workers leaving the labor force. More significant improvement in the employment picture will require growth in real GDP that is faster than the 2 percent we have been averaging."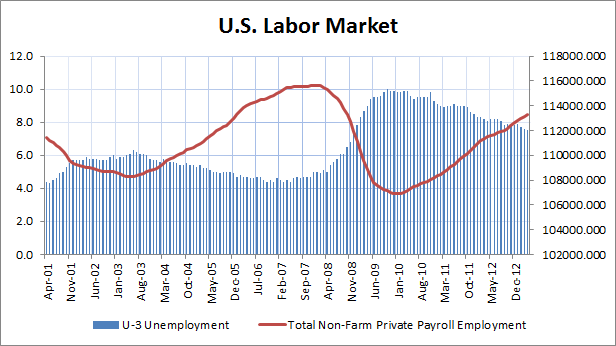 Will the Fed Taper Purchases?
The discussion of this question has taken center stage in recent months. There are at least three hawks on the FOMC (Philadephia Fed President Charles Plosser, Dallas Fed President Richard Fisher, and Minneapolis Fed President Narayana Kocherlakota) but none of them are currently voting members.
While support for current policy largely falls along the dove-hawk divide, there has been an increasing amount of speculation recently that dovish members are entertaining the idea of tapering purchases. Not only are conditions improving, but there more and more data show that the positive effects of QE diminish with time. The current rate of bond purchases — which is enormous and has grown the Fed's balance sheet to a tremendous and perilous size — is harder to justify the larger it grows, given the risks it presents.
"I do think they are concerned the longer they maintain this $85 billion pace, the more exaggerated or adverse the market reaction will be when the time comes finally to make an adjustment," Dana Saporta, an economist at Credit Suisse in New York, told Reuters.
That said, most economists do not expect the Fed to begin tapering purchases until later in the year. This is partially due to weak inflation and partially do to the soft touch that the Fed will have to apply when changing policy.
Here's how the market traded Monday: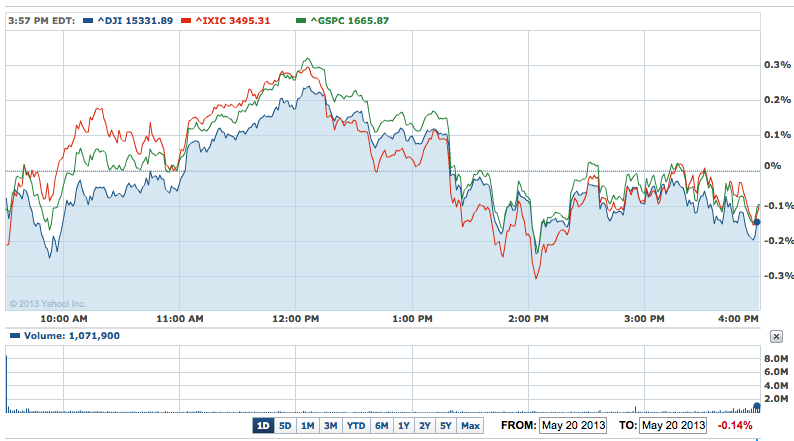 Don't Miss: Are US Banks Playing with Fire in the Commercial Loan Market?