Is Broadcom Oversold At Current Prices?
With shares of Broadcom (NASDAQ:BRCM) trading around $26, is BRCM an OUTPERFORM, WAIT AND SEE, or STAY AWAY? Let's analyze the stock with the relevant sections of our CHEAT SHEET investing framework:
T = Trends for a Stock's Movement
Broadcom provides semiconductor solutions for wired and wireless communications. Its products offer voice, video, data, and multimedia connectivity in the home, office, and mobile environments. The company operates in three segments: Broadband Communications, Mobile and Wireless, and Infrastructure and Networking. Broadcom markets and sells its products through direct sales force, distributors, and manufacturers' representatives in the United States and through regional offices, as well as a network of independent and fulfillment distributors, and representatives primarily in Asia, Australia, Europe, and North America.
Broadcom reported financial results for its third quarter ended September 30, 2013 that did not impress investors. "Broadcom delivered better-than-expected results across the board in the September quarter," said Scott McGregor, Broadcom's President and Chief Executive Officer. "With the Renesas transaction closed, the combined team is working diligently to deliver LTE revenue in early 2014. Looking forward, we are taking the necessary steps to tightly manage the business while focusing on strategic initiatives, including LTE, data center innovation and driving the next generation of home video with HEVC."
T = Technicals on the Stock Chart Are Mixed
Broadcom stock been declining in the last several years. The stock is currently trading near lows for the year so it may need time at current prices. Analyzing the price trend and its strength can be done using key simple moving averages. What are the key moving averages? The 50-day (pink), 100-day (blue), and 200-day (yellow) simple moving averages. As seen in the daily price chart below, Broadcom is trading between its key averages, which signal neutral price action in the near-term.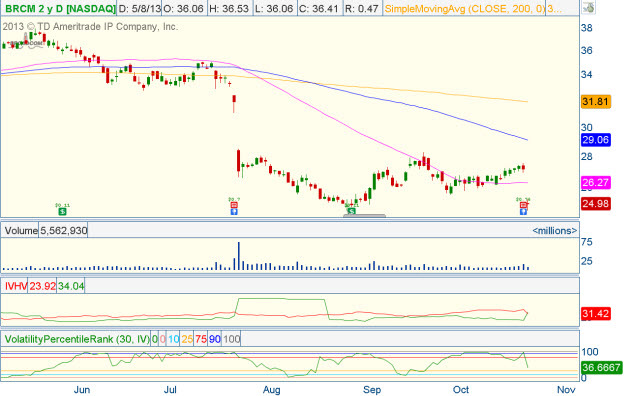 (Source: Thinkorswim)
Taking a look at the implied volatility (red) and implied volatility skew levels of Broadcom options may help determine if investors are bullish, neutral, or bearish.
| | | | |
| --- | --- | --- | --- |
| | Implied Volatility (IV) | 30-Day IV Percentile | 90-Day IV Percentile |
| Broadcom Options | 31.42% | 36% | 35% |
What does this mean? This means that investors or traders are buying a small amount of call and put options contracts as compared to the last 30 and 90 trading days.
| | | |
| --- | --- | --- |
| | Put IV Skew | Call IV Skew |
| November Options | Steep | Average |
| December Options | Steep | Average |
As of today, there is an average demand from call buyers or sellers and high demand by put buyers or low demand by put sellers, all neutral to bearish over the next two months. To summarize, investors are buying a small amount of call and put option contracts and are leaning neutral to bearish over the next two months.
On the next page, let's take a look at the earnings and revenue growth rates and the conclusion.
E = Earnings Are Increasing Quarter-Over-Quarter
Rising stock prices are often strongly correlated with rising earnings and revenue growth rates. Also, the last four quarterly earnings announcement reactions help gauge investor sentiment on Broadcom's stock. What do the last four quarterly earnings and revenue growth (Y-O-Y) figures for Broadcom look like and more importantly, how did the markets like these numbers?
| | | | | |
| --- | --- | --- | --- | --- |
| | 2013 Q3 | 2013 Q2 | 2013 Q1 | 2012 Q4 |
| Earnings Growth (Y-O-Y) | -3.80% | -253.57% | 120.00% | -4.92% |
| Revenue Growth (Y-O-Y) | 0.85% | 6.04% | 9.74% | 14.29% |
| Earnings Reaction | -3.39%* | -15.14% | 6.36% | 0.47% |
Broadcom has seen decreasing earnings and increasing revenue figures over the last four quarters. From these numbers, the expected more from Broadcom's recent earnings announcements.
* As of this writing
P = Weak Relative Performance Versus Peers and Sector
How has Broadcom stock done relative to its peers, Qualcomm (NASDAQ:QCOM), Texas Instruments (NASDAQ:TXN), NVIDIA (NASDAQ:NVDA), and sector?
| | | | | | |
| --- | --- | --- | --- | --- | --- |
| | Broadcom | Qualcomm | Texas Instruments | NVIDIA | Sector |
| Year-to-Date Return | -20.80% | 8.89% | 28.49% | 26.51% | 10.25% |
Broadcom has been a weak relative performer, year-to-date.
Conclusion
Broadcom provides wireless and wired semiconductor technologies to businesses and consumers worldwide. A recent earnings release has investors disappointed with the company. The stock has struggled in recent years and is currently trading near lows for the year. Over the last four quarters, earnings have decreased while revenues have increased, which has left investors to expect more from the company. Relative to its peers and sector, Broadcom has been a weak year-to-date performer. WAIT AND SEE what Broadcom does this coming quarter.
Using a solid investing framework such as this can help improve your stock-picking skills. Don't waste another minute — click here and get our CHEAT SHEET stock picks now.