Is Obama Still the Best Gun Salesman Ever?
The debate over firearms has ignited a wave of emotions and political rhetoric over the past several months, but the current administration is still proving to be the best thing to happen to gun sales since the Second Amendment.
Late Monday, Sturm, Ruger & Co. (NYSE:RGR) reported first-quarter results that exceeded targets. Net sales for the largest publicly-traded gun manufacturer surged 39 percent to $155.9 million, compared to $112.3 million a year earlier. Earnings came in at $1.20 per share, up from 79 cents per share in the same period last year. Analysts on Wall Street were expecting earnings of $1.01 per share with revenue of $112.3 million, according to Thomson Reuters.
New product offerings such as the LC380 and SR45 pistols helped gun sales, but the recent gun control debate was cited as the main catalyst. In a regulatory filing, Ruger explains, "Demand for the Company's products in the first quarter of 2013 was very strong. We believe this strong demand for our products was primarily due to the current political environment that favorably impacted the entire firearms industry."
The gun industry typically receives a boost when a Democrat holds the White House, but gun and ammo sales have surged to record highs as the tragedy in Newtown sparked more debate about gun control. Ruger had to limit incoming orders from independent distributors to reduce the growth in its backlog, which hit 1.5 million orders at the end of 2012, or roughly nine months of production. The backlog climbed to 2.1 million orders in the first quarter, as Ruger can not make guns fast enough to satisfy growing demand. In comparison, the backlog at the end of 2011 was only 337,000 units.
In January, President Barack Obama and Vice President Joe Biden rolled out a wide-ranging list of executive actions regarding gun control. Furthermore, Obama called on Congress to: ban military-style assault weapons, ban capacities of more than 10 rounds, require background checks on all gun sales, and create tougher penalties for those selling guns to people who are not legally allowed to have them.
After months of discussions and finger pointing, Congress did not answer Obama's call. A bill aimed at expanding the system of background checks failed in the Senate. It received only 54 votes, six votes short of the 60 needed to advance. Although the bill had co-sponsorship from both political parties, five democrats broke from party lines, and only four GOP senators voted in favor of the bill. The Senate also blocked a proposal to ban semi-automatic rifles and high-capacity ammunition magazines.
A visibly angry Obama gave a speech shortly after the Senate's decision. He said, "So all in all, this was a pretty shameful day for Washington. But this effort is not over. I want to make it clear to the American people we can still bring about meaningful changes that reduce gun violence, so long as the American people don't give up on it. Even without Congress, my administration will keep doing everything it can to protect more of our communities…but we can do more if Congress gets its act together."
Many people are making purchases ahead of any major changes. In fact, Obama is considered by many to be the best gun salesman in history.
As the chart below from Smith & Wesson (NASDAQ:SWHC) shows, background checks for February were down from January, but 29.1 percent higher from a year earlier. According to an analysis of the gun industry by The Associated Press, the federal government has conducted roughly the same number of background checks for gun owners and prospective buyers under Obama's first term, as it did under George W. Bush's first six years of presidency. For the first time since 1993, the number of federally licensed retail gun dealers in the U.S. increased in 2010 and 2011, adding 1,167 more licensed dealers.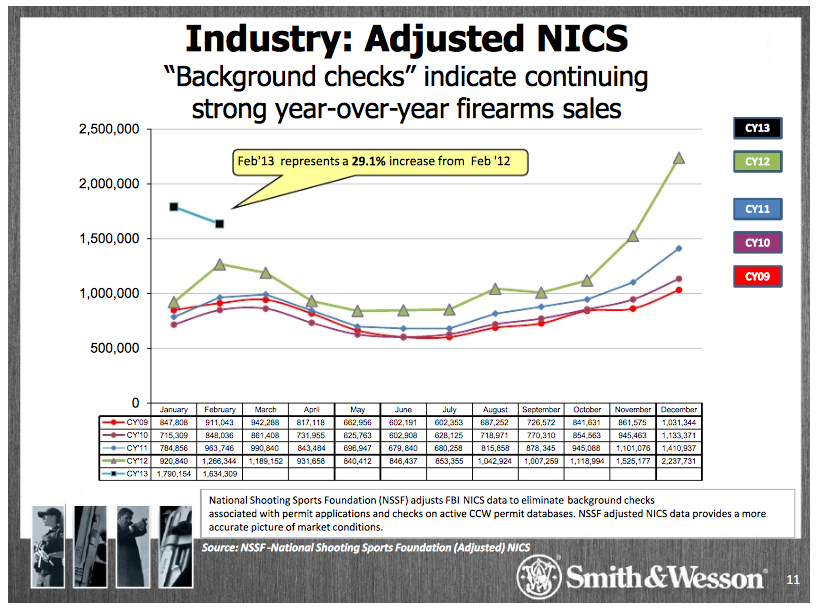 During the first quarter of 2013, National Instant Criminal Background Check System background checks jumped 46 percent, according to Rugers. Although NICS background checks are not an exact measure of retail activity, they are commonly used as a proxy for retail demand.
Shares of gun-related stocks have been outperforming the market. Over the past three years, Ruger shares have tripled in price, while Smith & Wesson shares have more than doubled. Shares of Cabela's (NYSE:CAB), one of the most well-known outdoor recreation brands in the world, have more than tripled from 2010 levels. Wal-Mart (NYSE:WMT), the world's largest retailer, also finds itself exposed to the gun industry. In January, the company placed a limit on ammunition sales of three boxes per customer, per day.
Don't Miss: Consumer Confidence Takes a Surprising Turn