Is Obama Still the Best Gun Salesman in History?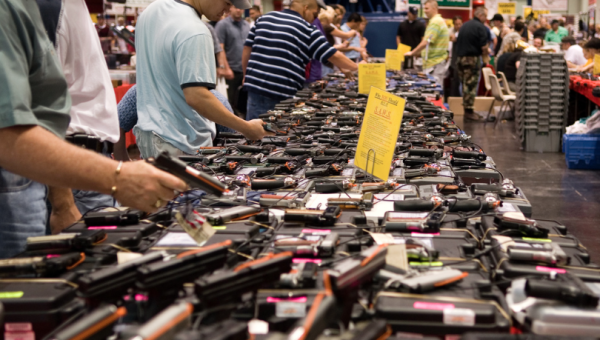 In another sign the current administration is the best thing to happen to gun sales since the Second Amendment, the nation's second largest publicly-traded gun manufacturer announced quarterly results that exceeded targets this past week.
Smith & Wesson (NASDAQ:SWHC) reported a record-breaking quarter. On Tuesday, the company announced that it earned $25.2 million (38 cents per share) in its fourth fiscal quarter, more than double last year's $12.5 million quarterly profit. Net sales for the three months ended April 30 came in at $178.7 million, a new record and up 37.6 percent from a year earlier.
The company's net income from continuing operations totaled 44 cents per share, beating estimates by one penny. With the help of increased sales volume, gross profit for the fourth quarter improved to $68.5 million, compared to $46.9 million in the same quarter last year. Although Smith & Wesson increased production capacity, it was unable to keep up for demand across most of its firearm product lines.
James Debney, president and chief executive officer, explained in a press release, "We are pleased with our results, which include record fourth quarter and annual net sales and profits and a substantial expansion of our gross margins. Our successful performance was driven by solid marketing, innovative new products, disciplined manufacturing execution, and strict financial management. Significant increases in our manufacturing capacity, combined with continued robust consumer demand for firearms, resulted in higher sales of our most popular M&P® products."
The gun industry typically receives a boost when a Democrat holds the White House, but gun and ammo sales have surged to record highs as the tragedy in Newtown reinvigorated debate about gun control.
In January, President Barack Obama and Vice President Joe Biden rolled out a wide-ranging list of executive actions aimed at strengthening gun control. Furthermore, Obama called on Congress to: ban military-style assault weapons, ban capacities of more than 10 rounds, require background checks on all gun sales, and create tougher penalties for those selling guns to people who are not legally allowed to have them.
After months of heated discussions, Congress did not answer Obama's call. A bill aimed at expanding the system of background checks failed in the Senate. It received only 54 votes, six votes short of the 60 needed to advance. The Senate also blocked a proposal to ban semi-automatic rifles and high-capacity ammunition magazines.
Many people are making purchases ahead of any major changes. In fact, Obama is considered by many to be the best gun salesman in history.
As the chart below from Smith & Wesson shows, background checks for April, while down from March, were 27.2 percent higher than the same month in 2012. Background checks typically dip in summer, and climb higher as the holiday season approaches.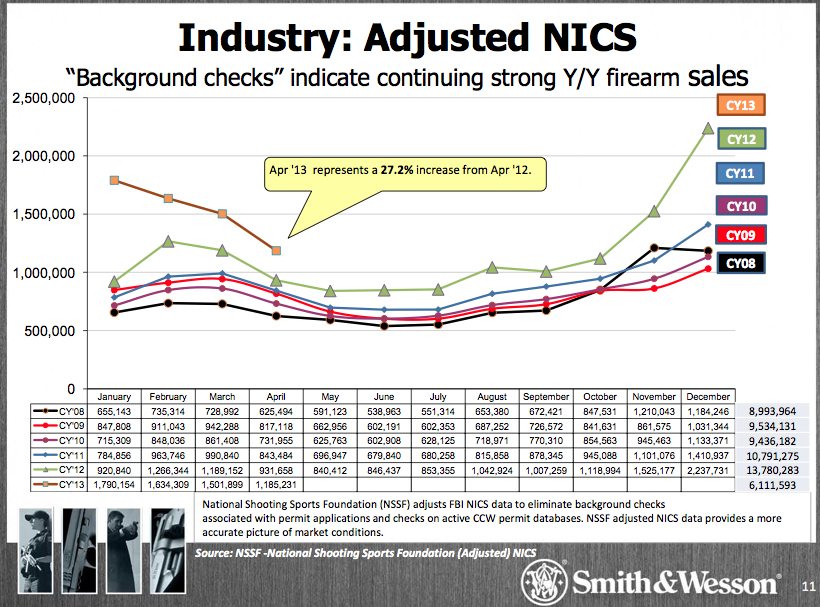 In the current quarter, Smith & Wesson expects earnings from continuing operations to total between 34 cents and 37 cents per share, with revenue of $162 million to $167 million. Analysts only expected adjusted earnings of 30 cents per share on $141 million in revenue. For the new fiscal year, the company projects earnings between $1.30 and $1.35 per share on net sales of $605 million and $615 million, well above recent estimates.
Shares of Smith & Wesson have gained over 18 percent year-to-date, while Sturm Ruger & Company (NYSE:RGR) shares have increased 8 percent. Walmart (NYSE:WMT), which had to place a limit on ammo sales earlier this year, has seen its shares climb over 9 percent higher this year:

Don't Miss: Are Rising Interest Rates Scaring Home Buyers?
Follow Eric on Twitter (@Mr_Eric_WSCS)