Is the Fed's Lifeline Actually Toxic for the Global Economy?
Even dressed up for the optimist, incoming information about the U.S. economic recovery sometimes seems dubious. The latest Employment Situation report, for example, shows that headline unemployment declined 0.2 percentage points on the month to 7.4 percent in July, its lowest level since President Barack Obama took office at the beginning of 2009. Payrolls increased by a modest but healthy 162,000, and the total number of unemployed people edged down slightly to 11.5 million.
At a glance, this data is positive. A healthy labor market is a critical cornerstone of any economy and with unemployment as high as 10 percent in 2009, putting Americans back to work has been a top priority among policymakers. But the data is also misleading — or, at best, incomplete.
The headline unemployment rate doesn't include doesn't include marginally attached or discouraged workers — those who are underemployed and those who have given up on searching for a job — and is sensitive to changes in the labor force participation rate, or the share of adults who are willing and able to work.
As of July, the labor force participation rate was 63.4 percent, down substantially from its pre-crisis level of about 66 percent. This reduction reflects the fact that many Americans are simply giving up on the search for work. The number of long-term unemployed in the U.S. — those without work for 27 weeks or more — is 4.2 million, or 37 percent of the total unemployed.
Since the headline unemployment rate offers an incomplete picture of the labor market, observers often turn to alternative metrics. One popular alternative is the U-6 unemployment rate, which counts not just those job seekers included in the U-3 (headline) rate but also those who are marginally attached to the workforce (underemployed) and people working part-time for economic reasons.
This measure of unemployment sat at 14 percent in July, down 0.3 percentage points from June and down from a peak of 17.1 percent in April 2010, though still high compared to pre-crisis levels between 8 and 9 percent. The number of discouraged workers — those who have given up looking for work — in the U.S. increased by 136,000 on the year in July to 998,000.
While the diagnosis of the the labor market is mixed, forecasts are still largely positive. Projections compiled by U.S. Federal Reserve policymakers are calling for a headline rate between 7.2 and 7.3 percent in 2013, which absolutely seems feasible barring contagion from any of the numerous micro-crises brewing around the world, including within the U.S. itself.
If conditions remain stable, the headline rate is expected to fall further in 2014 to between 6.5 and 6.8 percent, and then again to between 5.8 and 6.2 percent in 2015 before entering a longer-run range between 5.2 and 6.0 percent. Some economists have suggested that so-called full employment in the U.S. would tolerate a headline unemployment rate of about 5 percent.
"If" is an operative word when forecasting economic conditions, and now more than ever, it seems because of the position of the Fed and the current monetary environment.
If forecasts hold true, then the Fed could begin to taper asset purchases as early as this year, which is perhaps the single-most significant pending economic event. The impact of the Fed's tapering will be felt — and already has, in many ways, simply because of speculation — all around the world.
Quantitative easing — a tool used by the Fed to stimulate economic activity by driving down interest rates — is running at a flow rate of $85 billion per month, split between mortgage-backed securities and longer-term Treasuries.
By some definitions, this program has worked wonderfully: interest rates were, in fact, driven to record lows, making it easier and cheaper for people and businesses to access money.
All this easy money ("funny money" to the critics) has encouraged business activity and buoyed equity valuations as a result. Lending for cars and homes has increased, stimulating those cornerstones of the American economy.
All around, with global economic headwinds still howling in opposition to the recovery, the unconventional monetary position of the Fed has helped — or, perhaps is responsible — for curbing catastrophe and converting what could have been the next Great Depression into the Great Recession.
But the lifeline the Fed has given the economy — through low interest rates during the recovery period, but also by serving as a lender of last resort during the financial crisis and bailing out the financial industry — has come at a cost. In many ways, it is fair to think of QE like a drug (probably some sort of amphetamine) that not only has temporary effects, but has hazardous side effects.
The current flow rate of asset purchases is a way to maintain a stimulus effect, but there are diminishing returns to the effectiveness of the program. Attached to this implication is the idea that the markets have become used to (addicted, even) to easy money. Adjusting back to normal conditions will be painful. The evaporation of investment funds from emerging economies has already begun — most damaging so far in India, perhaps — and many currencies are threatening volatility. As Dallas Fed President Richard Fisher put it earlier this month:
"A corollary of reining in this massive monetary stimulus in a timely manner is that financial markets may have become too accustomed to what some have depicted as a Fed 'put.' Some have come to expect the Fed to keep the markets levitating indefinitely. This distorts the pricing of financial assets, encourages lazy analysis and can set the groundwork for serious misallocation of capital. The challenge now facing the FOMC is that of deciding when to begin dialing back (or as the financial press is fond of reporting: 'tapering') the amount of additional security purchases."
The yield on the benchmark 10-year U.S. Treasury has increased by more than a full percentage point since May, from about 1.6 to 2.76 percent on August 28.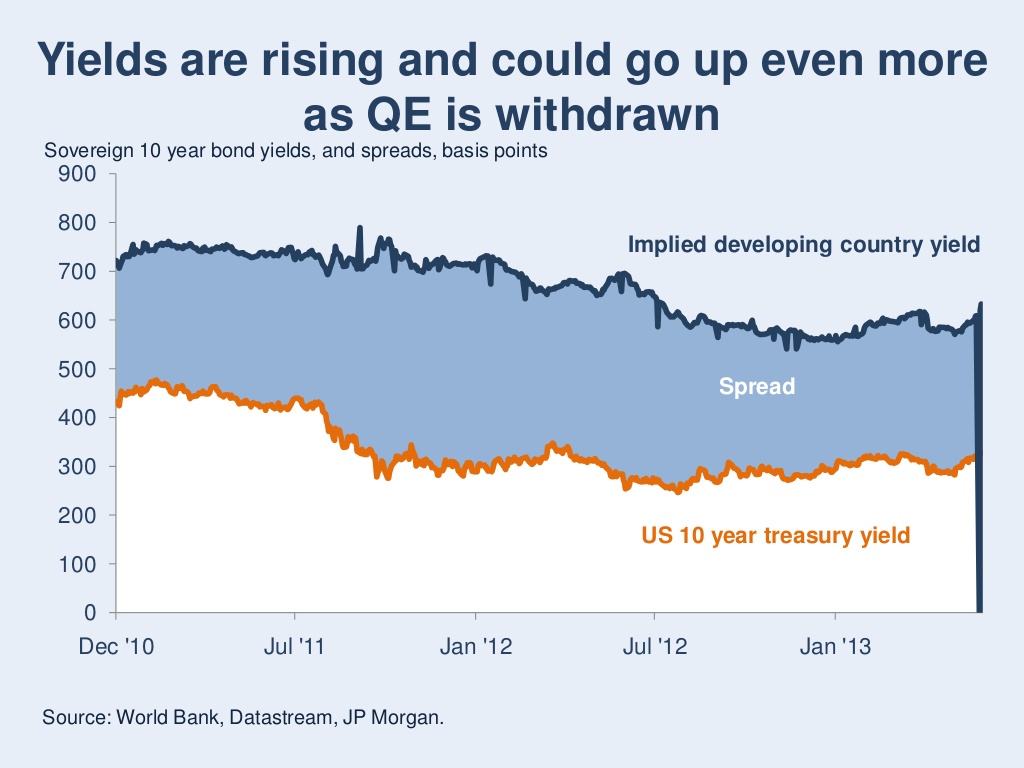 Interest rates in the U.S. have already begun to rise on the expectation of a taper announcement in September, following the Fed's policy meeting on the 18th and 19th. Anticipation for an announcement was solidified following comments from several Federal Reserve bank presidents earlier in August. Surveys conducted by both Reuters and Bloomberg indicate that investors and traders expect the tapering decision will be made at the September meeting.
Comments from the minutes from the Fed's previous policy meeting contained language consistent with this idea. "Almost all participants confirmed that they were broadly comfortable with the characterization of the contingent outlook for asset purchases that was presented in the June post-meeting press conference and in the July monetary policy testimony. Under that outlook, if economic conditions improved broadly as expected, the Committee would moderate the pace of its securities purchases later this year."
Over the past few months, the data have been broadly consistent with the forecasts compiled by Fed policymakers and presented earlier in the year, such as the unemployment forecast above. The other primary metric the Fed is tracking in relation to its policy decision is inflation, as measured by personal consumption expenditures. Annual inflation is expected in a range between 1.2 and 1.3 percent in 2013 and between 1.4 and 2 percent in 2014.
The problem with all this is that QE has such a massive effect on the economy that tapering the program will impact growth. The Fed has made it clear that policy will remain adaptive to incoming economic information, but that information is sensitive to Fed policy. Each informs the other, and forward guidance is a dubious fix (although there may be nothing better to do about it).
In May, John Williams, president of the Federal Reserve Bank of San Francisco, said in a speech that, "Overall, if we were in a car, you might say we're motoring along, but well under the speed limit. The fact that we're cruising at a moderate speed instead of still stuck in the ditch is due in part to the Federal Reserve's unprecedented efforts to keep interest rates low. We may not be getting there as fast as we'd like, but we're definitely moving in the right direction."
While this may be true, critics would argue that it's incomplete. The Fed's unprecedented efforts to keep interest rates low, as Fisher — who is often critical of current policy — said QE has distorted financial markets, and un-distorting them will not necessarily be easy.
For example, the real estate market has been one of the strongest pillars in the economic recovery, but higher interest rates are starting to weigh on affordability levels across the nation.
According to the Mortgage Bankers Association's latest report, for the week ended August 23, loan applications dropped 2.5 percent on a seasonally adjusted basis from one week earlier — the fourteenth decline in 16 weeks. The figure includes both refinancing and home purchase demand and cover more than 75 percent of all domestic retail residential mortgage applications.
The industry group's refinance index declined 5 percent while the seasonally adjusted purchase index managed to gain 2 percent. Overall, the refinance share of mortgage activity accounted for 60 percent of total applications, its lowest level in over two years. In fact, the refinance index has crashed 64.2 percent from its peak during the week of May 3, 2013.
The easy liquidity provided by the Fed's program of quantitative easing has made its way into the nooks and crannies of the world market and economies like Brazil, India, and others have been greatly appreciative of the liberal investments resulting from it. But that's not going to last forever and markets are getting shaky. Any move toward an end to easing has sent treasuries higher, increasing lending costs across the board and pushing investors away from emerging markets.
On Tuesday, China's vice finance minister, Zhu Guangyao, said, in a press briefing reported by Reuters, that the "United States — the main currency issuing country — must consider the spill-over effect of its monetary policy, especially the opportunity and rhythm of its exit from the ultra-loose monetary policy."
Central bank Vice Governor Yi Gang, at the same briefing, added, "On monetary policy, the focal point (of the Group of 20) will be on how to minimize the external impact when major developed countries exit or gradually exit quantitative easing, especially causing volatile capital flows in emerging markets and putting pressures on emerging-market currencies."