Is the McDonald's Dollar Menu Game Changer All Bad?
Reports of McDonald's (NYSE:MCD) possible Dollar Menu game changer took shape this week, and while many consumers wondered what this would mean for their favorite low-priced burger and chicken offerings, franchisees were conducting their own self-reflections.
Nation's Restaurant News reported Thursday that the Oak Brook, Illinois-based restaurant chain confirmed earlier this week that McDonald's was testing its new and improved Dollar Menu, the Dollar Menu & More, in five markets across the country. On the new menu are items that range from $1 to $2 to $5 and include "shareable" offerings like 20-piece Chicken McNuggets. Some of the items remain the same and keep the same price; however, others are getting revamped to debut as a deluxe version of their previous selves, and that's where customers will witness a price increase.
But consumers won't be the only ones affected by these changes to McDonald's iconic Dollar Menu. Franchisees, too, will feel the impact, and the changes will likely only add to the grievances they have issued about increasing menu complexity and operational difficulties.
With more menu offerings come more operational burdens behind the scenes. Franchisees are already struggling to keep up and manage the increased number of products they're expected to offer, and now, according to Nation's Restaurant News, some franchisees are already in negotiations with equipment suppliers for a "high density kitchen" setup that can help them cut costs and more efficiently roll out offerings.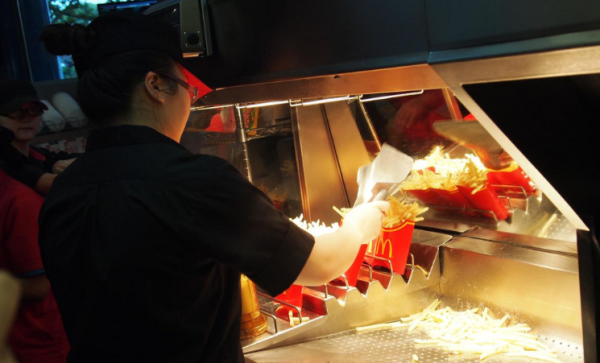 The article explains that these new setups come with "a prep table accompanied by a refrigerated rail on top that has more than 30 slots for holding toppings, sauces, and ingredients for newer flavors of burgers and chicken sandwiches." Nine committees within the National Leadership Council of McDonald's franchisees are in the midst of considering this new equipment, and many hope these new features will help silence franchisees' complaints about the problems a high-density menu puts forward.
These new kitchen setups may be especially necessary if the Dollar Menu & More test eventually becomes a reality. There is speculation that the more intricate products McDonald's has been testing around the country — a McDouble with bacon, a double-patty Grilled Onion Cheddar burger, and a Deluxe McChicken sandwich — are meant to eventually gain a spot on the new Dollar Menu, further complicating matters for store operators and increasing pressure inside the kitchen.
Thus, McDonald's needs to focus on drawing consumers back to the drive-thru with its new menu options while also ensuring it has the tools and manpower to produce the products that do so. McDonald's and other fast-food chains like Burger King (NYSE:BKW) and Wendy's (NYSE:WEN) have recently been struggling to maintain profits and curb falling sales. So though McDonald's new menu mix-up reflects the company's initiative to once again drive profit, it has more than its customers to worry about.
Wendy's, too, has also recently tweaked its Right Size Right Price Menu, and with more fast food chains jumping on the graduated value menu bandwagon, store operators will be pressured to meet this rising menu complexity and continue to roll out increasingly complex items.
Don't Miss: J.C. Penney Decides Martha Stewart Deal Isn't Worth a Lawsuit.