Market Rates or Bust: Student Loan Negotiations Take a Step Forward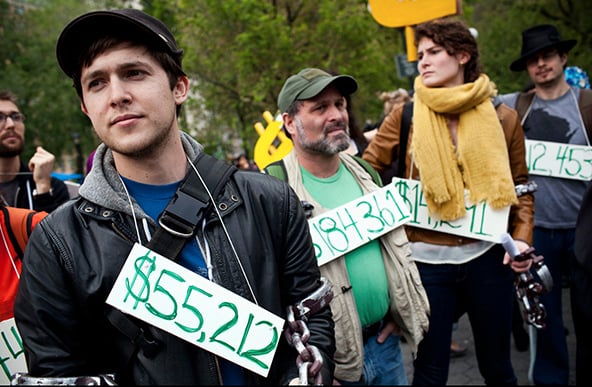 To summarize long story, the rate on subsidized Stafford loans increased from 3.5 to 6.8 percent on July 1 because Congress — par for the course — failed to act in time. The interest rate is determined by Congress, which voted to keep rates at 3.4 percent last year during the heat of the presidential campaign.
The move put student loans on the back burner, and lawmakers debated the issue for months ahead of the deadline, with at least five different legitimate proposals coming to the table.
The July 1 ticking clock was ostensibly a mechanism designed to encourage lawmakers to find a timely alternative to the current system, which both parties agree is bad (sound familiar?). But despite the common enemy of an ineffective mechanism to determine rates and the fact that many who feel 6.8 percent is too high, congressional leaders staunchly disagree on what the final system should look like.
Most long-term solutions peg the loan rate to the 10-year Treasury plus some amount. The Bipartisan Student Loan Certainty Act — championed by Sen. Joe Manchin (D-W.Va.) — would use the 10-year rate plus 1.85 percent with no cap except on consolidated loans at 8.25 percent. Some Democrats are unhappy with the proposal because it does not have a cap. Without one, rates are expected to exceed 6.8 percent within 10 years.
On Wednesday, the Senate voted on whether to end debate on a motion to proceed with the Keep Student Loans Affordable Act (S. 1238). The act would extend the 3.4 percent rate for one year while Congress figures out a more elegant long-term solution, but the vote failed to pass.
Before the bill failed, the White House issued a statement in support of it. The statement read: "The administration strongly supports Senate passage of S. 1238, the Keep Student Loans Affordable Act, because it meets the test of restoring student interest rates to the lower levels and would apply to all loans first disbursed after June 30, even loans already disbursed, saving seven million students nearly $1,000 per student and giving the Congress time to pass a long-term solution."
There was a whisper of good news Thursday when bipartisan Senate negotiators reached a tentative agreement. The new agreement looks a lot like the Bipartisan Student Loan Certainty Act, except with an 8.25 percent cap for undergraduate loans and a 9.25 percent cap for graduate loans.
The agreement would tie Stafford interest rates, which cover students with a demonstrated financial need, to the 10-year Treasury plus 1.8 percentage points, or plus 3.4 percentage points for graduate loans. The PLUS loan program would use the Treasury rate plus 4.5 percentage points.
Don't Miss: Poll: Most People Lack Basic Understanding of a Budget.