More Dreamliner Problems Don't Concern Boeing's Customers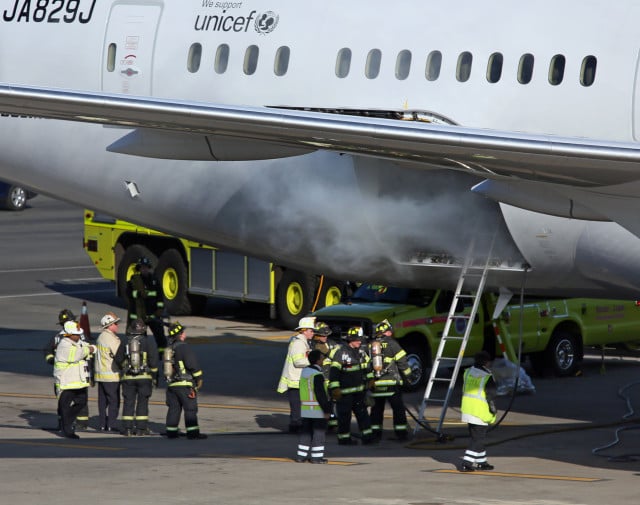 The next act of Boeing's (NYSE:BA) Dreamliner drama has begun. This time, technical problems are plaguing the recently acquired, two-aircraft Dreamliner fleet of Norwegian Air Shuttle, the third-largest budget airline in Europe. At the beginning of the month, a brake indicator issue grounded one of the 787 aircrafts at Arlanda Airport north of Stockholm, Sweden, forcing Norwegian Air to temporarily lease an aircraft from Boeing competitor Airbus to keep passengers moving.
Another issue was reported last Monday. A Dreamliner scheduled to fly from Oslo, Norway to Bangkok apparently experienced problems getting enough electricity from its power supply units and was unable to take off. Once again, Norwegian Air leased a plane from Airbus in order to move the passengers. Problems surfaced with the airline operator's 787 Dreamliner fleet once again on Sunday.
Norwegian Air Shuttle's communications manager, Charlotte Holmbergh Jacobsson, told the Wall Street Journal on Monday that a scheduled flight should have left New York at 9:30 p.m. local time, but problems with a hydraulic pump caused a delay because the aircraft could not handle the weight of the 250 passengers on board. The carrier was forced to disembark 70 passengers who spent the night at hotels and were given food vouchers and 600 euros, or $80, in compensation.
"We don't know exactly what the problem with the aircraft is," Holmbergh Jacobsson said. "It's still in the air, and Boeing's technicians will have to check it out when it arrives in Oslo." It is also too early to tell whether the hydraulic pump problem was related to the earlier issues, she added.
Boeing told the Journal that it would work with the airline to fix the problems. "Obviously, we are disappointed to have issues so early on with the 787 operations, but it's not unusual to find such things when new airplanes enter into service," said spokeswoman Fiona O'Farrell.
The aerospace company's new 787-9 Dreamliner is scheduled to make its first flight this week. As with other carriers that have experienced technical hiccups with the Dreamliner, including United Continental (NYSE:UAL) and All Nippon Airways, Norwegian Air Chief Executive Officer Bjorn Kjos remains supportive of the company and the aircraft.
Kjos told the Journal in an interview last Monday, before the Arlanda airport incident, that, "For us to succeed, it's absolutely vital to keep a cost focus, and that takes things such as new fuel-efficient aircraft." Recent incidents have not caused the airline to change its plans to phase in more Dreamliners on its routes, according to Holmbergh Jacobsson. "We'll get a third one in November and hope it will function without problems," she said. "We have confidence in these aircraft, that's why we bought them."
One of the Dreamliner's key selling points, which has likely earned it much favor from airline executives, is that it consumes approximately 20 percent less fuel than other aircraft of the same size. Fuel is an enormous share of costs for airlines, and fuel costs have increased dramatically recently. The success of the Dreamliner is critical for the company moving forward.
Airline traffic is still growing in pretty much every corner of the world, but it is expected to grow most quickly in Asia, which means that is where most new demand will originate. The manufacturer expects that China will need 5,580 planes, valued at $780 billion in total, in the next 20 years to support growing demand for travel and an eventual pickup in shipping. That projected addition represents a tripling of China's fleet.
Norwegian Air's confidence in the Dreamliner appears to be the rule, not the exception, in the airline industry. Despite the production problems, the battery meltdowns that caused airlines around the world to ground their 787 fleets for four months, and the string of recent technical issues, Boeing has collected about 930 orders for the 787 family to date. The new plane uses advanced materials, making it lighter, more efficient, which trims airlines' operating costs significantly.
Many industry experts say these incidents are typical "teething problems" of the new passenger plane, but the rash of minor mechanical issues discovered since the 787 resumed operations earlier this year will not make it any easier for the company to put the worldwide grounding of the Dreamliner in its rearview mirror, especially because problems keep materializing.
However, Boeing has had a surprisingly good year so far, considering the issues it faced with the 787 Dreamliner and a few miscellaneous — though highly public — malfunctions with other aircraft. In fact, the company's commercial airplanes segment has remained the backbone of the company.
In the most recently reported quarter, that segment pulled in revenue of $24.3 billion in the first half – 60 percent of the total — and earned $2.7 billion from operations. Commercial aircraft revenue and deliveries both increased 7 percent in the first half of 2013, with earnings from operations increasing 17 percent. Operating margins also increased from 10.1 to 11 percent.
Investors appear confident as well. Shares of Boeing's stock have gained more than 50 percent so far this year and are currently trading within a few cents of their 52-week high of $115.15.
Don't Miss: Is Lufthansa Putting Boeing and Airbus on Equal Footing?
Follow Meghan on Twitter @MFoley_WSCS