Natural Gas Stockpiles Grow as Domestic Energy Booms
Since the recession ended in 2009, the U.S. economy has grown 7.6 percent — a rate of expansion greater than that experienced by Britain, Japan, the euro zone, and many other advanced nations. While the theory has its detractors, one possible explanation for this rate of growth is that the United States has benefited from a large domestic energy boom. New advances in drilling technology — particularly in hydraulic fracturing — have helped U.S. oil and gas producers take advantage of new sources of oil and gas shale in North Dakota, Texas, Ohio, and Pennsylvania.
But, even if this theory is an overblown assessment of the domestic energy boom, U.S. stockpiles of natural gas and crude oil are increasing alongside production. On Thursday, the Energy Information Administration — the statistical arm of the Energy Department — reported that natural gas inventories increased by 43 billion cubic feet to 1.777 trillion cubic feet in the week ended April 26 — a greater gain than expected. Analysts polled by Bloomberg had only predicted an increase to 31 billion.
However, thanks to the basic principles of supply and demand, this increase in inventories hurt natural gas futures. Natural gas for June delivery declined as much as 4.5 percent after the report was released, sliding 19.4 cents to $4.132 per million British thermal units on the New York Mercantile Exchange just after 10:30 a.m. Before the report was released, futures traded at $4.291. In total, natural gas has climbed 23 percent this year.
"It was a bearish injection and it may set the tone for future storage reports," Gelber & Associates analyst Kent Bayazitoglu told Bloomberg. "The big question is whether we're going to start seeing mega-injections that really start to refill inventories."
While the stockpile increase was greater than expected, it still fell below the five-year average gain for the week — which stands at 67 billion cubic feet, according to Energy Department data. As a result, a deficit to the five-year average widened to 6.2 percent from 5.1 percent the previous week. Stockpiles were drawn down because supplies were 30.9 percent below year-earlier inventories.
Yet, natural gas production is increasing; the EIA's monthly production report — released April 30 — showed that gross gas production in the 48 continental states rose 1.3 percent to 73.22 billion cubic feet per day in February from 72.3 billion the previous month. That gain was the biggest percentage increase since October 2011 and the first increase in three months. In total, U.S. output rose 0.8 percent to 82.88 billion cubic feet per day, the largest gain since November.
"New wells were brought online in the Marcellus and Bakken Shales," which drove the biggest volume gains, the EIA said in the report. Additionally, output in Texas, the top producing state, increased thanks to the new Eagle Ford shale wells while New Mexico production increased as the result of warmer weather.
The current boom in oil and natural gas production has helped the United States cut its reliance on foreign fuel; in 2012, the U.S. produced 84 percent of its own energy, the greatest amount since 1991.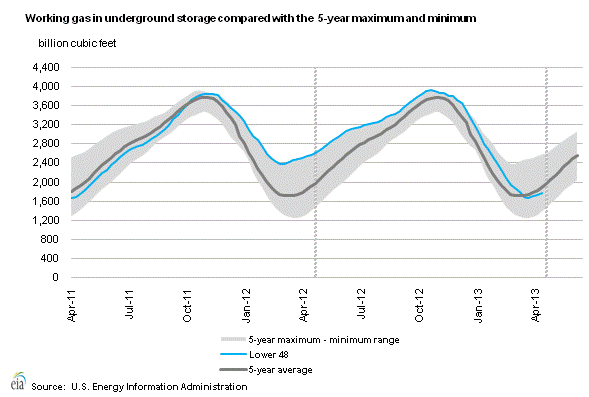 Don't Miss: 5 Ways to Spend Your Tax Refund on Your Home.