Obama: It's Time Main Street Gets a Recovery
"It is our generation's task, then, to reignite the true engine of America's economic growth – a rising, thriving middle class."
President Obama made this sentiment a core component of his 2013 State of the Union Address, and he has echoed it across the nation ever since. Most recently, the President invoked the idea at Ellicott Dredges, a manufacturer of dredging equipment in Baltimore, Maryland, where he delivered a speech on the U.S. economic situation. Baltimore was the second stop on the President's Middle Class Jobs and Opportunity Tour.
"The truth is there are a lot of reasons to be optimistic about where this country is headed," he said. Obama highlighted the usual half-glass-full suspects: the housing and auto markets, as well as slowly declining unemployment and federal deficits. The president also invoked some familiar optimistic phrases about manufacturing, recycling the news that, after 10 years of shedding jobs, manufacturers have added more than 500,000 positions in the U.S. over the past three years. On the pedestal are Ford (NYSE:F), Caterpillar (NYSE:CAT), and Intel (NASDAQ:INTC) bringing jobs back from Mexico, Japan, and China, respectively.
But the message of the speech, and the point that President seems like he is trying to make with the Middle Class Jobs and Opportunity Tour, is that while improving, America's economic situation is far from ideal. Cutting to the core of the message, Obama said that "corporate profits have skyrocketed to all-time highs. Now we've got to make sure that middle-class incomes increase too."
Maximum employment is one half of the Federal Reserve's dual mandate, and in many ways, this astonishingly high unemployment rate has been the focus of post-crisis economics. Four distinct rounds of quantitative easing punctuated by unprecedented bond purchases were meant to amp up America's private sector and encourage corporate growth, but the consensus on Main Street is that Wall Street has reaped the reward while working-class citizens continue to suffer.
The National Employment Law Project showed that while low-wage occupations accounted for 21 percent of recession-era job losses, they accounted for 58 percent of recovery job gains — and while mid-wage occupations accounted for 60 percent of recession losses, they accounted for just 22 percent of recovery growth.
At the same time, stock markets and corporate profits are breaking records. Last week, amid increased investor confidence in the United States economy, benchmark indexes climbed to record levels. Corporate profits, as a percentage of gross domestic product, have hit a record high this earnings season, helping to push stock market gains higher. But the weak labor market, coupled with the Federal Reserve's easy-money policy, has created a climate that benefits companies far more than it does individual workers.
As a percentage of national income, corporate profits accounted for 14.2 percent of the total in the third quarter of 2012, the largest portion since 1950. Comparatively, the percentage of income distributed to employees was 61.7 percent, near the lowest level since 1966.
If inequality is defined by a shrinking middle class and growth at opposite ends of the spectrum, then the past decade can certainly be defined by its inequality. Since the first quarter of 2011, employment has grown by 8.7 percent in lower wage occupations and by 6.6 percent in higher wage occupations. Meanwhile, employment in mid-wage occupations has fallen by 7.3 percent.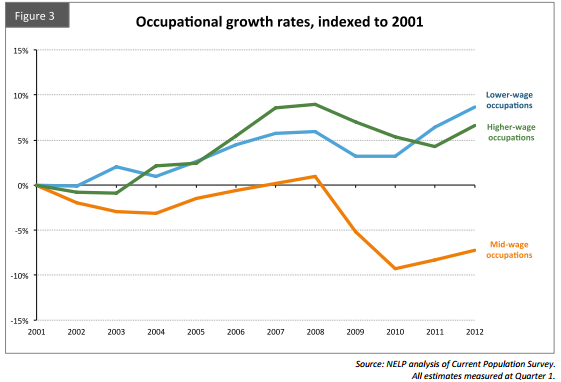 What this means is that post-recession job growth is characterized by Americans taking lower-paying jobs and moving out of the middle class and into the lower class. Low-wage industries such as food services, retail, administrative support, and waste management services, constituted 43 percent of net job growth during the recovery. Within these industries, 76 percent of job growth occurred at the low end of the wage scale.