Obama Shoots Down House Proposal: Senate Up To Bat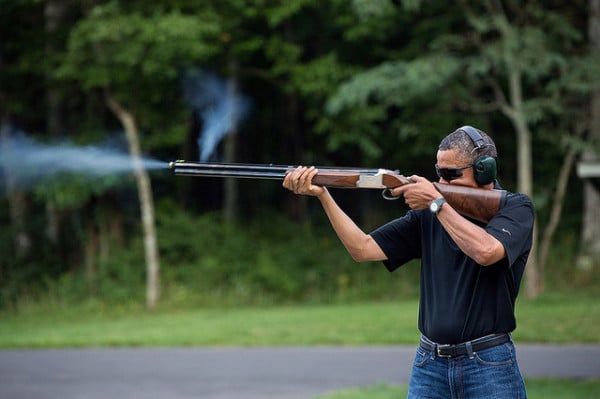 All heads turn towards the Senate for an acceptable solution to the shutdown and borrowing authority standoff after President Obama's rejection of the the GOP's House proposal Friday. "The president rejected our deal," said Representative Raul Labrador (R-Idaho), "It's all good. It's now up to the Senate Republicans to stand up."
While Labrador may have faith in his fellow congressmen, other Republicans are not so sure. According to The Washington Post, Chairman Paul Ryan (R-Wis.) of the House Budget Committee said that House leaders had more reasons than he could list for being opposed to a proposal disseminated by Senator Susan Collins (R-Maine).
Collins's proposal would postpone the tax on medical devices for two years, change pension rules, and give the government six months of funding — till January. The medical device tax has also drawn criticism from Democrats — especially those representatives of Massachusetts and Minnesota where devices are produced — making it perhaps the most likely health care candidate for compromise.
According to Representative Tim Huelskamp (R-Kans.) repealing the device tax wouldn't be enough for the more conservative Republican camp, according to Bloomberg. Huelskamp noted that Collins's proposal "would still fund 98 percent of ObamaCare," which "won't be sufficient for conservatives and will be seen as capitulating to the left."
Huelskamp pointed out a serious concern for House Speaker John A. Boehner (R-Ohio) — who most Democrats accuse of keeping one eye on his career even amid all the political chaos –  that of retaining the backing of staunch right-wing Republicans. More moderate Representatives such as Peter King (R-N.Y.) will be easier to get on board. "We should cut our loses and get it over with," said King. "It's madness to keep the government closed any longer."
According to The Washington Post, Senator Lindsey O. Graham (R-S.C.) acknowledged the difficult position of Boehner — a close friend — saying, "I laid out some of those ideas, and the question is, can the House find a center of gravity to open the government up around those ideas."
In the past, Obama stated that no conditions would be accepted for allowing the government to pay its debts and get back to work. Now however, Jay Carney — White House press secretary — has said that the Obama administration is "encouraged" by "constructive signs coming from the Republicans," according to Bloomberg. This perhaps signals an increase in flexibility, at least where the shutdown is concerned.
Republican Leaders in the Senate have pressed Boehner to support them in killing two birds with one stone, knocking out both the shutdown and debt limit with one bill. Carney spoke to Obama's concerns that a short-term extension of the debt ceiling would only end in another standoff not far down the road, according to Bloomberg.
Democrats in the House meanwhile are working on an alternate plan, attempting to use a discharge petition which would impose a vote on a bill ending the shutdown without the attachment of policy changes. In order for the procedural move to be a success, there would need to be a miraculous number of Republicans willing to turn their backs on Boehner — unlikely.
Chris Van Hollen (D-Md.) thinks accruing enough votes is a real possibility though, he told reporters Saturday. "Let's vote to open the government now," Hollen said. Evidence of progress has been good to Wall Street, showing itself in a boost of confidence Friday with continued revival in U.S. shares. The Standard & Poor's 500 Index also rose 0.63 percent to $1703.20 Friday from the previous close of $1,692.56.
Things won't be looking so good in the coming days if the debt ceiling fails to be raised by October 17. At that point the $30 billion plus turnover available for debt payments will start to stretch thin, and stretch only so far — at the current rate, the U.S. will begin to miss payments sometime between October 22 and October 31, according to the Congressional Budget Office.
Don't Miss: Government Shutdown Torpedoes Consumer Sentiment.