Ouch Wal-Mart, That Hurt: Black Friday Crowd Control Still Lacking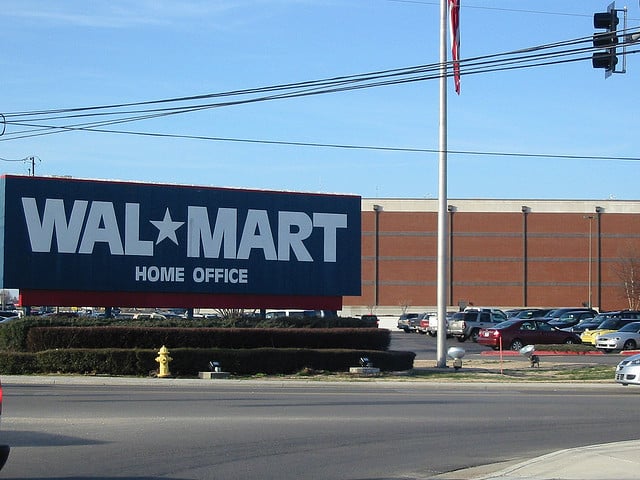 Beginning Thursday evening and continuing today, consumers have flocked to retailers in typical Gray Thursday/Black Friday fashion. As is always the case, the lines are long, the crowds dense, and the shoppers impatient, but this time around one of the most popular brick-and-mortar stores, Wal-Mart (NYSE:WMT), is doing things a little differently. Unfortunately, judging from last night, it's not clear whether those new strategies are paying off.
According to Bloomberg, Black Friday safety has been of increased importance to retailers ever since a Wal-Mart worker died at a store in Valley Stream, New York five years ago. Companies have since worked on their crowd control and increased police presence to keep things running smoothly and disaster free, but retailers have been forced to be especially mindful of security this year, because doors opened earlier than ever on Thanksgiving. On Black Friday Eve, stores not only braced themselves for rowdy crowds, but also customers who had indulged in too much champagne during their pre-shopping turkey binge, and as it turns out, the fights kept erupting and the chaos kept coming.
This year, Wal-Mart distributed wristbands for its 6 p.m. and 8 p.m. special events on Thanksgiving and it promised that shoppers with wristbands were allowed to return two hours after an event to pick up their purchases. The Bentonville, Arkansas-based retailer also offered a One-Hour Guarantee that allowed shoppers inside a store within one hour of a sales event to buy a given item and take it home that day or before Christmas. Sounds genius, right? Unfortunately, things still didn't go so smoothly as Wal-Mart planned, and the tweets, pictures, and videos of chaos erupting in the retailer flooded the web just as shoppers flooded the retailers.
The Huffington Post rounded up several clips of Wal-Mart madness uploaded on the web, and also gathered a number of tweets that detail the fights and skirmishes that blew up on Thanksgiving night. One tweeter from Philadelphia reported that a fight broke out at Wal-Mart and an ambulance was forced to come, while another relayed the story of a physical struggle that erupted over a toaster. Such reports were almost hard to believe until videos starting accompanying such tweets. If a picture is worth a thousand words, then a video is worth much, much more, and this says it all for Wal-Mart.
According to Bloomberg, prior to Black Friday holiday, the National Retail Federation worked to warn companies to take precautions, and issued crowd management guidelines. The agency urged stores to prepare for flash mobs, angry customers, and crowded bathrooms, but despite Wal-Mart's increased safety measures, it still faced trouble — providing an unwelcomed reminder of what ensued in 2008. As reported by Bloomberg, Black Friday 2008 marks the holiday when a Wal-Mart worker was trampled to death during another such customer battle. Wal-Mart was charged for "inadequate crowd management" in May 2009 following the incident, and it was deduced that its worker died of asphyxiation after he was knocked to the ground and trampled by a crowd of about 2,000 shoppers.
Wal-Mart was blamed for insufficient crowd management practices and charged $7,000, the maximum penalty allowed under the law, but the retailer still denies any wrongdoing and is in the process of appealing the citation. Now, the holiday shopping season has officially begun and retailers like Wal-Mart will work to manage the continuing crowds, but also welcome them, considering retail researchers like ShopperTrak and the NRF only predict that holiday sales will advance 2.4 percent this year, the smallest rise since 2009. Thanks to a shorter shopping period and deflated consumer demand, retailers are pulling out all the stops to ensure they can run up as many transactions as possible, but shoppers still have to survive the crowds to make it to the cash registers.
Don't Miss: Bitcoin Black Friday: Alternative Shopping.