Should You Take a Chance With Cisco Systems?
With shares of Cisco Systems (NASDAQ:CSCO) trading around $24, is CSCO an OUTPERFORM, WAIT AND SEE, or STAY AWAY? Let's analyze the stock with the relevant sections of our CHEAT SHEET investing framework:
T = Trends for a Stock's Movement
Cisco Systems designs, manufactures, and sells Internet protocol-based networking and other products related to communications, and provides services associated with these products and their use to information technology industries worldwide. The company provides a line of products for transporting data, voice, and video within buildings, across campuses, and around the world. Its products are designed to transform how people connect, communicate, and collaborate. Cisco operates in five segments: United States and Canada, European markets, emerging markets, Asia Pacific, and Japan.
Cisco Systems gave a forecast for fourth-quarter profit and sales that topped analysts' estimates, as Chief Executive Officer John Chambers seeks to restore growth and prepare the company to meet new challenges. Orders in the U.S. are climbing on demand for networking machines to handle mobile-data traffic. Revenue in the current period through July will be $12 billion to $12.3 billion, based on the company's forecast for a drop of 1 percent to 3 percent. Analysts were projecting, on average, sales of $11.8 billion. Chambers, CEO for 19 years, is working to turn around the world's largest networking-equipment maker before handing it over to a successor. He cut the company's multiyear forecast in December, after exiting consumer businesses, reducing staff  and restructuring management. Network upgrades, driven by mobile devices, are making up for weaker demand as companies build their own equipment, using software to buy fewer machines.
"This was a classic case of low expectations from the Street; sentiment was in the negative," said Chris Bertelsen, chief investment officer of Sarasota, Florida-based Global Financial Private Capital, which owns Cisco shares. Revenue in the fiscal third quarter, which ended April 26, declined 5.5 percent to $11.5 billion, the company said in a statement yesterday. That beat the average analyst estimate for $11.4 billion, according to data compiled by Bloomberg. Profit, excluding items, was 51 cents a share, exceeding a projection for 48 cents.
T = Technicals on the Stock Chart Are Mixed
Cisco Systems stock has been moving higher over the last couple of months. However, the stock is currently pulling back and may need time to consolidate before heading higher. Analyzing the price trend and its strength can be done using key simple moving averages. What are the key moving averages? The 50-day (pink), 100-day (blue), and 200-day (yellow) simple moving averages. As seen in the daily price chart below, Cisco Systems is trading between its rising key averages which signal neutral price action in the near-term.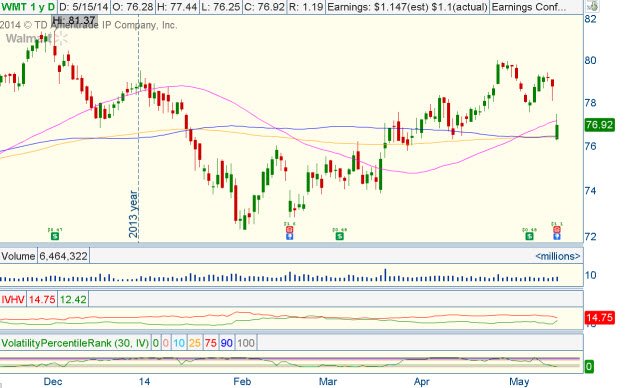 (Source: Thinkorswim)
Taking a look at the implied volatility (red) and implied volatility skew levels of Cisco Systems options may help determine if investors are bullish, neutral, or bearish.
| | | | |
| --- | --- | --- | --- |
| | Implied Volatility (IV) | 30-Day IV Percentile | 90-Day IV Percentile |
| Cisco Systems options | 14.75% | 0% | 0% |
What does this mean? This means that investors or traders are buying a very small amount of call and put options contracts, as compared to the last 30 and 90 trading days.
| | | |
| --- | --- | --- |
| | Put IV Skew | Call IV Skew |
| June Options | Average | Average |
| July Options | Average | Average |
As of today, there is an average demand from call and put buyers or sellers, all neutral over the next two months. To summarize, investors are buying a very small amount of call and put option contracts and are leaning neutral over the next two months.
On the next page, let's take a look at the earnings and revenue growth rates and the conclusion.
E = Earnings Are Mixed Quarter-Over-Quarter
Rising stock prices are often strongly correlated with rising earnings and revenue growth rates. Also, the last four quarterly earnings announcement reactions help gauge investor sentiment on Cisco Systems's stock. What do the last four quarterly earnings and revenue growth (Y-O-Y) figures for Cisco Systems look like and more importantly, how did the markets like these numbers?
| | | | | |
| --- | --- | --- | --- | --- |
| | 2014 Q1 | 2013 Q4 | 2013 Q3 | 2013 Q2 |
| Earnings Growth (Y-O-Y) | -8.70% | -54.24% | -5.13% | 17.48% |
| Revenue Growth (Y-O-Y) | -5.49% | -7.77% | 1.76% | 6.22% |
| Earnings Reaction | 6.01%* | -2.53% | -10.95% | -7.17% |
Cisco Systems has seen decreasing earnings and mixed revenue figures over the last four quarters. From these numbers, the markets have been pleased with Cisco Systems's recent earnings announcements.
* As of this writing
P = Average Relative Performance Versus Peers and Sector
How has Cisco Systems stock done relative to its peers, HP (NYSE:HPQ), Alcatel-Lucent (NYSE:ALU), Juniper Networks (NYSE:JNPR), and sector?
| | | | | | |
| --- | --- | --- | --- | --- | --- |
| | Cisco Systems | HP | Alcatel-Lucent | Juniper Networks | Sector |
| Year-to-Date Return | 8.47% | 16.08% | -10.20% | 8.64% | 6.74% |
Cisco Systems has been an average performer, year-to-date.
Conclusion
Cisco is a provider of networking solutions to companies and consumers worldwide. The company reported first-quarter earnings on Wednesday that topped analysts estimates. The stock has been moving higher over the last couple of months, but is currently pulling back. Over the last four quarters, earnings have been decreasing while revenues have been mixed, which has left investors pleased. Relative to its peers and sector, Cisco has been an average year-to-date performer. WAIT AND SEE what Cisco does in coming quarters.
Using a solid investing framework such as this can help improve your stock-picking skills. Don't waste another minute — click here and get our CHEAT SHEET stock picks now.
More From Wall St. Cheat Sheet: