The Shutdown: 3 International Issues Being Disrupted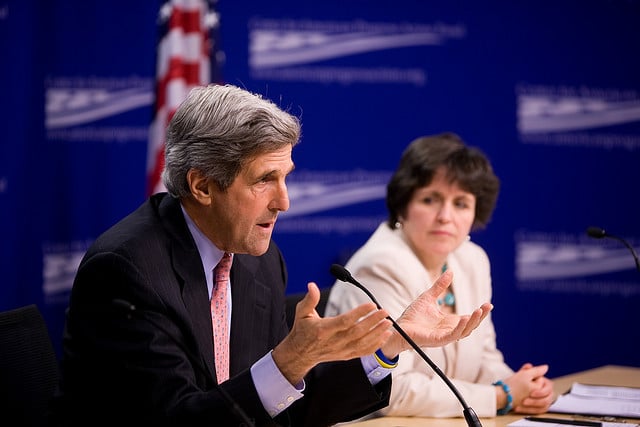 While the U.S. government may have shutdown for the moment, the rest of the world certainly hasn't. President Obama — his hands full dealing with the spending bill stand-off and the impending national debt limit — has Secretary of State John Kerry acting as his proxy in international matters in Asia.
According to Reuters, Kerry acknowledges that the current situation in congress is "an example of the robustness of our democracy," but posits concerns that a continued impasse would introduce doubts internationally and lead to missed opportunities in important issues. In fact, three particular international situations are in danger of being affected, or already have been.
1.  The Asia-Pacific Economic Cooperation (APEC) Summit
With important leaders such as Presidents Vladimir Putin of Russia and Xi Jinping of China present, the summit would have constituted an opportunity for Obama to deliberate both the crisis in Syria (with Putin) and naval guidelines for disputed territories in the South China Sea (with Jinping).
According to Reuters,  Kerry asserts that the U.S.'s interests were maintained at the APEC summit, despite the presidents inability to attend. "Everybody in the region understands … everyone sees this as a moment in politics, an unfortunate moment, but they see it for what it is," said Kerry.
Beyond just the summit, the president was forced to cancel a week-long trip to Malaysia, the Philippines, Indonesia, and Brunei — where he would have attended the East Asia Summit as well.
2.  Sanctions Against Iran
According to USA Today, the Treasury Department Office of Foreign Assets Control — accountable for sanctions against Iran — has been seriously crippled by the continued shutdown. With 164 of it's 175 employees furloughed, White House press secretary Jay Carney said, "the office is unable to sustain its core functions."
Kerry noted that this loss of resources comes at an exceptionally poor time, according to Reuters. The U.S. has recently been attempting a return to conversations with Tehran regarding disagreements on Iran's nuclear weapons program.
"I think it's clear we cannot lose this opportunity to moments of politics, that deprive us of the opportunity to embrace larger and more important goals," said Kerry regarding discussions with Iran.
3.  Peacekeeping in the Sinai/Aid to Israel
The Sinai peninsula — a central area of conflict dividing Egypt and Israel — was planned to be the subject of a peacekeeping mission conducted by the United States. However, with the present shutdown, there is a real possibility that the financial backing for such a mission will be significantly delayed.
According to Reuters, Kerry noted that both the payment for said mission, and monetary support for security assistance in Israel could be delayed as a result of the present shutdown.
Kerry's most salient and repeated point emphasized the need to cut the shutdown short and move on to bigger and better things.  Unfortunately, in light of recent statements made by Republican House members, a quick resolution seems doubtful at present.
Don't Miss: Citigroup's Premature Research Release Results in $30M Fine.