The Top 5 Foreign Holders of U.S. Public Debt
United States' $16.7 trillion debt pile comes in two flavors: intra-governmental holdings, of which there is about $4.8 trillion, and debt held by the public, of which there is about $11.9 trillion.
Like the name implies, intra-governmental holdings are Treasury securities that are held by other federal agencies, such as the Social Security Trust Fund (which holds about $2.7 trillion), the Office of Personnel Management (which manages various federal retirement and pension funds, and holds about $1.12 trillion), and the Department of Health and Human Services (which manages the supplementary medical insurance trust fund, and holds about $69 billion). All told, federal agencies hold about 29 percent of U.S. debt.
The rest is split among "the public," which includes everybody from the U.S. Federal Reserve (with $1.66 trillion) to private pension funds ($605.2 billion), and yes, foreign governments and investors. All told, foreigners own approximately $5.6 trillion in Treasury securities, or about 47 percent of the debt held by the public.
The top five foreign holders own about 57.5 percent of the total debt held by foreigners. Here's a look at who they are:
5) Brazil
Brazil is the fifth-largest foreign holder of U.S. debt with $256.4 billion in hand as of July 2013.
Brazil was already hit pretty hard earlier this year when it started suffering a large outflow of investment capital thanks to taper talk in the U.S. When quantitative easing slows down, investors tend to bring money back home. The financial stability of Brazil is sometimes (often) dubious, and a default could undermine the nation's economy.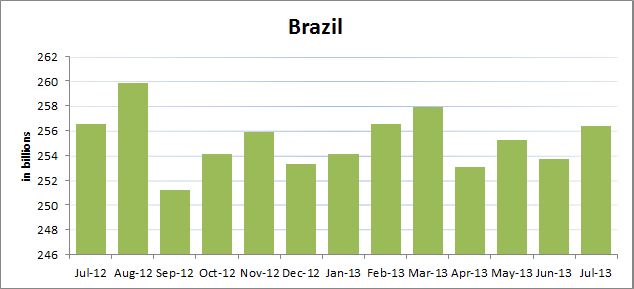 4) Oil Exporters
This group of U.S. debt holders includes Ecuador, Venezuela, Indonesia, Bahrain, Iran, Iraq, Kuwait, Oman, Qatar, Saudi Arabia, the United Arab Emirates, Algeria, Gabon, Libya, and Nigeria, which together held $257.7 billion in Treasury securities in July.
As the name of the bloc suggests, many investors in these countries — including the governments themselves — are looking to turn cash from oil into a more attractive asset. Overall holdings have actually declined over the past year, but purchases tend to fluctuate with the overall success of the oil industry. When the price of oil is high, these nations tend to purchase more, and vice versa.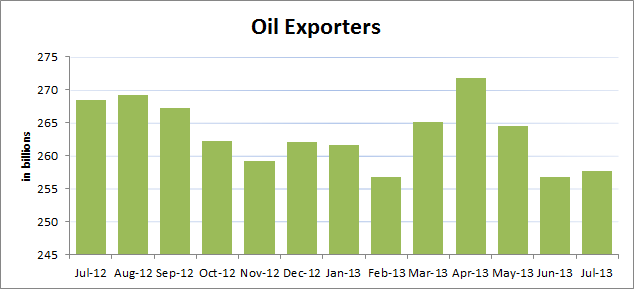 3) Caribbean Banking Centers
This group includes the Bahamas, Bermuda, British Virgin Islands, Cayman Islands, Netherlands Antilles, and Panama, and held $287.7 billion in Treasury Securities in July.
Most of these places also function as offshore financial havens for businesses and wealthy individuals. The collective Treasury holdings of these institutions has increased fairly dramatically over the past few years, and now has about 5.1 percent of all U.S. debt held by foreigners. Many of the banks in this region are subsidiaries of firms in Europe, but some are likely owned by U.S. firms as well.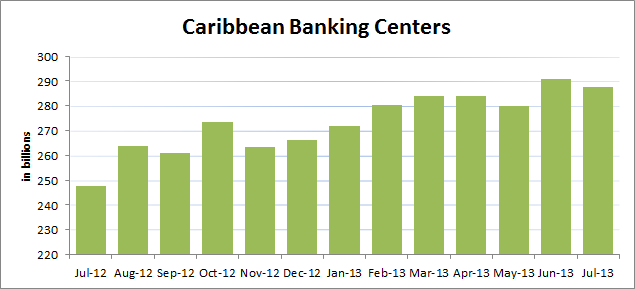 2) Japan
Japan held $1.135 trillion in U.S. Treasury securities in July — a substantial increase from its June holdings, but not significantly above its holdings in the year-ago period.
Japanese officials have urged U.S. lawmakers to, if nothing else, reach a deal on the debt ceiling. "The U.S. must avoid a situation where it cannot pay (for its debt) and its triple-A ranking plunges all of a sudden," Taro Aso, Japan's finance minister, told reporters earlier in the week, according to Reuters.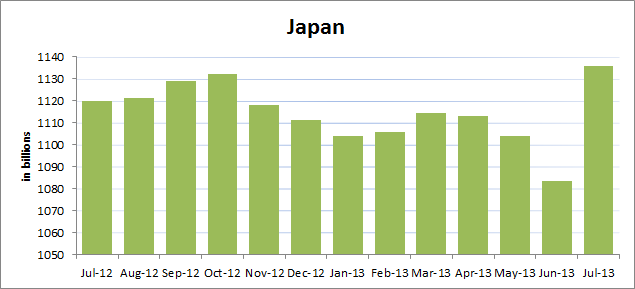 1) Mainland China
Mainland China — which excludes Hong Kong and Taiwan, both major holders of U.S. debt — held $1.277 trillion in Treasury securities in July.
Understandably, Chinese officials have also expressed concern about the stability of the U.S. fiscal house. Chinese Deputy Finance Minister Zhu Guangyao commented on the situation earlier this week, calling on the U.S. to avoid a default. "The U.S. is the world's biggest economy and a major country issuing reserve currency. Safeguarding the debt is of vital importance to the economy of the U.S. and the world," he said at a press conference, according to Xinhua.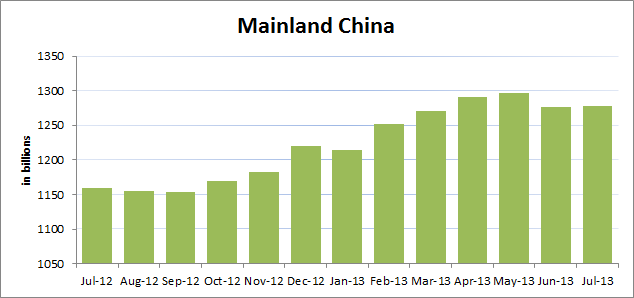 Here's how the major U.S. equity indexes traded on Friday: