There's More to Retirement Than Sitting on a Nest Egg
Last July, Senator Tom Harkin, Chairman of the U.S. Senate Committee on Health, Education, Labor & Pensions, issued a report called "The Retirement Crisis and a Plan to Solve It." In it, he outlined the findings of a series of hearings held by the committee on the retirement crisis that has crept over America like rust over the past few years.
Highlighting just a few troubling facts, Harkin points out that, in aggregate, Americans currently hold a $6.6 trillion retirement deficit. Only one of five people in the private sector workforce have a defined benefit pension plan, and half of Americans have less than $10,000 in savings. Anecdotal evidence curated through surveys finds that 92 percent of people believe there is a retirement crisis in America.
What's more, a recent Gallup poll shows that 75 percent of adult workers in the United States believe that they will have to continue working past retirement age. Two years ago, eight out of ten employed Americans expected to work into their upper 60s and beyond. Generally, the picture painted of retirement is grim. PBS aired a program at the end of April entitled "The Retirement Gamble," which postulated that the financial crisis had made retiring a much more difficult prospect. And the numbers suggest a similar conclusion.
A small percentage of people approaching retirement — 1.6 percent, according to an analysis by Fidelity — abandoned the stock market all together in the wake of the financial crisis. While those who were heavily invested in stocks ahead of the crash lost as much as 40 percent, they have largely regained their position if they stayed long. However, those who exited have fared much worse.
With this in mind, it has become clear that individuals will need to take a more proactive approach to retirement savings. Individuals are increasingly encouraged to take charge of their own retirement planning and take a more active role in ensuring that Future Them isn't kicked to the curb.
Here are a few ways you can put your hand on the steering wheel:
Understand fees
Digging into the the wild world of retirement planning, Frontline walked through how administrative, asset management, and marketing fees cut into a 401k over time. Frontline shows that over the course of a lifetime, ordinary Americans can pay as much as $109,407 in retirement fees to their mutual fund providers. What's worse, as many as six in ten Americans are unaware of how much their plans are actually costing them.
Fortunately, there are free online tools that anyone can use to help them determine if they are getting the short end of the stick. Last year, Personal Capital, a San Francisco financial-advice startup, launched an online tool appropriately called "401k Free Analyzer." The tool covers 90 percent of 401k providers and lets people know whether they are paying too much in fees.
Shop Around
The go-shop process is a hallowed part of any serious purchase agreement. The go-shop period helps ensure that a company's board of directors stays true to its fiduciary duty, ensuring that shareholders get the best possible deal in the transaction.
The metaphor isn't perfect, but think of your retirement savings account as a business. You, through the magic of compartmentalization, are both the chairman of the board and the shareholder. You have a duty to look out for your own best interest, and ensure that you are not paying any more than you absolutely have to in banking or other fees associated with your retirement nest egg.
Tools like the one offered by Personal Capital can help, but the best way to protect yourself is to be aware of exactly what is going on with your money. Jemstep is another tool that people can use to get a handle on their nest egg in a fairly cost-effective way.
Feed Your 401K
If your employer offers a 401K retirement plan, feed it. In many cases, employers will match up to 50 cents on the dollar for up to 6 percent of your salary that you contribute to the plan. If the implication here isn't obvious, this is about as free as money gets, and its a surefire way to ensure that that Present You is looking after Future You.
If you can afford it, try to contribute as much as you can in order to reap the highest possible rewards. Remember, there's a psychologically significant effect that comes into play here, as well. If you finally land that high-paying job that offers a sweet 401K and decide to celebrate by spending your first few paychecks lavishly, you've taken the first few steps down a slippery slope of "I've had it once, and now I want more."
You want to make sure to condition yourself to a reasonable cash flow, and make sure that your frame of reference for what is a 'comfortable' amount of spending money actually makes sense within your budget.
Here's how the market traded on Friday: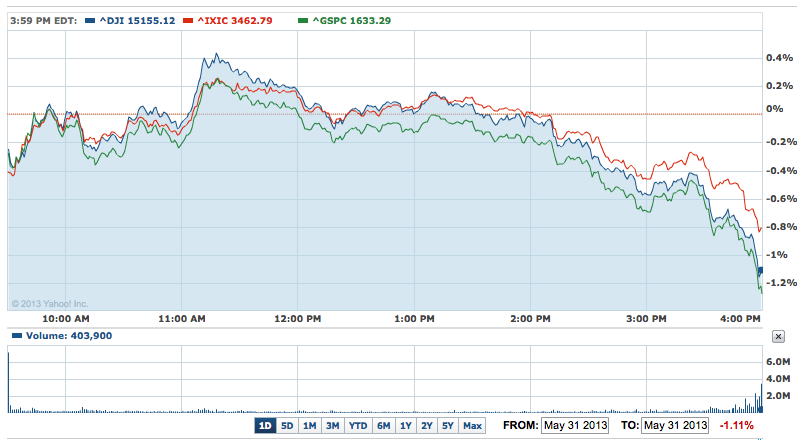 Don't Miss: 3 Signs of Hope for the Student Debt Bubble.