Wal-Mart Fails the Ethics Test of This Pension Fund
Sweden's first, second, third, and fourth national pension reserve funds (AP1-AP4) will divest all their holdings in Wal-Mart Stores (NYSE:WMT), Freeport-McMoRan Copper & Gold Inc. (NYSE:FCX), Incitec Pivot, and Potash Corp. (NYSE:POT) following a recommendation from the country's Ethical Council. The council reports that after years of engaging with the companies over various dubious labor and environmental practices, all had failed to deliver substantive changes.
For some context, the AP1-AP4 funds represent four out of five so-called "buffer funds" within the Swedish national pension system. The sixth fund, AP6, invests in private equity. These funds are state owned and managed by a government-appointed board of directors but operate fairly independently of the regular bureaucratic machinery.
The funds are required by law to "manage their assets so as to generate maximum benefit for the income-based retirement system," with a focus on long-term returns and low risk. Each of the funds receives one quarter of the social security contributions made to the pension system, and in turn, each fund is responsible for paying one quarter of benefits due from the system. As of the end of 2011, the five funds (AP1-AP4 plus AP6) claimed total assets of 873 billion Swedish krona (about $136 billion), or 27 percent of Sweden's 2011 gross domestic product.
Each fund pursues a different investment strategy — a breakdown of their portfolios is beyond the scope of this article — but broadly speaking, the funds invest heavily in equities. Below is a breakdown of the asset allocation among public pension reserve funds in various countries.
At a glance, it's easy to see that Sweden's various AP funds hold an enormous amount of shares and other equities compared to most other funds. The funds are required to hold a minimum 30 percent of assets in interest-bearing securities with low risk.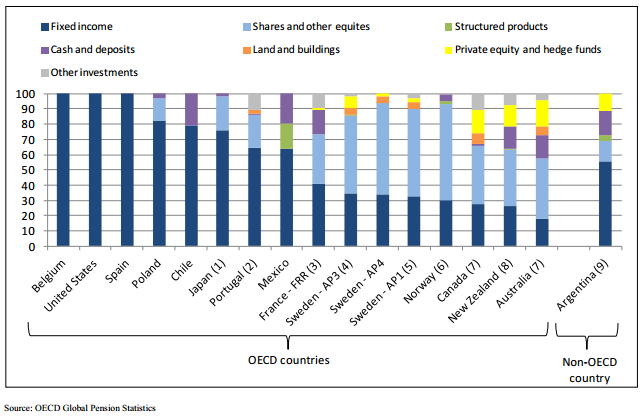 As of June 30, AP1 owned 76,923 shares of Wal-Mart; AP2 did not appear to own any shares; AP3 owned 353,008 shares; and AP4 owned 660,359 shares. As a result of the recommendation of the Ethical Council, the funds will remove Wal-Mart — along with Freeport-McMoRan, Incitec Pivot, and Potash — from their portfolios.
The council explained that it recommended exclusion of Wal-Mart because its U.S. business "is linked to systematic abuses of workers' rights, in contravention of the ILO core convention on working rights. The company also denies employees their right to form and join trade unions."
With about 1 million shares between them, the AP funds are not among Wal-Mart's major shareholders, though they are in the top 150 as of June 30.
The council recommended that Freeport McMoRan be removed for failing to address the negative environmental impact of its mining activities in Indonesia. Initec Pivot and Potash, both major purchasers of phosphate from a supplier that mines in the Western Sahara, were recommended for removal because of civil rights violations by that supplier.
The AP funds use the Ethical Council for guidance, but they are primarily obligated to invest in such a way that produces maximum return — however, Wal-Mart, Freeport McMoRan, and Potash have all underperformed the S&P 500 over the past two-year period, putting little pressure on the funds to remain attached to the investments.

"Engagement is the Ethical Council's primary tool for encouraging companies to act responsibly," Christina Kusoffsky Hillesöy, the Ethical Council's chair, said. "Exclusion from the investment portfolio is a last resort when other avenues have not worked. This is therefore a setback for us in so far as we have been unable to secure lasting improvements despite several years of active engagement. We do not believe further interaction with these companies will be fruitful and have therefore recommended that the AP funds exclude them from their investment universe."
Don't Miss: Wal-Mart's "Made in America" Campaign Makes Everyone a Winner.