Want to Order a McDonald's Big Mac? There's an App for That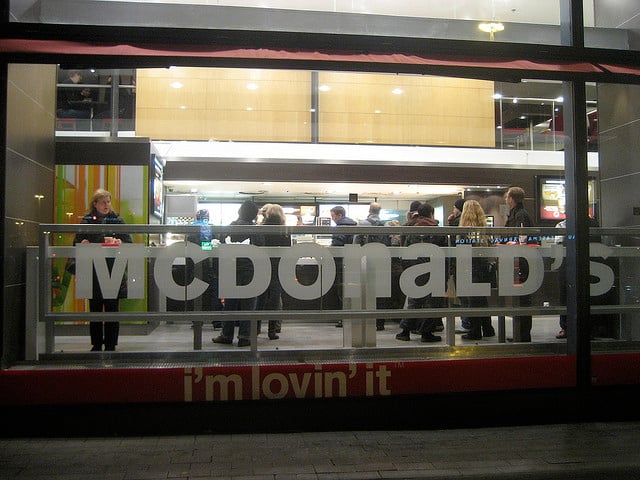 When McDonald's (NYSE:MCD) first created its drive-thru in 1975, consumers were delighted to learn they didn't have to get out of their cars to buy food. Thirty-eight years later, the same fast food company is giving burger lovers another reason to be excited, because McDonald's is now testing a program that will not only allow customers to continue to enjoy the convenience of the drive-thru, but, pretty soon, they won't even have to open their mouths.
According to Bloomberg, McDonald's is testing a mobile payment application in Salt Lake City and in Austin, Texas, that, if approved, will allow consumers to order their Big Macs via a mobile phone and then pick up their goods at the restaurants' stores, curbside, or via drive-thru windows. Customers will also be entitled to promotions, offers, and a loyalty program, and can choose anything from the company's ever-growing menu that will soon include steak breakfast biscuits, chicken wings, and new Quarter Pounders.
Lisa McComb, a spokeswoman for McDonald's, said to Bloomberg: "We're always looking at new technologies to make the McDonald's experience better for our customers. We are testing some of these technologies in a few markets, so it's premature to speculate on the decisions we may make after the tests, but we're excited to bring a cutting-edge experience in the future to our customers."
The new technology trial comes on the heels of many other efforts McDonald's has put forward to curb falling sales and help draw back cost-conscious consumers who are beginning to eat less at restaurants and more at home.
The fast food king has already rolled out a handful of new items as of late to combat that diminishing demand, including chicken wings, steak breakfast options, and even multi-person meal boxes in places like Kansas City, Missouri. Like rivals Wendy's and Burger King (NYSE:BKW), McDonald's is working to launch menu offerings that revive the interest in its restaurant business — but hard as it tries, the company's recent U.S. same-store sales report shows that the Oak Brook, Illinois-based company is still coming up short.
McDonald's U.S. same-store sales failed to meet analyst estimates for August, and although growth in Europe helped mediate the business' disappointment, the fast food company still views its home nation as a "persistently challenging" environment.
With this new mobile application, however, McDonald's believes it can streamline the customer experience even further and make it that much easier for consumers to get their food fast and exactly how they ordered it, without even having to open their mouths at the drive-thru window.
And, as Bloomberg highlights, McDonald's certainly isn't the first fast food company to take advantage of the ever-evolving landscape of technology and adopt digital ordering and payment apps.
Chipotle Mexican Grill (NYSE:CMG) already has a mobile ordering app, more than 10 percent of Starbucks's (NASDAQ:SBUX) transactions employ mobile payments, and Domino's (NYSE:DPZ) maintains that 35 percent to 40 percent of its orders are made online.
Thus, it is likely that McDonald's will benefit from its new mobile payment application should it eventually be approved for a nationwide rollout. The company already introduced an app in 2011 that allows customers to locate stores, learn nutrition information, and find jobs, so sooner than later, we may see that app get a bit of a facelift.