Warren Buffett Takes Coca-Cola CEO to History 101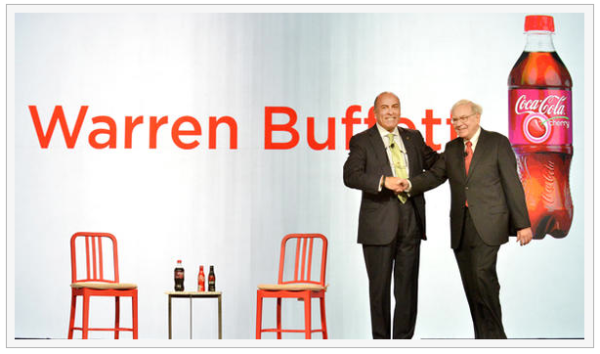 "Success is a lousy teacher. It seduces smart people into thinking they can't lose."- Bill Gates
No matter how wealthy and successful you become, it is always a good idea to review the basics of the business world. This week, one of the world's most well-known investors decided to give a brief lesson to the chief executive officer of an American classic.
Warren Buffett, Berkshire Hathaway's (NYSE:BRKA)(NYSE:BRKB) CEO and largest shareholder, made a surprise appearance at Coca-Cola's (NYSE:KO) annual meeting on Wednesday. The billionaire investor gave an on-stage interview with Muhtar Kent, chief executive officer of Coca-Cola. Buffett advised Kent to stay ahead of the competition by studying the history of what made other companies fail.
"I like to study failure. We want to see what has caused businesses to go bad, and the biggest thing that kills them is complacency," Buffett said at the Atlanta-based meeting. "You want a restlessness, a feeling that somebody's always after you, but you're going to stay ahead of them. That restlessness — that tomorrow is more exciting than today — you have to have it permeate the organization." He added: "I'm the kind of guy that likes to bet on sure things, Muhtar. If you take care of a great brand, it's forever. Those are the businesses I like."
The Oracle of Omaha is Coca-Cola's biggest fan. According to the latest 13-F statement, Berkshire Hathaway held 400 million shares of the beverage company at the end of last year, making it more popular than IBM (NYSE:IBM) and American Express (NYSE:AXP) in Berkshire's portfolio. The position is second only to Buffett's stake in Wells Fargo (NYSE:WFC).
As the chart below shows, Coca-Cola has been very refreshing for investors. Shares of the company have jumped 16.83 percent year-to-date, and more than 57 percent over the past three years. Most recently, Coca-Cola announced better-than-expected earnings for the first quarter and worldwide volume growth of 4 percent.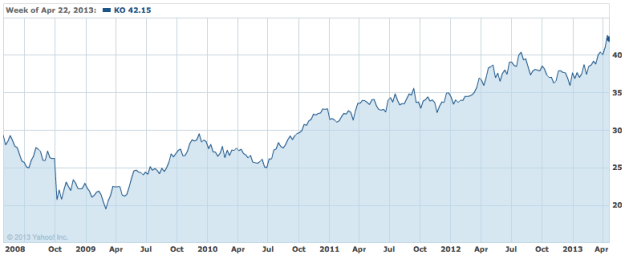 When discussing his stake in Coca-Cola, Buffett explains, "We've never sold a share, and I wouldn't think of selling a share. In my lifetime since 1930, real GDP per capita in the United States has gone up 6-to-1. We have not lost the secret sauce. That's the kind of future I see ahead too. If that's the future, you want to own businesses that are going to participate in that future."
Don't Miss: Most Americans Missed the 'Economic Recovery'