Was This New Wal-Mart Hiring Policy Created With Obamacare in Mind?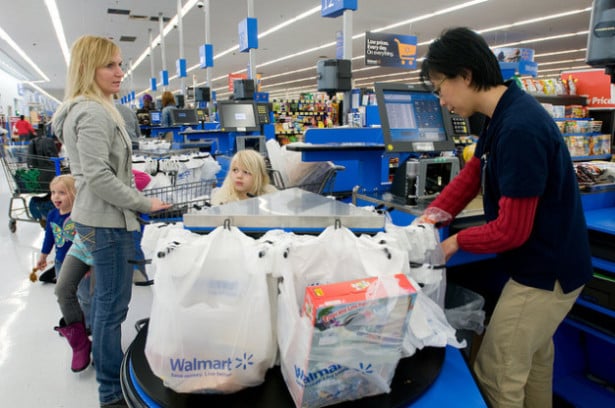 Wal-Mart (NYSE:WMT) has instituted a new policy to ensure that its stores are "staffed appropriately." In recent months, the company has been hiring only temporary workers at many of its stores in the United States, marking the first time the world's largest retailer has made that decision outside of the holiday shopping season.
In February, it was revealed that U.S. Chief Executive Bill Simon thought that "self-inflicted wounds" were Wal-Mart's "biggest risk." This problem became apparent to the rest of the world when Bloomberg reported that the discount retailer did not have enough workers to restock the shelves. In the past five years, the company has added 455 stores in the United Stores, a 13 percent increase, according to regulatory filings. However, the company's employee count has dropped by approximately 20,000 in the same period.
NEW! Discover a new stock idea each week for less than the cost of 1 trade. CLICK HERE for your Weekly Stock Cheat Sheets NOW!
This thinly spread workforce has had widespread consequences. As several interviews with Wal-Mart customers served to prove, shoppers are moving elsewhere. "If it's not on the shelf, I can't buy it," former customer Margaret Hancock told Bloomberg back in March. "You hate to see a company self-destruct, but there are other places to go," she added, noting that Wal-Mart's loss has been a gain for stores like Target (NYSE:TGT) and Safeway (NYSE:SWY).
However, the largest U.S. private employer has begun to address its staffing problems. A Reuters survey of 52 stores, one in at least every U.S. states, showed that 27 were hiring what the company internally calls "flexible associates," 20 were hiring a combination of regular, part-time, and temporary workers, and five were not hiring at all. The temporary workers are being hired on 180-day contracts, and they could eventually be hired for a regular full- or part-time job, the company said.
NEW! Discover a new stock idea each week for less than the cost of 1 trade. CLICK HERE for your Weekly Stock Cheat Sheets NOW!
However, "full-time people are getting slimmer and slimmer," a supervisor at a store in North Carolina, who asked not to be named, told the publication. She said that all of the five new employees hired at her store this year were temporary and the hours of existing employees are being cut as well. "Everybody who comes through the door I hire as a temporary associate," said a store manager in Alaska, who also asked not to be identified. "It's a company direction at the present time."
"Long-term associates are particularly distraught by this short-term hiring as many are looking for more hours and full-time work," added Mary Pat Tifft, a member of the Organization United for Respect at Walmart, or OUR Walmart, a group of current and former employees campaigning for better wages, hours, and benefits.
Company spokesman David Tovar told Reuters that the move was not a cost-cutting measure, as the new employees are paid the same starting wage as other workers. A crew of temporary workers will help Wal-Mart staff adequately on busy weeknights and weekends without having to hire additional full-time staff. Now, slightly less than 10 percent of the company's U.S. workforce is comprised of temporary workers, compared to 1 or 2 percent before 2013.
Simon also confirmed this change. "Their hours flex by the needs of the business from time to time," he told Reuters reporters before Wal-Mart's annual meeting last week.
NEW! Discover a new stock idea each week for less than the cost of 1 trade. CLICK HERE for your Weekly Stock Cheat Sheets NOW!
Despite Tovar's denial that the hiring strategy was not a cost-cutting measure, it will likely save Wal-Mart money by trimming labor costs at a time when its margins remain under pressure. Many Americans in the retailer's key low-wage-earning customer base are struggling with the lack of income growth, and that reality, along with the ongoing high unemployment rate, have left retailers of everyday goods with little pricing power, according to company CEOs.
The strategy also could set a precedent for other companies as they attempt to cushion themselves from the rise in healthcare costs next year that many industry experts believe will result from the implementation of the Affordable Care Act. However, Tovar said the decision was not related to the Obamacare reforms.
Follow Meghan on Twitter @MFoley_WSCS
Don't Miss: Is Macy's Growing Online?