Watch Out For These Hazardous Retirement Potholes
The treacherous road to retirement is lengthy and filled with confusing directions. Somewhere between entering the workforce and reaching a final destination, Americans encounter numerous financial potholes.
Retirement derailers have a significant impact and affect the majority of the population. Unexpected life events cost the average American $117,000 in savings, according to a new survey by Ameriprise Financial. This figure jumps to $177,000 for those with investable assets of $750,000 or more. The average respondent experienced four derailers, while 90 percent encountered at least one. Furthermore, 37 percent said they experienced five or more retirement derailers.
"The derailers we discovered in this study could throw a wrench into anyone's retirement plans," says Suzanna de Baca, vice president of Wealth Strategies at Ameriprise Financial. "Unfortunately, the chance of being hit by at least one of these risks is extremely high."
To little surprise, the survey of 50- to 70-year olds with at least $100,000 to invest said the top six derailers were related to the recent financial crisis and the lingering side effects.
The top retirement derailer event — with 63 percent of the vote — was the low interest rate environment our economy now finds itself in, courtesy of the Federal Reserve. Record low interest rates have resulted in lower-than-expected asset growth. Fifty-five percent of people in the survey said market declines caused by the recession derailed their retirement.
With home prices plunging from their bubblicious peaks, 33 percent named lower home equity than expected as a derailer event. Meanwhile, 23 percent took a financial hit by having to support grown children or grandchildren. With defined benefit plans becoming extinct, 23 percent said their pension plan was not worth as much as anticipated or discontinued.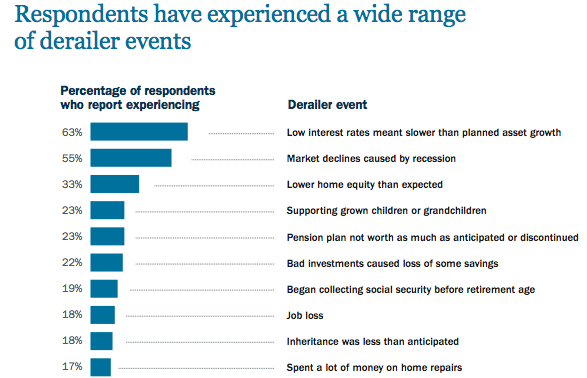 Suzanna de Baca adds, "Expecting the unexpected is clearly more important than ever in preparing for retirement. We know the recession had a huge impact on American pre-retirees and retirees, but families are realizing that other unexpected events like supporting a grown child or grandchild can also hit the bottom line – both immediately and long-term. The good news is that these unanticipated events don't always have to be retirement derailers – they can be addressed with a plan in place."
Americans remain mostly positive about their trip to retirement, but their expectations may be different from reality. Sixty-four percent of those surveyed described their road to retirement as smooth, instead of bumpy. Yet, only 18 percent said their savings are ahead of where they thought they would be a decade earlier. Even more concerning, 42 percent admit they are behind prior expectations.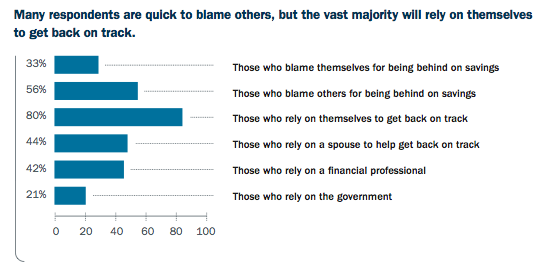 More than half of respondents who have experienced at least one derailing event say the impact has been extremely or somewhat serious. However, 33 percent blame themselves for being behind on savings, and many wish they learned about proper money management sooner. Fifty-six percent blame others for being behind on savings.
Naturally, you are the person that cares the most about your money, but seeking the help of a well-researched financial advisor can greatly improve your chances of an ideal retirement. In the survey, nearly three out of four people with a financial advisor have a written financial plan, compared to only 39 percent of those without a financial advisor. People with written financial plans are more likely to feel confident about affording essentials and unexpected expenses.
Don't Miss: You Should Listen to Warren Buffett On Economic Moats
Follow Eric on Twitter (@Mr_Eric_WSCS)