What Will Be the Top Stocks in Obama's Second Term?
Any answer to that question is, of course, purely speculation — but that has never stopped forward-thinking investors before.
In January, Forbes contributor Gene Marcial reported that the S&P 500 stock price index climbed 57.9 percent during President Barack Obama's first term in office. For some context, that is the fifth-best performance on record, queuing up in the history books behind the 70 percent gain experienced under President Bill Clinton's first term. (For the curious minds, the market declined 8.2 percent during President George W. Bush's first term.)
The average first-term gain in the S&P index for all presidents is 37.8 percent, which is pointedly higher than the average gain of 17.3 percent for the second term. If Obama leads the second-term average by the same margin that he led the first-term average, the market will rise about 26.4 percent. Again, that's a totally speculative forecast, but projecting historic performance forward is one way to form expectations about the future.
Supporting the bullish thesis are a number of increasingly optimistic economic forecasts. U.S. GDP growth in 2013 and 2014 is expected to be around 3 percent, instead of estimates in the low- to mid-2 percent range that were formulated at the end of 2012. Equity movement since the beginning of the year has also been positive, and although fears of a pullback punctuate market dialogue, optimism seems to be winning the day.
With that said, here's a look at some stocks that could outperform in Obama's second term, courtesy of Marcial…

At about $73.80 per share, Home Depot (NYSE:HD) has already logged 14 percent gains this year to date, and on average analysts are looking for it to climb just a little higher to a mean price target of $74.57. The bulls, of which there are many, are pushing as high as $85.
The stock is widely seen as a smart play on the increasingly healthy housing market recovery. Revenue and earnings growth did slow down a little bit in the last two quarters, but annual prospects still look attractive. Analysts are expecting full-year 2013 revenue to grow about 3 percent, and earnings to increase 13.5 percent. Beyond that, for 2014, analysts are looking for 4.4 percent revenue growth and 16 percent earnings growth.

Bank of America (NYSE:BAC) is consistently one of the most highly-traded stocks on Wall Street, and at $11.60 per share, many still consider it undervalued. On average, analysts are looking for this stock to climb about 7.7 percent to $12.49, but negative year-to-date growth has put the brakes on most bullish theses.
First-quarter earnings released this week did disappoint Wall Street. Adjusted earnings increased an insane 566 percent to $0.20 per share (percentage gain is misleading given the small dollar value), but still missed expectations for earnings of $0.22 per share. Revenue declined 12 percent to $23.71 billion, and edged out expectations for $23.49 billion.
These results show that while Bank of America has been able to reduce its expenses, evidence of growth amid chronically low interest rates and a shrinking mortgage market are not overly apparent. That said, management argued that changes and improvements were still underway; claiming that Bank of America is still an institution in transition seemed to be their mantra.

The American auto industry looks like it is poised for a strong 2013, and as the second-largest U.S. car maker, Ford (NYSE:F) is ready to surf the wave. However, after a very strong start to the year that pushed the stock above $14, shares are down 3.4 percent this year to date. Analysts are still looking for the stock to hit an average price target of $15.14, which would be an increase of more than 17 percent over its Friday trading price of $12.89.
The company's largest sore spot remains Europe, where car sales continue to plummet and losses continue to pile up. But strength in the U.S. and Chinese markets outweighed losses in 2012 and sales are expected to increase through 2013. Toward the end of Obama's second term, the European market is expected to turn around.
Pfizer (NYSE:PFE) has proven itself to be a market leader so far in 2013. As the largest pharmaceutical company under the sun, the company is in a unique position to dominate the rapidly-changing healthcare industry. Pfizer has to deal with some challenges, which include the loss of Lipitor exclusivity, several patent expirations in the future, and the threat of generics. A decline in revenue in 2012 was also a negative. However, unlike most companies throughout the broader market that saw a revenue decline in 2012, Pfizer has a lot of potential going forward.

Here's how the market traded Friday: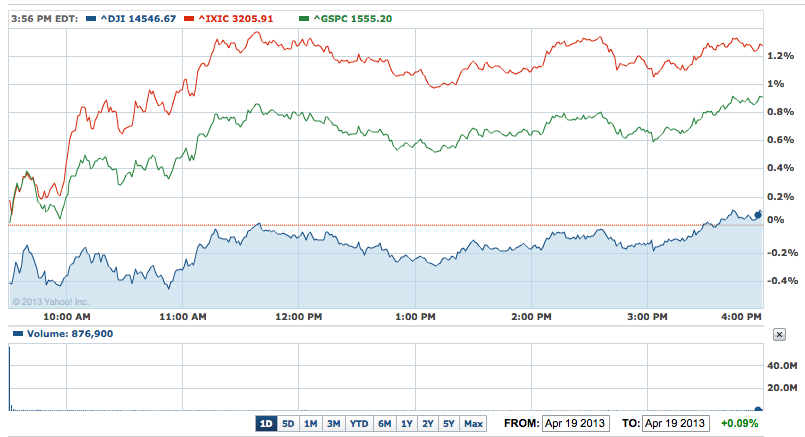 Investing Insights: Does Travelers Belong In Your Portfolio?