Who's Making Money Off the Marijuana Gold Rush?
On August 20, the Financial Industry Regulatory Authority — or FINRA — issued an alert to investors warning them about potential scams associated with marijuana-related stocks. The agency stated that: "With medical marijuana legal in almost 20 states and recreational use of the drug recently legalized in two states, the cannabis business has been getting a lot of attention — including the attention of scammers."
Specifically, FINRA warned about the well-known 'pump-and-dump' scheme, in which "fraudsters lure investors with aggressive, optimistic — and potentially false and misleading — statements or information designed to create unwarranted demand for shares of a small, thinly traded company with little or no history of financial success (the pump). Once share prices and volumes reach a peak, the cons behind the scam sell off their shares at a profit, leaving investors with worthless stock (the dump)."
The warning was timely. The conversation surrounding the legalization of medical marijuana in the United States has been thrust into the spotlight, and, inevitably, as the the nation moves toward some federal-level referendum on the drug, the private sector has begun digging in, bracing for practical legalization (some would argue this has already happened).
But it is important to point out that while it is absolutely true that investors should always have their guard up and be particularly rigorous in their approach to penny stocks and marijuana stocks, not every company in the space is a pump-and-dump scheme. Investors should be able to tell the difference between a viable investment candidate and a scam by examining company fundamentals, reporting history, transparency, and management. Who is in charge? What type of company have they built? Are they square with the SEC? Are they audited? And are they trying to hide anything?
Let's take a look at a couple of companies in the space.
Medical Marijuana Inc. (OTC:MJNA)
In some ways, Medical Marijuana Inc. is a "one size fits all" investment choice. The company is comprised of a self-described "diversified portfolio of products, services, technology, and businesses solely focused on the cannabis and hemp industries." The company's portfolio includes companies such as: CanChew, which makes cannabinoid-based gum; PhytoSPHERE Systems, which builds and develops growing, packaging, and extraction technology; and KannaLife Sciences, which is involved in research and development of new therapeutic uses for marijuana.
Medical Marijuana Inc. is the largest and arguably most-well established company in the space. The company has traded stock on the OTC markets since April of 2009, from which shares are currently down about 75 percent at 14 cents a piece ($134.22 million market cap).
It is important to highlight the fact that Medical Marijuana Inc. is not fully reporting, so we don't really know as much about it as we would like. The company does provide "quarterly highlights" to fulfill disclosure requirements under Rule 15c2-11 of the Securities Exchange Act, which basically states that the company needs to make available a prescribed set of information about itself. The firm's most recent report is for the quarter ended June 30.
It is encouraged that any would-be investor give the report a close read. It is beyond the scope of this article to really unpack the report — it was mostly filled with underwhelming, but not devastating, news and numbers — but it's worth mentioning that some bad mojo regarding the stock has been circulating.
Cannabis Science, Inc. (OTCBB:CBIS)
Cannabis Science looks like a company with its heart in the right place, but it is perhaps not the best investment choice. The company is led by Dr. Robert Melamede, who is a fairly renowned cannabinoid research scientist, and (broadly speaking) his company's goal is to pursue the development of cannabinoid-based medicines and get them approved by the U.S. Food and Drug Administration.
For those who believe in the medicinal power of cannabis, this is a great thing. For those who are looking for a great investment — not so much. The company does report with the SEC, which is a huge plus, but what it has had to report is pretty unattractive. The company filed a financial report in September. Here are the results (all numbers in thousands):
Not exactly investor friendly. The company reported zero revenues for the period ended June 30, as if it went into hibernation, but still managed to spend $533,839 in general and administrative costs. The company reported a working capital deficit for $3 million, up from $2.56 million in the year-ago period. The firm's 10-Q states: "There are insufficient liquid assets to meet current liabilities or sustain operations through 2013 and beyond and the Company must raise additional capital to cover the working capital deficit. Management is working on plans to raise additional capital through private placements and lending facilities. The Company currently is relying on continuing loans from stockholders to meet its obligations and sustain operations."
But still, the company has a market cap of $27 million, one of the highest in the industry.
Hemp, Inc. (OTC:HEMP)
Hemp populates this list mostly because there is generally an enormous amount of confusion about what this company actually does. Hemp, Inc., makes hemp products, not marijuana products. The company was careful to explain the distinction between the two in July.
"Hemp, Inc. focuses strictly on Industrial Hemp products," the company wrote. "The major market for Hemp is as a food or supplement as it is rich in protein, Omega fatty acids and has a high fiber content. Costco carries hemp seeds, and Natural Grocers and Whole Foods Market stock many brands of Hemp food products and supplements. The clothing industry has targeted Hemp as a provocative niche market fabric. High fashion designers Ralph Lauren and Versace make apparel from Hemp blended fabric. Footwear giants Vans and Adidas make Hemp sneakers. Trendy companies market hemp T-shirts, hats, jewelry, backpacks, even pet beds and leashes. Auto manufacturers use durable, green Hemp composites and fabrics when feasible. Industrial Hemp can also be used for building materials, plant based plastics, and paper products."
So Hemp, Inc. may very well be a solid investment candidate (you can find a recent income statement here), but it is not really a marijuana stock, and has little (if anything) to gain from the legalization of medical or recreational marijuana.
Growlife, Inc. (OTCBB:PHOT)
It's no secret that when the gold rush is on, the person in the best position is the guy making the picks and shovels. Much of the pessimism that surrounds marijuana-industry penny stocks is the severe competition. Most people who set out to strike it rich looking for gold will never find any — and not every company with a foot in the door of the medical or recreational marijuana industry will succeed. But everybody — those who fail and those who win — will be buying the equipment necessary to compete.
Growlife may be the company selling those picks and shovels to the marijuana industry right now. Through brands like Stealth Grow LED, SGsensors, and Phototron, the company is engaged in the business of providing would-be marijuana growers with the tools they need to thrive. This equipment falls under the umbrella of the urban gardening industry. The company operates both retail locations and an online storefront.
Growlife is also fully reporting — a huge plus. The company also owns and operates cannabis.org, which puts it front and center in the ongoing conversation about the legalization of medical marijuana.
Here's a snapshot of its most recent income statement (all numbers in thousands):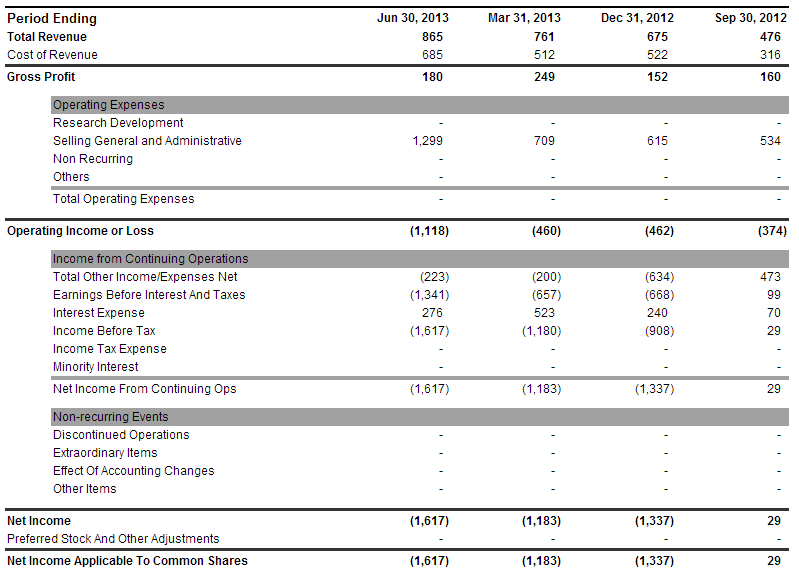 Don't Miss: Top 10 Most Expensive States for College.