Will Pandora Continue Its Surge Higher?
With shares of Pandora (NYSE:P) trading around $18, is P an OUTPERFORM, WAIT AND SEE, or STAY AWAY? Let's analyze the stock with the relevant sections of our CHEAT SHEET investing framework:
T = Trends for a Stock's Movement
Pandora is an Internet radio company that operates in the United States with over 125 million registered users. Pandora's Music Genome Project and its playlist-generating algorithms predict listener music preferences, play music content suited to the tastes of each individual listener, and introduce listeners to music they will love. The main sources of revenue for the company are advertising as well as subscriptions. As the Internet music boom continues, Pandora is well-positioned to capitalize on potential subscriptions and advertising marketing share.
It looks like Pandora battle to pay musicians and songwriters less for streaming their music is paying off for the company. Mark Mahaney of RBC Capital Markets told CNBC on Monday that Pandora stock is a smart buy despite a recent price drop. "The cost structure is starting to really work positively, i.e., they're bringing down those music royalty costs," he said in a video segment. "They're making them smaller and smaller. They're showing that they can monetize mobile usage. This is the poster child for mobile monetization, and they finally got it working."
T = Technicals on the Stock Chart Are Strong
Pandora stock has been a strong surge higher this year. The stock is inching closer to initial public offering prices but it still has some room to go. Analyzing the price trend and its strength can be done using key simple moving averages. What are the key moving averages? The 50-day (pink), 100-day (blue), and 200-day (yellow) simple moving averages. As seen in the daily price chart below, Pandora is trading between its rising key averages which signal neutral to bullish price action in the near-term.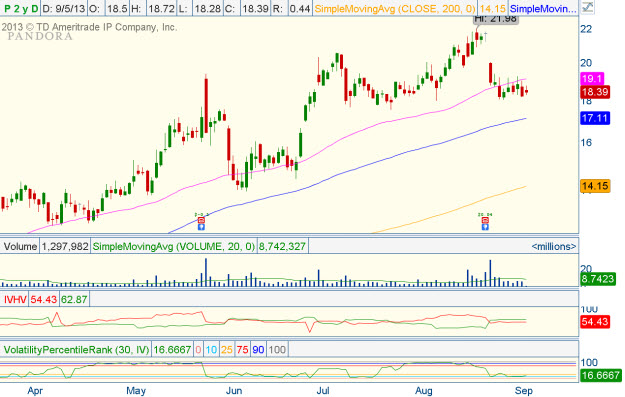 (Source: Thinkorswim)
Taking a look at the implied volatility (red) and implied volatility skew levels of Pandora options may help determine if investors are bullish, neutral, or bearish.
| | | | |
| --- | --- | --- | --- |
| | Implied Volatility (IV) | 30-Day IV Percentile | 90-Day IV Percentile |
| Pandora Options | 54.43% | 16% | 15% |
What does this mean? This means that investors or traders are buying a very significant amount of call and put options contracts as compared to the last 30 and 90 trading days.
| | | |
| --- | --- | --- |
| | Put IV Skew | Call IV Skew |
| September Options | Flat | Average |
| October Options | Flat | Average |
As of today, there is an average demand from call buyers or sellers and low demand by put buyers or high demand by put sellers, all neutral to bullish over the next two months. To summarize, investors are buying a very significant amount of call and put option contracts and are leaning neutral to bullish over the next two months.
On the next page, let's take a look at the earnings and revenue growth rates and the conclusion.
E = Earnings Are Mixed Quarter-Over-Quarter
Rising stock prices are often strongly correlated with rising earnings and revenue growth rates. Also, the last four quarterly earnings announcement reactions help gauge investor sentiment on Pandora's stock. What do the last four quarterly earnings and revenue growth (Y-O-Y) figures for Pandora look like and more importantly, how did the markets like these numbers?
| | | | | |
| --- | --- | --- | --- | --- |
| | 2013 Q2 | 2013 Q1 | 2012 Q4 | 2012 Q3 |
| Earnings Growth (Y-O-Y) | 1200.00% | -11.11% | -69.72% | 100.00% |
| Revenue Growth (Y-O-Y) | 51.18% | 59.07% | 53.81% | 59.99% |
| Earnings Reaction | -12.89% | -4.25% | 17.56% | -17.46% |
Pandora has seen mixed earnings and rising revenue figures over the last four quarters. From these numbers, the markets have expected more from Pandora's recent earnings announcements.
P = Excellent Relative Performance Versus Peers and Sector
How has Pandora stock done relative to its peers Sirius XM Radio (NASDAQ:SIRI), CBS (NYSE:CBS), Cumulus Media (NASDAQ:CMLS), and sector?
| | | | | | |
| --- | --- | --- | --- | --- | --- |
| | Pandora | Sirius XM Radio | CBS | Cumulus Media | Sector |
| Year-to-Date Return | 100.30% | 29.24% | 42.26% | 96.07% | 38.97% |
Pandora has been a relative performance leader, year-to-date.
Conclusion
Pandora is an Internet radio company that attempts to match listeners with their preferences in order to discover music they love. The company seems to be winning a royalty battle with musicians and songwriters that may potentially help the company. The stock has been surging higher this year but still has room to go before reaching IPO prices. Over the last four quarters, earnings have been mixed while revenues have been rising, however, investors in the company have expected more during these announcements. Relative to its peers and sector, Pandora has been a year-to-date performance leader. Look for Pandora to OUTPERFORM.
Using a solid investing framework such as this can help improve your stock-picking skills. Don't waste another minute — click here and get our CHEAT SHEET stock picks now.