Tesla's Stock Party Is Just Getting Started
With shares of Tesla Motors (NASDAQ:TSLA) trading around $203, is TSLA an OUTPERFORM, WAIT AND SEE, or STAY AWAY? Let's analyze the stock with the relevant sections of our CHEAT SHEET investing framework:
T = Trends for a Stock's Movement
Tesla Motors designs, develops, manufactures, and sells electric vehicles and electric vehicle powertrain components. The company also provides services for the development of electric powertrain systems and components, and sells electric powertrain components to other automotive manufacturers. It markets and sells its vehicles through Tesla stores as well as over the Internet. Consumers and companies are looking to save at the pump, and what better way to do so than with electric vehicles?
After about seven months of accruing back orders in the world's largest automotive market, Tesla is ready to start shipping its Model S sedans to Chinese buyers. CEO Elon Musk said that the company is hoping to start building the cars regionally within three to four years. Musk, who was speaking at the Geekpark Conference in China on Monday, added that Tesla is building a "big" network of charging stations in the country, including superchargers in Beijing and Shanghai, Bloomberg quoted him as saying. "At some point in the next three or four years we'll be establishing local manufacturing in China," Musk said. "China is very important to the future of Tesla. We're going to make a big investment in China in terms of charging infrastructure."
Tesla's Model S sells in the country for about $118,000, due to a hefty 25 percent import tax imposed by China. Musk said that producing the cars locally will help drop the costs considerably and also circumvent the tariff altogether. Musk has said that sales in China should meet the demand seen here in the U.S. as early as next year. Analysts like Finbarr O'Neill, the president of J.D. Power & Associates, are cautiously optimistic about Tesla's potential in China. "I think they can sell quite a few here in the market," he told Bloomberg. "There's a lot of talk about Tesla but, you know, their numbers are not huge. Mr. Musk has been successful in many fields. I wish him luck, but there's a limit to every market."
T = Technicals on the Stock Chart Are Mixed
Tesla Motors stock has been pulling back over the last couple of months. The stock is currently trading sideways and may need time to stabilize. Analyzing the price trend and its strength can be done using key simple moving averages. What are the key moving averages? The 50-day (pink), 100-day (blue), and 200-day (yellow) simple moving averages. As seen in the daily price chart below, Tesla Motors is trading between its rising key averages which signal neutral price action in the near-term.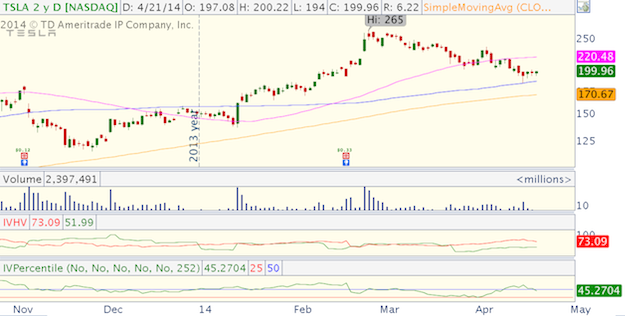 (Source: Thinkorswim)
Taking a look at the implied volatility (red) and implied volatility skew levels of Tesla Motors options may help determine if investors are bullish, neutral, or bearish.
| | | | |
| --- | --- | --- | --- |
| | Implied Volatility (IV) | 30-Day IV Percentile | 90-Day IV Percentile |
| Tesla Motors Options | 73.09% | 45% | 43% |
What does this mean? This means that investors or traders are buying a significant amount of call and put options contracts, as compared to the last 30 and 90 trading days.
| | | |
| --- | --- | --- |
| | Put IV Skew | Call IV Skew |
| May Options | Average | Average |
| June Options | Average | Average |
As of today, there is an average demand from call and put buyers or sellers, all neutral over the next two months. To summarize, investors are buying a significant amount of call and put option contracts and are leaning neutral over the next two months.
On the next page, let's take a look at the earnings and revenue growth rates and the conclusion.
E = Earnings Are Mixed Quarter-Over-Quarter
Rising stock prices are often strongly correlated with rising earnings and revenue growth rates. Also, the last four quarterly earnings announcement reactions help gauge investor sentiment on Tesla Motors's stock. What do the last four quarterly earnings and revenue growth (Y-O-Y) figures for Tesla Motors look like and more importantly, how did the markets like these numbers?
| | | | | |
| --- | --- | --- | --- | --- |
| | 2013 Q4 | 2013 Q3 | 2013 Q2 | 2013 Q1 |
| Earnings Growth (Y-O-Y) | -83.55% | -86.96% | 105.62% | 113.95% |
| Revenue Growth (Y-O-Y) | 100.84% | 1102.65% | 1420.08% | 1762.78% |
| Earnings Reaction | 8.43% | -14.5% | 14.34% | 24.39% |
Tesla Motors has seen mixed earnings and increasing revenue figures over the last four quarters. From these numbers, the markets have been pleased with Tesla Motors's recent earnings announcements.
P = Excellent Relative Performance Versus Peers and Sector
How has Tesla Motors stock done relative to its peers, General Motors (NYSE:GM), Toyota (NYSE:TM), Ford (NYSE:F), and sector?
| | | | | | |
| --- | --- | --- | --- | --- | --- |
| | Tesla Motors | General Motors | Toyota Motor | Ford | Sector |
| Year-to-Date Return | 35.18% | -16.80% | -10.80% | 3.86% | 3.86% |
Tesla Motors has been a relative performance leader, year-to-date.
Conclusion
Tesla Motors offers electric vehicles that consumers and companies are opting for over other luxury vehicles. The company is ready to start shipping its Model S sedans to Chinese buyers. The stock has been pulling back and is currently trading sideways. Over the last four quarters, earnings have been mixed while revenues have been rising, which has left investors pleased. Relative to its peers and sector, Tesla Motors has been a year-to-date performance leader. Look for Tesla Motors to continue to OUTPERFORM.
Using a solid investing framework such as this can help improve your stock-picking skills. Don't waste another minute — click here and get our CHEAT SHEET stock picks now.
More From Wall St. Cheat Sheet: