Who is 'Chicago P.D.' Actor LaRoyce Hawkins?
Probably most actors aren't lucky enough to land a regular job in their hometown, but LaRoyce Hawkins did just that. Hawkins, who portrays Officer Kevin Atwater on Chicago PD, was born and raised in the south Chicago suburb of Harvey. The 6-foot, 3-inch tall actor graduated from Thornton High where he played basketball and was a member of the speech team.
As Officer Kevin Atwater, Hawkins plays an important role in the Chicago PD's Intelligence Unit of the 21st District. Often going undercover, as the only Black officer in the unit he can go places and portray roles the rest of the team can't, and he does it very well.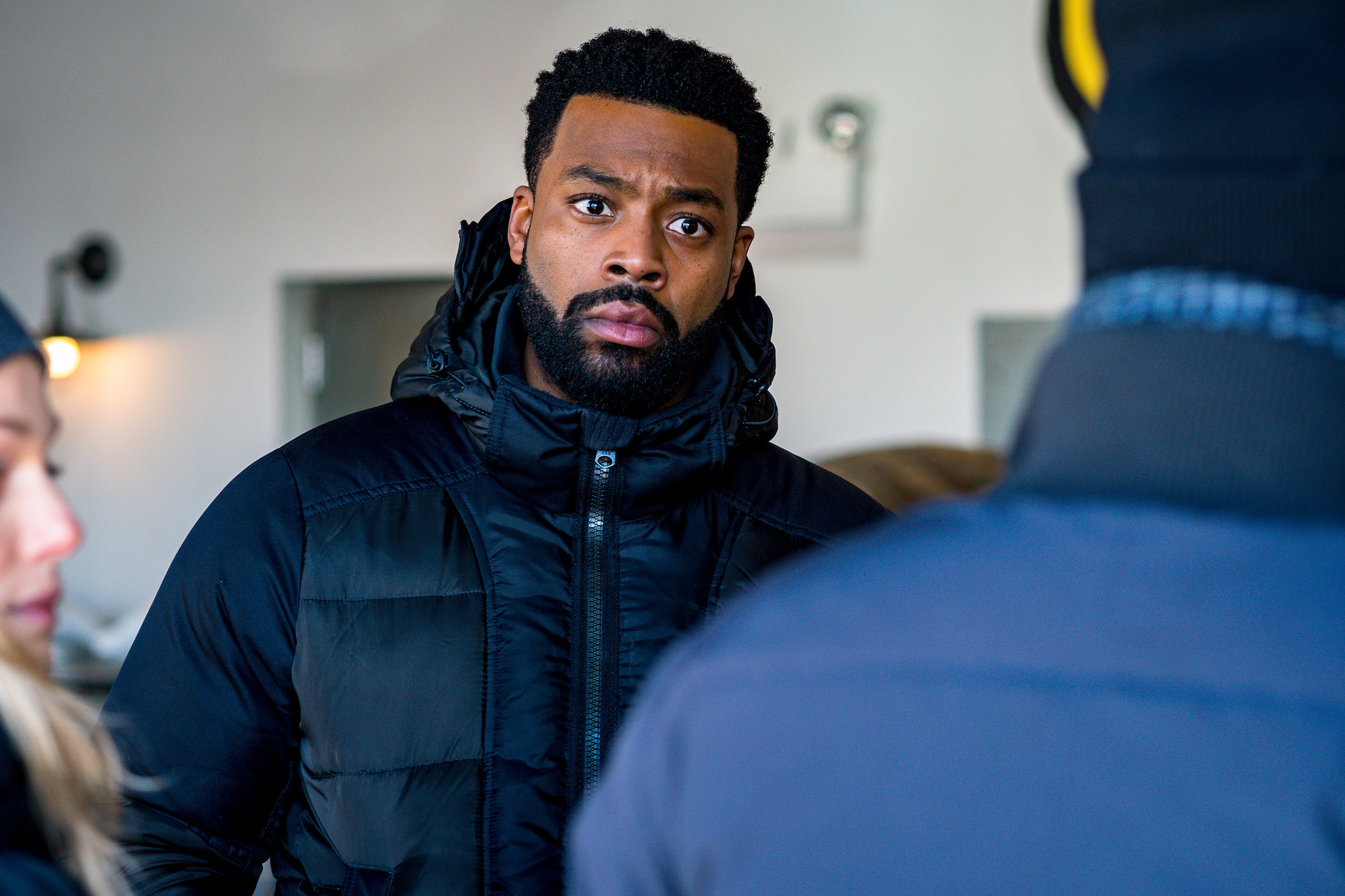 Hawkins, the actor
As a member of his high school speech team, Hawkins earned the title of state champion in comedy speech writing from the Illinois High Speech Association, twice, during his junior and senior years. He received a full scholarship to Illinois State University where he majored in acting and honed his craft. He started performing stand-up comedy and while still in college he was cast in the feature film, The Express: The Ernie Davis Story.
Hawkins made guest appearances on television shows including House of Payne and Detroit 187, followed by his big break landing the role of Atwater on Chicago PD from the beginning of the series in 2014. He has also made guest appearances on Chicago Fire and has appeared in the HBO series Ballers, according to IMDb.
Hawkins as Atwater
RELATED: 'Chicago P.D.': Doyle's Allies Seeking Revenge Against Atwater Is the Perfect Opportunity to Address Racism Within Police
Hawkins's size and physique make a great fit for his portrayal of Atwater. Viewers rarely see the comedic side of Hawkins in Atwater, as he plays a serious role with firsthand experience growing up in a neighborhood controlled by gangs, yet avoiding a life of crime himself. While it has not been revealed just what involvement either of his parents has had in life, a brother, Jordan, and sister, Vanessa, have been seen on the show.
At the launch of the Chicago PD series, Atwater was a patrol officer and partnered early on with Officer Kim Burgess (Marina Squerciati), but elevated to the Intelligence Unit by the end of the first season.
In 2019, one particularly poignant episode Atwater goes undercover targeting the takedown of a criminal operation while also addressing politics and racial divide. He befriends one criminal, also a Black man, and while the two are driving late at night they are pulled over by other Chicago police officers as possible perps in a robbery.
The two white CPD officers are aggressive and vocalize racial slurs while drawing their guns, although neither Atwater nor the other man is armed. While being apprehended on suspicion of robbery the other man was shot and killed. Atwater is placed under arrest, not having wanted to reveal his identity as a police officer and protecting his undercover identity.
Somewhat in shock by having the experience, Atwater is conflicted as to what to say to Internal Affairs, but decides and admits it was a clean shot. The experience leaves the rest of the team realizing their limited understanding of being the target of racial profiling.
Hawkins' personal life
At the age of 32, Hawkins is not married, and he keeps pretty mum about his private life. He is believed to have a son with pictures of the two of them popping having popped up on social media.
Hawkins's net worth is said in most accounts to be around $1 million, according to Gossip Gist. Hawkins believes strongly in giving back to his community. He has mentored and spoken in middle and high schools around the Chicago area, and he also supports a variety of charities. In 2020 and 2019, Hawkins, through his work with the Salvation Army, earned the title of Celebrity Kettle Ambassador. He earned an Emmy for his publicity campaign with the organization.
Concerned that his hometown of Harvey is seen negatively, he wants to work to clean it up and wants to inspire others to overcome adversity through his "Be Powerful!" campaign. "It's my assignment, in my humble opinion, to counter as much of that as I can," he told Chicago's WGN-TV. "That's what 'Be Powerful' is here for – to add rhythm and relief to spaces that need it."
Hawkins can be seen on Chicago PD, Wednesday nights on NBC. It along with Chicago Fire and Chicago Med has been renewed for another season beginning this fall.