10 Facts About 'Friends' Even Die-Hard Fans Might Not Know
'Friends: The Reunion' is out now. Here's 10 facts die-hard fans might not know.
Friends ran for 10 seasons with 236 episodes to boot. For a show with that kind of longevity, there's bound to be secrets lurking behind the scenes. The Friends reunion special — which is available to stream on HBO Max — has fans clamoring for more. Here's a little more Friends knowledge to bank.
'Friends' wasn't the original title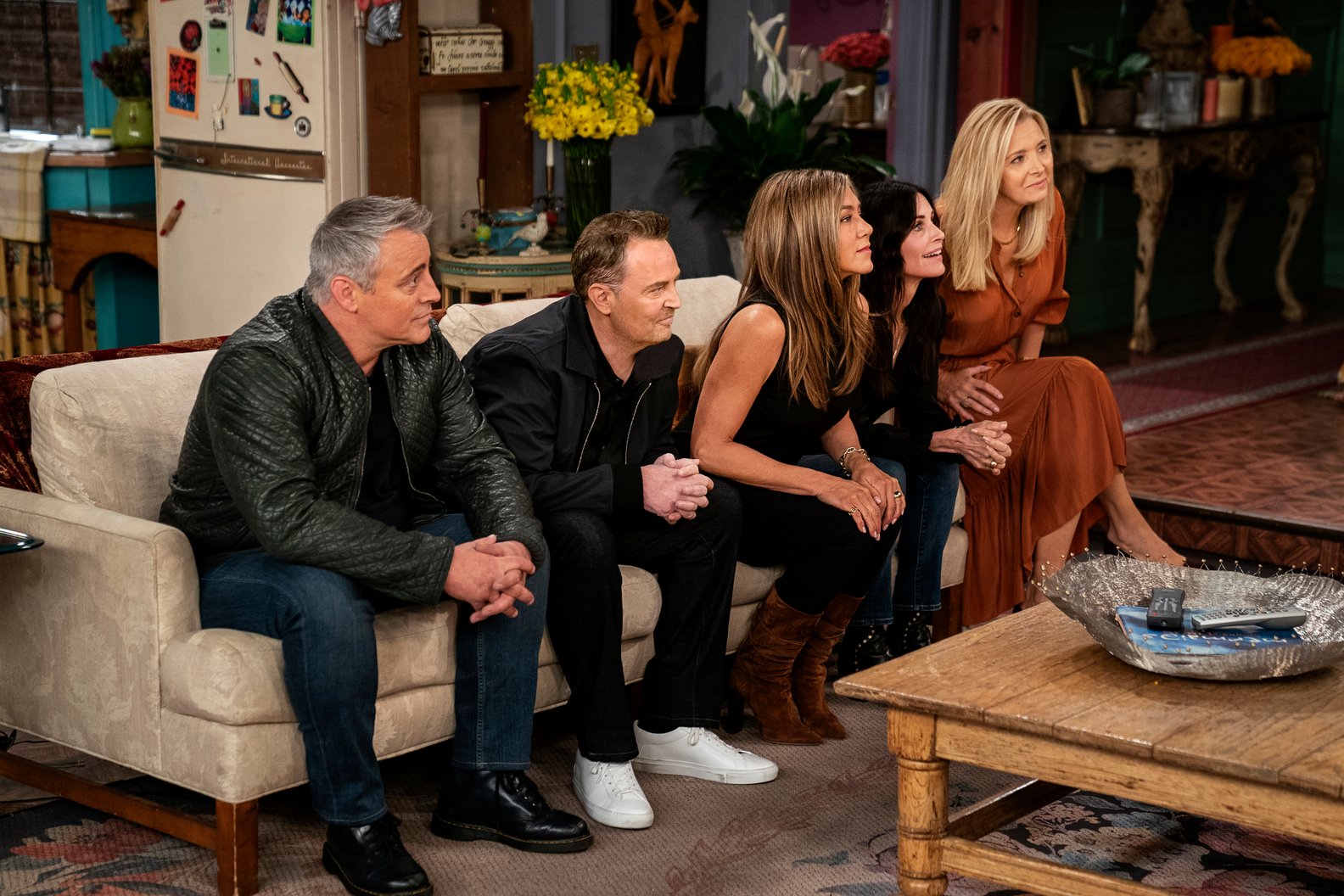 Though everyone knows and loves Friends for what it's become, it didn't start out with that title. In the 1990s, co-creators David Crane and Marta Kauffman had the idea for a sitcom called Insomnia Café.
The plot was a far stretch from what came after with writers putting Joey and Monica in a relationship. That idea became Friends Like Us when NBC picked up the pilot, with Across the Hall as another possible title, then Six of One. By the time Friends premiered in 1994, they called it just that.
One episode is dedicated to Courtney Cox
When Cox married her Scream costar David Arquette just ahead of the Season 6 premiere, writers changed the credits so that everyone's name became Arquette. For example, Jennifer Aniston Arquette and Lisa Kudrow Arquette became a part of "The One After Vegas."
Lisa Kudrow didn't know how to play guitar
Kudrow's character Phoebe is known for her odd musical stylings, such as "Smelly Cat." However, Kudrow had something else in mind.
"I didn't like the guitar," she said. "I wasn't getting it. So I think I even asked, 'What if she plays the bongos?'"
The star had a guitar teacher at one point and learned a few chords. Her dislike of the instrument is what led to Phoebe's lack of musicality.
Cliffhangers were shot without an audience
Every episode of Friends was shot in front of a live studio audience — except cliffhangers. The episodes took around 5 hours to shoot because of multiple takes for each scene. For cliffhangers, such as Ross's wedding to Emily, they couldn't risk having people present.
We couldn't have an audience for that," Aniston said. "We always remove the audience for the cliffhangers because, obvious reasons, you don't want to spoil it."
Bruce Willis guest-starred for free, thanks to a bet he lost
While Bruce Willis filmed The Whole Nine Yards with Perry, they made a bet that it'd be the biggest film on opening weekend. It was and that meant Willis had to appear on Friends for zero dollars. Technically he made money but gave it to charity.
Courtney is a total Monica
After being called out for having the neatest dressing room, Cox admitted to being like Monica in a 1994 Los Angeles Times interview. "Okay, I am a neat freak. Not about myself. I don't use a lint brush or anything and I don't iron, but I could easily pick lint off of someone else," she said.
Gunther was a real-life barista
You know him as Gunther at Central Perk, but James Michael Tyler told BuzzFeed he had experience working as a barista when he landed Friends. 
"I had a job at a coffee shop called The Bourgeois Pig in Hollywood, which is still around and one of the last independent coffee shops that haven't been taken over or whatnot. I was one of their first baristas—I think I started there in 1990 or so."
There was an intervention for Aniston's tardiness
Being a part of the main cast came with heavy responsibilities like being on time. Apparently, Aniston had an issue with tardiness which caused Schwimmer to hold an intervention of sorts.
"The boys did an intervention with me about my tardiness," Aniston told Us Weekly. "David did it. Very kindly. The day my alarm didn't ring."
Cole Sprouse had a crush on one of the stars
Cole Sprouse of Riverdale fame played Ross's son Ben. In a 2017 interview with New York Post, he revealed his biggest on-set crush.
"I had a really, really hard time working with Aniston because I was so in love with her," he told the New York Post in 2017, adding he was "infatuated." I was speechless — I'd get all bubbly and forget my lines and completely blank…It was so difficult.
Even the cast wanted Ross and Rachel together
Fans aren't the only ones who believed Ross and Rachel should be together (break or no break). In 2012, LeBlanc told Vanity Fair the cast had a rough time when writers put his character Joey with Rachel.
"It felt wildly inappropriate. That's how close we all were to the character. I was like, 'That's Rachel. She was supposed to be with Ross. Wait a minute.' Everybody got super-defensive about the whole thing," he said.
Friends: The Reunion is available to stream on HBO Max.