10 Must-Watch Romance Anime to Snuggle Up With
If you're looking for something to watch this Valentine's Day, these 10 romance anime are perfect marathon material. There's something here for everyone.
So many popular anime series fall into the action/adventure genre, but that doesn't mean viewers aren't gobbling up love stories as well. Plenty of compelling romance anime have come out in recent years, and they make binge-worthy watches — especially for those looking for something to marathon on Valentine's Day. So, if you're in need of a break from stories like Attack on Titan and Demon Slayer, give one of these romances a try.
'My Dress-Up Darling'
My Dress-Up Darling just premiered in January, but it's already making a name for itself. Based on Shinichi Fukuda's manga series of the same name, the show sees a bond blossoming between high school students Wakana Gojo and Marin Kitagawa. At first glance, the two are from completely different worlds. Gojo is a quiet, friendless dollmaker, while Kitagawa is outspoken and popular. However, Gojo's sewing skills bring the duo together.
And although My Dress-Up Darling focuses on their relationship, it goes well beyond that. The series also dives heavily into cosplay — a component of fandom that will no doubt appeal to many anime lovers. It also touches on gender dynamics and embracing your passions, offering plenty of interesting themes to explore.
My Dress-Up Darling is currently streaming on Crunchyroll and Funimation.
'Horimiya'
If you're a sucker for an opposites-attract romance, Horimiya should be on your radar — whether it's for Valentine's Day or any other time of the year. Horimiya originated as a Japanese web manga by writer and illustrator Hiroki Adachi. But this story was released as an anime in January 2021, and it quickly became a favorite for many. (It even won Best Romance at Crunchyroll's 2022 Anime Awards.)
Horimiya follows students Kyouko Hori and Izumi Miyamura, both of whom have nothing in common on the surface. Hori is the popular girl, and Miyamura is aloof and a bit mysterious. When the two get to know one another, they realize they have more in common than they initially realized. In fact, they become something a safe haven for one another. If nothing else, their love makes the case for getting to know those around you.
Horimiya is currently streaming on Funimation and Hulu.
'Love of Kill'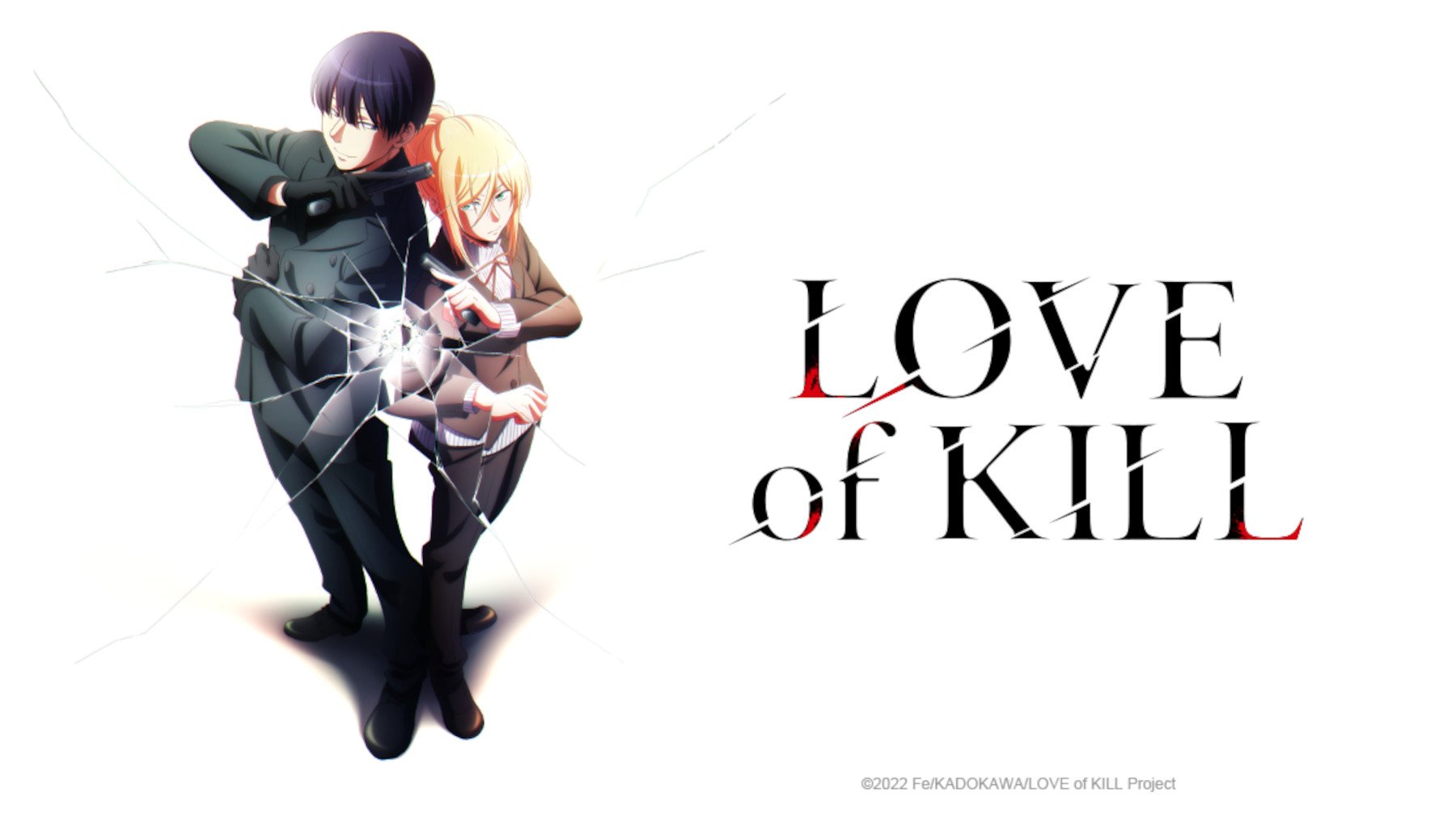 If you're looking for a romance anime a little less conventional than the others on this list, Love of Kill might be the one for you. Rather than focusing on lovestruck students, Love of Kill sets its sights on a bounty hunter and an assassin. Their careers find them entangled with one another, but bounty hunter Chateau Dankworth is reluctant to form any personal attachments with assassin Song Ryang-ha.
That's probably for the best given their dangerous professions and opposing interests. But when Ryang-ha offers to provide information on Chateau's targets in exchange for a date, she agrees to hear him out. Unfortunately, that doesn't make a potential relationship between the pair any less complicated. And this genre-bending adaptation of Fe's manga promises to throw plenty of obstacles their way.
Love of Kill is available to stream on Crunchyroll.
'Golden Time'
Romance enthusiasts count Golden Time as a must-watch anime, and it's easy to see why. This emotional rollercoaster of a series kicks off when Banri Tada loses his memory following an accident. He starts life anew at law school, meeting the charming Kouko Kaga in the process. But as their relationship evolves and Banri learns more about his past, twists and turns emerge — and they may get viewers choked up.
If you're in the mood for a unique, entertaining, and thought-provoking series, Golden Time could be the perfect Valentine's Day watch for you. The light novel series written by Yuyuko Takemiya and illustrated by Ēji Komatsu is also worth a read.
Golden Time is available to stream on Crunchyroll and Hulu.
'Your Lie in April'
Speaking of emotional romance anime, Your Lie in April is an ideal choice for anyone looking for a good cry. Based on the manga series by creator Naoshi Arakawa, Your Lie in April sees pianist Kousei Arima losing his passion for music following his mother's death.
The grief sends him to a dark place, but violinist Kaori Miyazono inspires Kousei to pick up music again years later. The anime sees him learning to move on — delivering a narrative that goes beyond romance and extends to rediscovering one's passion and coming to terms with loss.
Your Lie in April is currently streaming on Crunchyroll, Funimation, Hulu, and Netflix.
'Sasaki and Miyano'
Anyone looking for a sweet LGBTQ romance anime to watch this Valentine's Day should check out Sasaki and Miyano. A Funimation exclusive, this series is well worth obtaining a subscription for. An adaptation of Shō Harusono's manga series, it premiered in January 2022. And it's proving every bit as adorable as the story it's based on.
Sasaki and Miyano sees a romance unraveling between its two title characters: the shy, comic-loving Miyano and the older and bolder Sasaki. Their relationship raises questions about coming of age and coming to terms with oneself and one's feelings. And viewers will certainly be in their own feelings as they watch this story unfold.
Sasaki and Miyano is currently streaming on Funimation.
'Kaguya-sama: Love Is War'
Another nontraditional romance anime, Kaguya-sama: Love Is War falls somewhere between Love of Kill and the usual tales of high school sweethearts.
Based on Aka Akasaka's manga, the series follows Miyuki Shirogane and Kaguya Shinomiya — the top students at Shuchiin Academy — as they attempt to get a romantic confession out of one another.
Competitive to a fault, neither of the characters is willing to declare their love — even though they both clearly have feelings for one another. And that game is part of the fun. This will-they, won't-they story will appeal to anyone who loves a slow burn, as well as viewers who are as competitive and stubborn as the characters.
Kaguya-sama: Love Is War is currently streaming on Crunchyroll, Funimation, and Hulu.
'Rent-a-Girlfriend'
Fans of the fake-dating trope won't want to miss out on Rent-a-Girlfriend — assuming they haven't already devoured the first season of this romance anime. Rent-a-Girlfriend kicks off when Kazuya Kinoshita gets dumped. To ease the pain, he rents a girlfriend using an online app. And although he and Chizuru Mizuhara don't get off on the best foot, the pair winds up stuck with one another when Chizuru accompanies him to the hospital to see his grandmother.
Once she's met Kazuya's family, the two decide to keep the act going — despite the many complications that come with it. But from fake romances often bloom real feelings. If that's a sentiment you're on board with, you'll want to check out this adaptation of Reiji Miyajima's manga.
Rent-a-Girlfriend is available to stream on Crunchyroll.
'Toradora!'
Those looking for a fun rom-com should check out Toradora!, a romance anime that embraces some pretty entertaining tropes. Not only does it see a relationship blossoming between Ryuuji Takasu and Taiga Aisaka — two total opposites — but it sees it happening as they pursue each other's best friends.
Based on the light novel series written by Yuyuko Takemiya and illustrated by Yasu, Toradora! has received positive reviews from even the most reluctant romance watchers. The story is likely to leave a smile on your face when it's through — and who doesn't want that energy this Valentine's Day?
Toradora! is available to stream on Crunchyroll, Funimation, and Netflix.
'Fruits Basket'
What would a list of romance anime be without Fruits Basket? Whether you're watching the 2001 series or the 2019 reboot, this slice-of-life story is considered a classic among romance enthusiasts — and for good reason.
Fruits Basket follows the newly orphaned Tohru Honda, who winds up living in a tent following the death of her mother — one she unknowingly sets up on land belonging to the Sohma family. They take Tohru in, and she learns about the curse that makes them transform into animals of the zodiac whenever they're overwhelmed or hugged by the opposite sex.
This curse creates a lot of problems for the Sohmas, and undoing it takes up much of Fruits Basket's story. Of course, that premise alone proves the series is more complex than a straightforward boy-meets-girl romance. But it still has plenty of love to offer. If you've never seen it, Valentine's Day would be an ideal time to check it out.
Fruits Basket is streaming on Crunchyroll, Funimation, and Hulu.