10 Things We Learned in Peter Jackson's 'The Beatles: Get Back Part 3'
The final part of Peter Jackson's 'The Beatles: Get Back' is here and once again, there was a lot to digest. Here are the top ten things we learned.
Over the last couple of days, fans have truly seen a different side of The Beatles. The final part of Peter Jackson's The Beatles: Get Back is here, completing the three-part emotional rollercoaster. Part 1 started off rocky and ended even shakier. Part 2 saw massive improvements, excellent collaborations, and a moderate amount of productivity.
Now, we've finally seen the grand finale Paul McCartney and Michael Lindsay-Hogg had been looking for since day one. However, Jackson filled Part 3 with many other great moments apart from the epic rooftop concert. Here's a recap of everything we learned.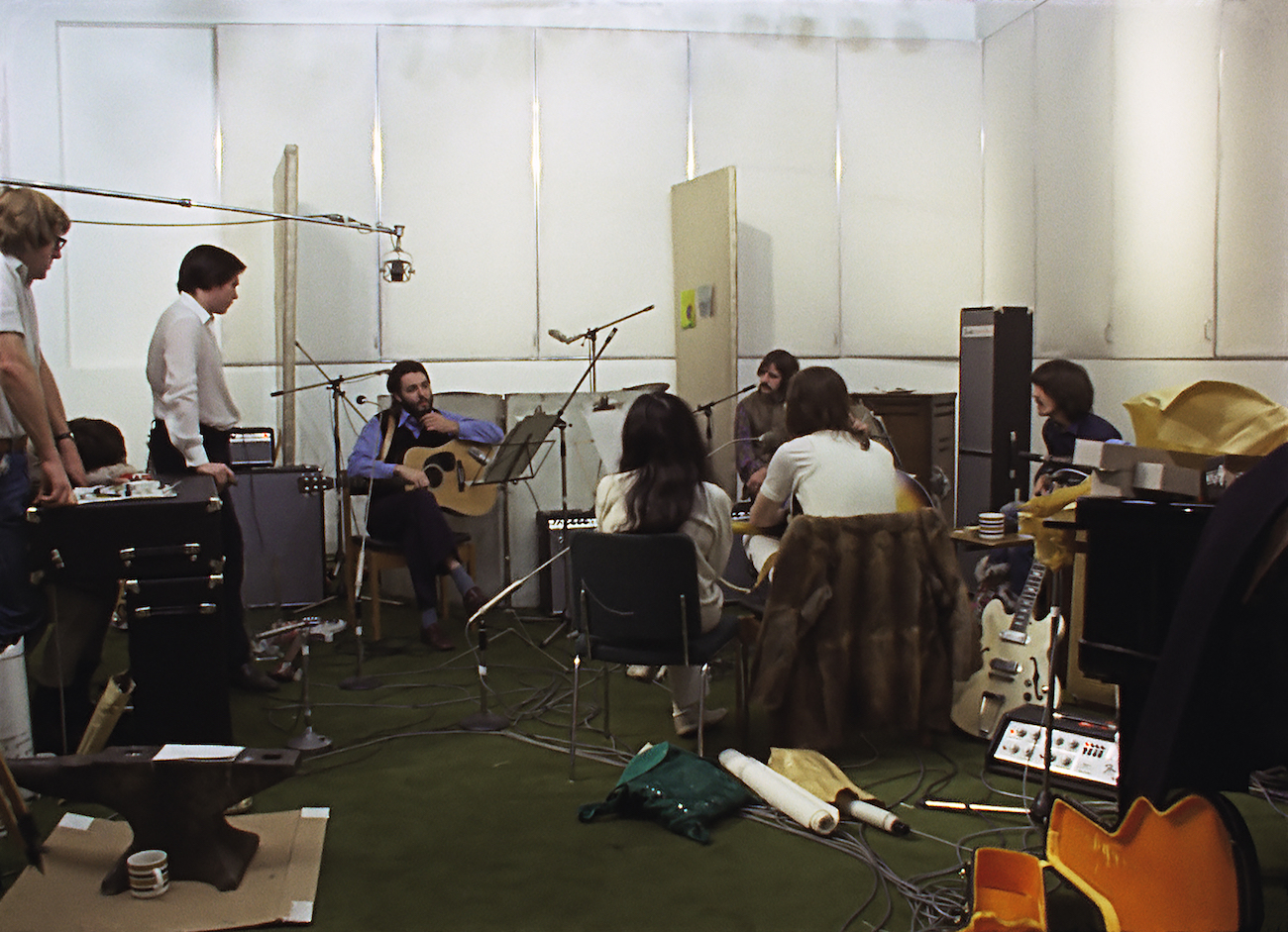 10. Heather McCartney contributed cuteness
At the beginning of Part 3, Paul entered the studio with his girlfriend, Linda Eastman, and her daughter Heather, whom Paul later adopted. Heather had tons of energy, and she was not afraid to get up close and personal with The Fab Four. She even managed to drum along with Ringo Starr at one point and seemed very comfortable on Paul's lap. Her innocence definitely gave the sessions even more of a boost for a short time as she danced and laughed.
9. George Harrison worked on two songs that were later overlooked
When George Harrison arrived for the day, he told John Lennon that he went to bed late because he had to finish a song. He explained that he kept hearing John's voice "from about ten years ago, saying, 'finish 'em straight away, as soon as you start 'em, finish 'em.'"
"But I never do it, though," John replied. "I can't do it, but I know it's the best." George then started working through the song he wrote the night before, which was "Old Brown Shoe." The song got scrapped for Let It Be, but it did appear on a couple of compilations.
Later, George started work on "Something" but got stuck on the line that goes, "Attracts me like no other lover." His first attempt was, "Attracts me like a moth to candlelight." George said he'd use the word pomegranate.
John gave more advice. "Just say whatever comes into your head each time," he said. "'Attacks me like a cauliflower,' until you get the word, you know?" Then, George said he'd been working on "Something" for about six months. But that song also got scrapped until Abbey Road.
8. John talked about his appreciation of Allen Klein
Later, John told George that he'd met with Allen Klein, the manager of The Rolling Stones and The Beatles' future manager. John couldn't speak more highly of Klein. He said, "He knows everything about everything. Very interesting guy… He even knows what we're like. The way he described each one of us, you know, and what we've done and what we're gonna do and that." However, Glyn Johns, The Beatles' recording engineer, told John that Klein was very strange yet clever.
RELATED: 4 Moments Fans Are Hoping to See in Peter Jackson's 'The Beatles: Get Back'
7. Paul talked about the 'best bit' about The Beatles and said they needed a grand finale
Paul told Lindsay-Hogg that the best bit of The Beatles "always has been and always will be is when we're backs against the wall and we've been rehearsing, rehearsing, rehearsing." He continued to say that even if they were at a big place like Twickenham, they'd still be able to play great.
Then, he started talking about the rooftop concert. He said he wanted the band to learn all the songs and then have a grand finale. "There is a show to be had out of what we've got here, which is so incredible…," Paul said. "We don't have an aim. We don't have a thing at the end of it that we wanna do." George didn't want to do the concert, though. However, if everyone else agreed to it, then he would too.
6. The album wasn't sorted before the rooftop performance
At that point, the band hadn't even finished half of the album. They had the following songs: "I Got A Feeling," "Don't Let Me Down," "Get Back," "I'd Like A Love That's Right" ("Old Brown Shoe"), "Long And Winding Road," "Let It Be," "For You Blue," "Two Of Us," "All I Want Is You" ("Dig A Pony"), "Across The Universe," "Maxwell's Silver Hammer," "One After 909," "Dig It," "All Things Must Pass," and "Teddy Boy."
Some of those songs got scrapped or moved to Abbey Road.
5. George talked to John about releasing an album of his own songs outside The Beatles
While everyone else was away, George told John that he'd been thinking about releasing an album of his own songs outside The Beatles. He said he had tons of songs stockpiled.
"I'll tell you what I'd like to do," George said. "I've got so many songs that I've got me like my quota of tunes for the next ten years or albums. I'd just like to maybe do an album of songs… It would be nice to mainly get them all out the way. And secondly, just to hear what all mine are like altogether… But it'd be nice if any of us can do separate things as well. That way, it also preserves this The Beatles bit of it more.
"You know, 'cause all these songs of mine I could give to people who could do 'em good. But I suddenly realized, 'You know, f*** all that.' I'm just gonna do me for a bit." Later, George did give some of his songs away.
4. The Beatles were still uncertain about going up to the roof right before they went on
When it came time for the rooftop performance, Lindsay-Hogg and his men set up five cameras on the roof, one camera across the street (they didn't tell the building's owner), three cameras on the street, and one hidden in the reception area of Apple.
George Martin, The Beatles' producer, and Johns were in the basement recording the performance. Setting everything up went smoothly, but The Beatles themselves were still uncertain about it. However, they reluctantly took to their makeshift stage after some convincing from Lindsay-Hogg.
3.The Beatles got 30 noise complaints in the space of 30 minutes
The first song The Beatles played on the rooftop was "Get Back." The next song was "Don't Let Me Down." However, halfway through, the police showed up at Apple and told the receptionist that they would have to start arresting people if they didn't turn the noise down.
Thankfully, Lindsay-Hogg planted a camera and microphone in the reception area, so we heard everything the cops said. The policeman said that they'd received about 30 noise complaints in just under half an hour. "It's got to come down. It's a breach of the peace," he said.
2. The band could have been arrested
The receptionist played stupid to the cops and said she didn't know what The Beatles were doing, so they waited while the band continued to play. Then, Mal Evans, The Beatles' road manager, came down to talk to them. Evans said he'd shut off the PA system, but the group was still loud.
Then the cops learned that everyone was on the roof and had Evans take them up. The cops didn't seem too angry when they saw what was happening on the rooftop. They waited until The Beatles played through a couple more songs, and the band didn't seem too phased by the cops' presence either. However, they did have to stop playing eventually. At least they got to record some versions of their songs for the album.
1. Jackson left out the entire performances of 'The Long and Winding Road' and 'Let It Be'
After their last performance together, The Beatles talked about it back in the studio. They seemed in good spirits about it and decided to continue recording the next day. However, the credits started as the band recorded two of the biggest hits on Let It Be; "The Long And Winding Road" and "Let It Be." Strangely, Jackson didn't show these scenes more fully, but then again, he was already pushing it at 6+ hours.
Other than that, the monster documentary satisfied most fans. Now, we're wildly curious about all the additional hours of unseen footage. But we guess Jackson saved the rest for another filmmaker to use in the future.