10 Times Jill Duggar Shocked 'Counting On' Fans With Too Much Information
Former 'Counting On' star Jill Duggar knows how to cause controversy on social media, but the worst is when she shares too much information about her sex life with Derick Dillard.
Former Counting On star Jill Duggar knows how to cause controversy on social media. Sometimes she shocks fans because of her extremely conservative views, and other times she gets people talking because of her controversial parenting techniques. But the worst is when she shares too much information about her sex life with husband, Derick Dillard.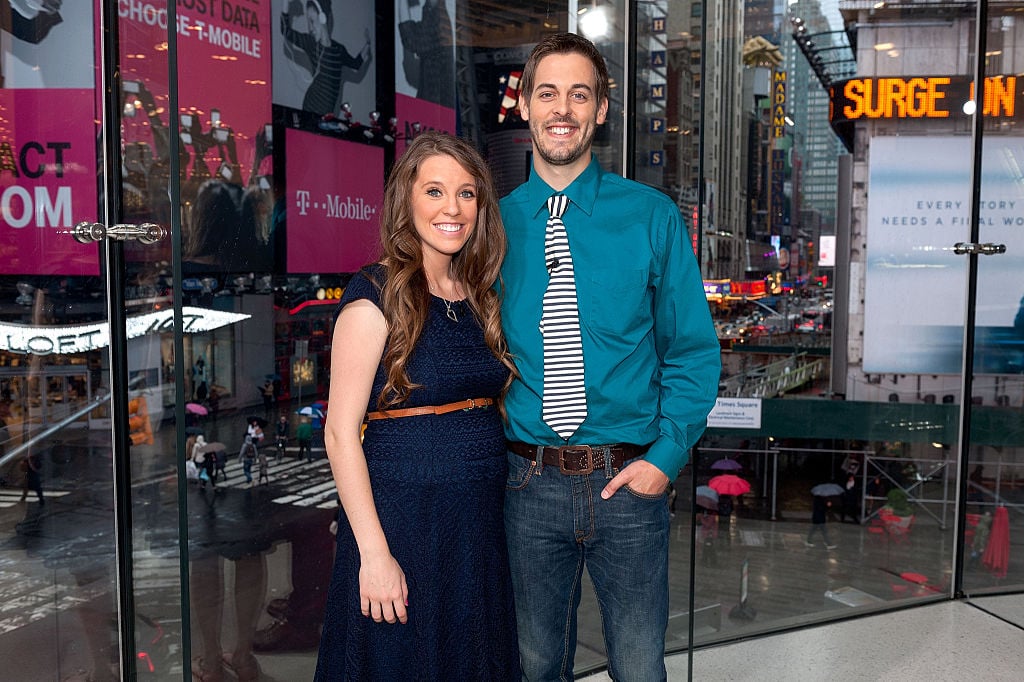 10. The Tortilla Incident
Fans love to call out Jill on her parenting decisions, and the Tortilla incident is a perfect example. When Jill was out for a day in the sun with her son, Samuel, she didn't have a hat for him to wear – or any kind of shade. She decided to put a tortilla shell on his head as a sunbonnet, and then she took a picture and posted it online. Some of her Instagram followers couldn't believe Jill didn't bring a hat for her child and blasted her for putting food on her baby's head.
9. The Foot Massage
Jill Duggar loves to gush about her husband every chance she gets, and just days after TLC fired Derick from Counting On in December 2017, Jill posted a pic to let fans know that she still supported her husband 100 percent. The photo, which fans immediately called "TMI," featured Derick massaging Jill's feet while she lay in bed.
Fans thought it was too intimate of a moment to share, with some calling it "foreplay."
8. Jill Duggar tells fans to get married right away
As Counting On fans know, the Duggars have a history of getting engaged and married just weeks after they start courting someone. Jill got engaged to Derick just one month after they started courting in person (their love affair started online via Skype when he was on a mission trip in Nepal), and she told Page Six why people in her family get married so quickly.
"You may not wanna push the wedding date out too far, as those natural God-given desires with too much time between engagement and marriage can make it harder to remain pure," explained Jill.
7. Asking fans for money
Jill Duggar and Derick Dillard have traveled to Central America multiple times for missionary work, and they even set up a Dillard Family Ministry donations page on GoFundMe to ask fans for money. However, many fans asked for their donations back when it wasn't clear what the Dillards were spending the money on.
Many believed the trips were family vacations, and the Dillards ended up adding a "request a refund" option on their donation page.
6. The Miscarriage Photo
In 2011, Jill's mom Michelle was carrying her 20th child when she discovered the baby didn't have a heartbeat. The baby they named Jubilee Shalom was stillborn three days later, and on an anniversary of the tragedy, Jill posted pictures the family took of Jubilee before they buried her. One pic featured someone holding Jubilee's feet between their thumb and forefinger, and another showed the fetus' hand on someone's fingertips.
5. The Facebook Contest
Jill Duggar likes to read her sons books about The Tuttle Twins, which teach kids about Libertarian politics and economics. The books themselves aren't controversial, but when Jill tried to use her large Instagram following to win a $350 prize, people were not happy.
The 28-year-old posted a pic of her son Israel with one of the books with a link to The Tuttle Twins Facebook contest, and then encouraged her fans to like the photo because the picture with the most likes won the prize. People immediately called for Jill to be disqualified from the competition.
4. Teaching kids about sex
Of course, there is nothing wrong with teaching kids about sex in an age-appropriate way. But, when Jill shared with fans that she was teaching her boys Israel and Samuel – who were 3 and 1 at the time – about the birds and the bees with the book series God's Design For Sex, fans were not happy because of the book's homophobic and transphobic themes, plus the lack of understanding for single parents.
3. Blanket Training
One of the most controversial parenting methods in the Duggar family, blanket training is a technique that many fans believe is abusive. Jill Duggar started disciplining her son Israel using this method when he was just a few months old, and she posted a picture of it online.
Blanket training is when a parent puts their child on a blanket for a certain amount of time and then punishes them if they move off of the blanket. The goal is to teach self-control and to keep the child occupied in a safe space when the parent is busy doing other things.
The Duggar family has endorsed the book To Train Up A Child – which features blanket training. But, authorities have linked the methods in the book to numerous child deaths.
2. Kama Sutra
Jill and Derick recently celebrated their fifth anniversary with a trip to Branson, Missouri, and she documented the getaway with a series of pictures. One of the pics got fans talking because it featured some of their bedroom activities – a scorecard for a naughty game, a plate of skittles, and a Kama Sutra book.
Fans immediately called her out for "inviting Satan into her marriage," so Jill backtracked and posted an apology.
"We are not recommending the Kama Sutra. We believe marriage is ordained by God and husbands and wives should filter everything they read and hear together through the lens of the Bible and not practice anything unbiblical," wrote Jill Duggar. "The little book pictured is a modern, smaller, cleaner, edited version that doesn't focus on spiritual aspects, homosexual, or other extramarital relationships, and again, we don't take everything in there either as the truth. It is always good to be aware and careful of what we allow into our minds, hearts, and marriages."
1. The blog post
Jill Duggar shocked fans in a whole new way when she wrote the blog post More Than Sex: How To Love Your Husband in early June 2019. Jill opened up about her sex life with her husband and gave her married female fans advice that included tips like "Have sex often" and "Give at least a six-second kiss when coming and going."
Fans slammed Duggar for making it seem like her sex life was all about her husband's needs and desires, and for the dominant/submissive relationship dynamic that appeared to be straight from the 1950s.