'1000-lb Sisters': Fans Dissect Tammy Slaton's Eating Habits on the Show
TLC fans are confused why Tammy Slaton is rarely seen eating on '1,000-lb Sisters' despite having a food addiction.
1000-lb Sisters follows Amy and Tammy Slaton through their weight loss journey, but fans of the TLC series have noticed something "odd" about the show. In season 3 of 1000-lb Sisters, Tammy enters a food addiction rehab. Fans are perplexed by the irony of how little — if at all — Tammy is seen eating on the show.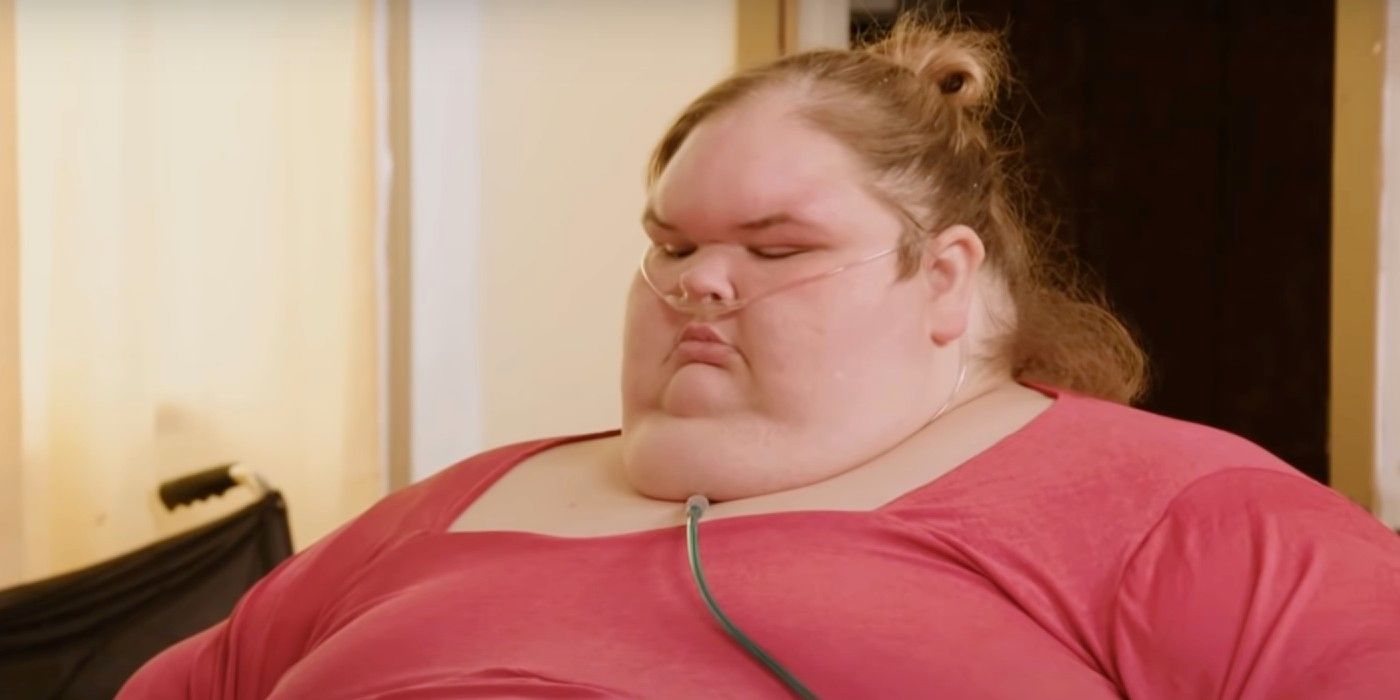 Tammy Slaton's weight change on '1000-lb Sisters'
When TLC introduced the Slaton's show, Tammy weighed 600 lbs. At the time, Amy weighed 400 lbs, totaling the 1,000 lbs referenced in the show's title. 
After consulting with a doctor about weight loss surgery, Amy and Tammy were given goals to meet so they could have surgery safely. Amy lost the required weight and was eligible for surgery, but Tammy had gained weight by the end of 1000-lb Sisters Season 2. Now, those fans are confused by Tammy's weight gain because of how infrequently she's seen eating on the show. 
'1000-lb Sisters' fans don't understand why the show 'rarely' shows Tammy eating
"You know what's odd?" a 1000-lb Sisters viewer wrote on Reddit. "I feel like we rarely see Tammy eating on the show. For someone who must eat a lot, we never see her doing it."
Some fans think it's because Tammy likes to eat alone. "That's why she wouldn't stay in the cabin," said a comment, alluding to the vacation the Slaton Family will go on in season 3. "She likes to eat alone." 
Meanwhile, other fans think Tammy is rarely seen eating on the show because of the editing required. "If you watch My 600-lb Life, they blur out all the food labels, packaging, wrappers, and fast food logos," said this Reddit user. "Brands don't want to be shown in a negative light."
Still, some fans think Tammy doesn't eat in front of the cameras to take control of what viewers say about her. "I think she purposefully waits til they aren't filming so that no one can have proof of how much she actually eats," says another comment on Reddit. "Tammy probably figures if no one sees her eat, she [can] lie [and] say she's still dieting, even though the scale tells the truth."
Tammy Slaton went to rehab for food addiction 
The TLC star has been vocal about her addiction to food. "I just wasn't doing what I needed to do," she told her doctor in an episode. "I mean, sometimes I try to eat healthier, and then other days I'm like, 'What the heck's the point?'" Weighing 666 lbs, Tammy admitted she had an addiction to food. 
"You could've blamed [that] you couldn't get out of bed, you could've blamed that you had COVID and you could've blamed that you were in the hospital, and you didn't," her doctor said. "Believe it or not, that's a step forward from where you've been in the past. So you just made progress even though your weight went up." 
Although Tammy entered a food addiction rehab, she only stayed for eight weeks (via People). She entered the rehab at 689 lbs and left after losing 57.7 lbs, despite her goal of losing 100 lbs. As documented on the TLC series, Tammy is still working to lose weight so she can have weight loss surgery.
1000-lb Sisters airs on Mondays at 10 p.m. on TLC.
How to get help: In the U.S. call the National Eating Disorders Association helpline at 1-800-931-2237.