'1000-lb Sisters': Tammy Slaton Could Have a 'Prolonged Stay in Rehab,' Doctor Says
Showbiz Cheat Sheet got an expert opinion from a bariatric surgeon regarding Tammy Slaton's rehab stay.
1000-lb Sisters star Tammy Slaton is in a rehab facility after her hospitalization at the end of 2021. The TLC series is currently airing episodes that detail the Slaton's lives as they were in the summer of 2021, but many fans wonder what will become of 1000-lb Sisters if Tammy has to stay in the rehab facility long term. Showbiz Cheat Sheet connected with a bariatric surgeon to get their thoughts on Tammy's hospital stay and what the future holds for the TLC star.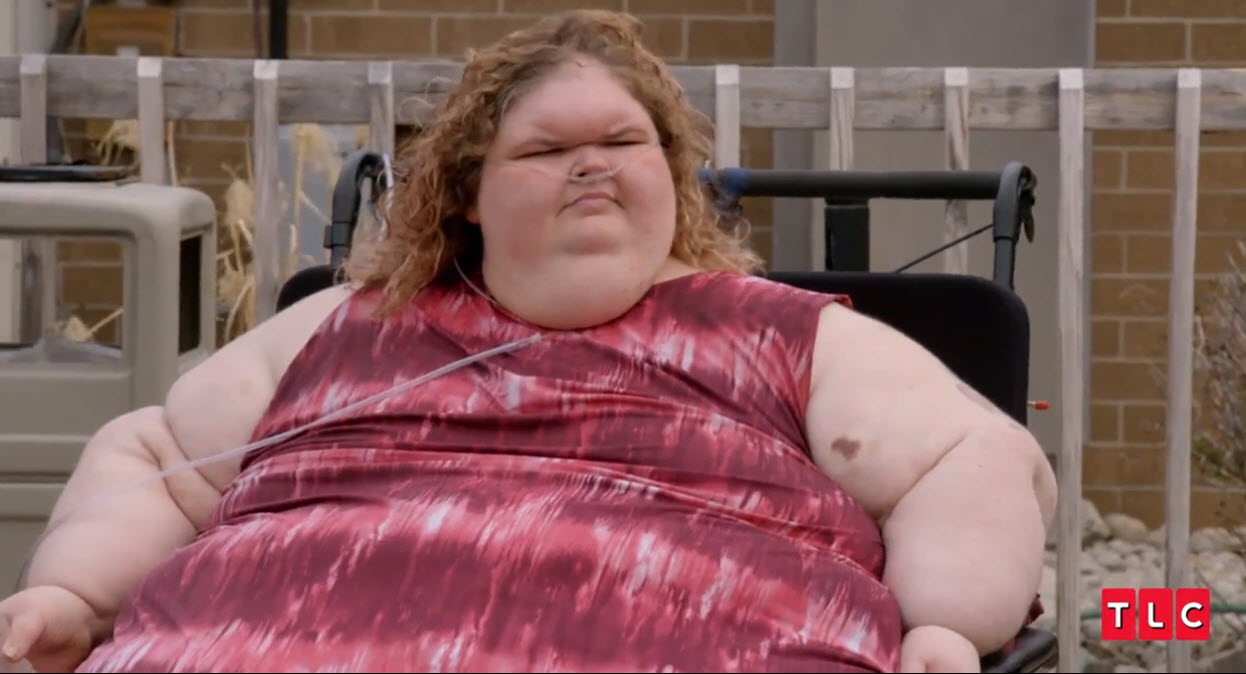 Tammy Slaton's rehab stay could be 'prolonged' due to several factors 
The 1000-lb Sisters star entered a rehab facility in November 2021. Based on recent posts to her TikTok account, Tammy remains in that facility with a tracheostomy tube inserted in her neck. 
"Tammy has multiple risk factors for a prolonged stay in rehab," Texas-based bariatric surgeon Sachin S. Kukreja, MD, told Showbiz via email. "Her duration thus far has already been quite drawn out, likely related to more than her pneumonia and carbon monoxide poisoning." 
As Tammy's family has mentioned on 1000-lb Sisters, she's at risk of being bed-bound for the rest of her life. Dr. Kukreja reiterated that risk and the new problems Tammy could face if she becomes bed-bound. 
"In such a situation, the risk for blood clots, more pneumonia, and bedsores goes way up," said Dr. Kukreja. "The bedsores can make an individual septic or worse. Lastly, the more you are in bed, the greater the disability develops as muscles become weaker and weaker, making it harder to get moving again." 
He concluded, "From what I can tell, the prognosis only gets worse the longer she is bed-bound."
Why is Tammy Slaton in a rehab facility? 
In a November 2021 post to TikTok, Tammy opened up about her mental health, hospitalization, and rehab stay. "Back around July this year, I had a mental breakdown," Tammy said in the video. "I lost myself … up until the end of August." 
Tammy took a break from filming 1000-lb Sisters in September 2021. She came back to film the following month but experienced health issues shortly after. 
"I ended up in the hospital because of carbon dioxide poisoning … which led in to pneumonia and I was septic," Tammy explained, referencing the way her voice sounded. "After I got off life support, they put a trach in, so I'm trying to get used to that." 
At the time, Tammy mentioned the need for rehab to "get her strength back." But based on posts from January 2021, Tammy remains in the facility. It's unclear when she'll be released. Despite how active she is on TikTok, Tammy has not shared a health update with fans.
'1000-lb Sister' fans speculate about how long Tammy Slaton will be in rehab
Fans of the TLC series had a lot to say about Tammy's rehab stay on Reddit. "I work in a nursing home and once you have a trach it's very hard to undo, especially cause she doesn't want to save herself," one fan wrote, speculating she'll become a "long-term resident." 
"I just wonder how the show is going to progress with Tammy in long-term facility care," said another, hopeful the show might give more screen time to other Slaton siblings in the future. 
Watch Tammy on 1000-lb Sisters Monday nights at 10 PM ET on TLC.